Getting online with a Nokia Series 60
Series 60 handsets include the Nokia 6630, Nokia 6680, Nokia N70, Nokia N73, Nokia N76, Nokia N80, Nokia N95, Nokia 3250, Nokia 7650, Nokia 3650, Nokia 6600 , Siemens SX1, Nokia 3250, Nokia 3230, Nokia 6220, Nokia 6260, Nokia 7610, Nokia E61, Nokia E65, Panasonic x700, Sendo X and the Nokia N-gage

Series 60 handsets come with all the software you need to connect to the Internet. Although the phone doesn't have a built-in web browser, it can access Internet content via the Wap browser (from the 'Services' menu). You can also set up the phone to access email via the Messaging application.

This page provides details of how to get access to email on the move with your handset. For help with Wap, see our Series 60 WAP page.


Getting an Internet account
To connect, you'll need to have an account with an Internet provider. You may wish to use your existing Internet account, or apply for a free account that can be used with your device.

For the purposes of this walkthrough, we're going to assume that you are in the UK and that you want to create a new dial-up account with an Internet Service Provider. Here, we're using a free BT Yahoo dial-up account. If you don't have an existing dialup account, then sign up for one from BT Yahoo free-of-charge and get a pay-as-you go account. There's no subscription fee, and you only pay standard call rates for the time you're online. We're rather keen on BT Yahoo for on-the-move access to email and web.

To get an account, first, go to BT Yahoo from a PC, select "Pay as you Go" and create an account. You'll then get some details that you'll need to set up your account on your Series 60 phone. Then, looking at phone, follow these instructions:
Setting up the dialup connection
1. Go to Tools, Settings, Connection, Access points, Options, New Access point.
2. Select 'Use default settings', and enter the following:
Connection name: BT Yahoo
Data bearer: GSM / Data call
Phone number: 08457560000
Username: (This is your email address, e.g myname@btinternet.com)
Password prompt: No
Password: (the password you entered when you created your BT Yahoo account)
Authentication: Normal
Gateway IP: 0.0.0.0
Data type: ISDN v110
Maximum data speed 9600
3. Then press 'Back' to save your settings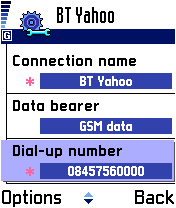 GPRS? If you're looking to connect with GPRS, not dialup, see our Series 60 GPRS page
Set up your email settings
1. Go to Messaging, Options, Settings, E-mail, Mailboxes
2. Press 'Options', then 'New mailbox'', then enter the following settings:
Mailbox name: BT Yahoo
Access point in use: BT Yahoo
My mail address: (your email address, e.g myname@btinternet.com)
Outgoing mail server: mail.btinternet.com
User name: (This is your email address, e.g myname@btinternet.com)
Password: (the password you entered when you created your BT Yahoo account)
Incoming mail server: mail.btinternet.com
Mailbox type: POP3
Security: Off
APOP Secure login: Off
4. Then press 'Back' to save your settings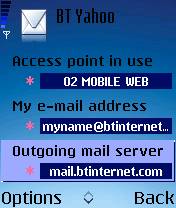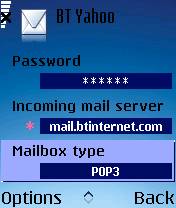 You should now be able to connect and retrieve your email from the Messaging application. Go to the 'BT Yahoo' mailbox ('Options > Open'), select 'Options' and 'Connect' to retrieve your emails.
---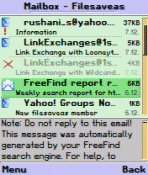 Into your email?

If you're a heavy email user, you might want to have a try of ProfiMail. This dedicated email client gives you much better control of your Inbox, shows you previews of messages, supports HTML email with images, has filters and signatures, supports SSL (for Gmail access) and can poll for your messages at fixed intervals. It's a built-in text and image viewer, and it gives you better control of what you download - it also comes with a file explorer.
So much more flexible and easy to navigate than Nokia's built in email functionality, and highly recommended.

Download a trial of ProfiMail from www.handango.com
Problem finding
Problems connecting?
Ensure that your Network operator (e.g. Orange, o2, Vodafone) has 'data-enabled' your SIM card. If not, call their Customer Service people.


Problems with GPRS. If connecting with GPRS, you need to make sure your network operator has enabled GPRS on your account. For more on this, and other GPRS troubleshooting help, see our GPRS page
Problems sending emails
If you get an error such as "Problem sending message", you may be trying to send a message to one ISP's mailbox while connected to a different ISP. To prevent spamming, most ISPs require you to connect to their service (not someone else's) in order to send an email via their SMTP server. For instance, don't be surprised if you find that can't send mail from your BT Yahoo account (using the server address mail.btinternet.com) if you've logged on to Virgin Media.
Problems retrieving emails
If attempting to retrieve email gives you a "

General: System error

", make sure you have "Gateway IP address" set to 0.0.0.0. (Tools | Settings | Connection | Access points)

This message also appears if you are trying to connect to an email account over a WAP connection (e.g. trying to connect to

BT Yahoo

's mailbox while dialed up over

o2

's WAP service).

If you try to download an email with a large attachment, it's possible that there won't be enough memory on the device to complete the download. When downloading an attachment, be aware as well as being expensive, you may find you're out of memory at an awkward moment, halting your email access
If, when attempting to log in, you're constantly prompted for your password, even though you know you're typing in the right password, there are two possible causes. If you're already logged in (via a web browser or a PC program like Outlook, then you're often not allowed to log on via a second device. Make sure you're not already connected to your email provider on another machine. The other thing to check is that you're account hasn't been temporarily locked as you may have made repeated attempts to log on incorrectly. Many ISPs allow you to check your mail via a web service... it may be worth trying this to make sure your account is working properly and there are no problems at your ISP.
Problems with GPRS
Most mobile phone operators use different APNs (Access Point Nodes) for WAP-over-GPRS and email-over-GPRS. The upshot of this is that you can't connect to your email server over a GPRS WAP connection. Additionally, you may need to have your network operator enable access to the Internet/email GPRS service.

Problems with o2

- If you experience a "GPRS: Invalid GPRS access point" error when attempting to connect to your ISP over o2 via o2's mobile.o2.co.uk APN, this is likely to be for one of two reasons - either you have not entered the correct o2 Mobile Web

APN settings

, or o2 has not enabled "Mobile Web" on your account (in which case,

contact o2

).

For general information on o2's data services, see our

o2 information

and

o2 WAP

pages.
For more help, see our Connected? page
Broadband / ADSL / Cable email
Q. I have a Broadband Advice/cable account (e.g Virgin Media), and so I can't use my phone to collect my POP mail on the move. Is there a workaround?
A. Many broadband and cable Internet suppliers offer dialup access too. Check with your supplier. Failing that, provided the supplier uses POP3 email (as opposed to webmail), then you should be able to access your email on a phone even if you connect through another provider. Set up your phone for Internet connectivity as outlined on this page (using a BT Yahoo account), then setup your email inbox to access your cable/Broadband provider's POP server. Note that sending mail from via your supplier's SMTP server probably won't work, so you may need to use BT Yahoo's SMTP address.
Other links: