Smartphones in the UK
Here, you'll find information on smartphones - what they are, and what to look for when buying a new smartphone.
What is a Smartphone?
A smartphone is typically more powerful than a basic mobile phone handset. Today's smartphones make use of a 3G mobile Internet connection for access to online services.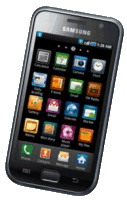 Here's what you can expect to find in today's smartphones:
Mobile Internet - Surfing with a decent, but small, web browser

GPS - Satellite navigation with a service such as Google Maps
Camera - Multi megabit cameras with a flash that can also capture acceptable video as well as stills
Touchscreen - Get hands-on with your phone - keypads on the phone are becoming history
Media - Listen to music, podcasts, watch video clips and movies, and browse your photo gallery
Be social - Access Facebook and Twitter on the move
Many newer smartphones can also sync to your desktop or laptop computer, or access your photos and music over the air using the "cloud" (online data storage)
Buying a Smartphone
Considering getting a smartphone? The big thing you'll need to consider, is which operating system to go for. These days, there are three main ones to choose between:
Apple iOS

There's little doubt that when Apple launched its first iPhone back in 2007, it changed the smartphone market for ever. The interface was like something we'd not seen before, and with later versions, such as the iPhone 4 pictured here, it's still a desirable and hard-to-beat mobile device.

Features: Smooth multi-touch interface, video camera, Facetime video chat, YouTube, iTunes, Google Maps, GPS, plus all of the iPod features you'll know from your other Apple devices. Key seller has to be the App Store - thousands of third-party applications and games - many of them free. Plus access to Facebook, Twitter and live messaging

For more on the iPhone, see our iPhone Explored section

Google Android OS

Google's made amazing steps forward in recent years with its Android OS. Key seller here is that, unlike Apple, the Android OS is available to a range of manufacturers, meaning that many phone companies can bring out their own phones powered by this system.

Pictured here is the HTC Desire, one of the most popular Android handsets. Google Android phones have been released by HTC, Samsung, Motorola and SonyEricsson

Features: Touchscreen, a well-specced web browser that supports Adobe Flash (with the iPhone doesn't!), lots of tools from Google including their Google Maps with GPS, and a growing number of free and paid-for apps in the Android Market. Android phones come with media players, cameras and access to services such as Facebook, YouTube and Twitter.

Windows Phone 7

Forget the clunky old Windows Mobile interface, the new Windows Phone 7 operating system is a major step forward.

Pictured here is the HTC HD7, the first Windows Phone 7 device available in the UK

Features: The startup screen, Live Hubs, lets you see what's going on without having to open apps. There's Microsoft Office Mobile, X-Box Live, the music service Zune, and access to thousands of apps with the Windows Phone Market Place. There's also the Bing search engine and mapping service, and all of the features you'd expect on a smartphone.

In 2011, handset manufacturer Nokia confirmed that its new smartphones will be using Windows Phone, which may spell the end for the Symbian Series 60 platform
As well as the operating systems from Apple, Google and Windows listed above, there are also the smartphones powered by Blackberry OS and Symbian OS.
Smartphone Deals?
If you're looking to pick up a shiny new smartphone, make sure you shop around online. Take a look at the Carphone Warehouse Smartphone Guide to see what's right for you.
Also take a look at MobileShop and Phones 4 U for some bargains
Contract? No thanks! Take a look at Expansys and good old eBay for deals on SIM-free handsets
Past and Present Smartphones:
Here are a just a few of the milestone smartphones that we've reviewed over the years:
Questions? Got a question about Smartphones? Please ask us, or get talking in our discussion forum