Mobile Internet in the UK
Information and advice on getting Internet access on the move
Mobile Internet?
Hopefully, you're used to getting your Internet on your PC or Mac using a high-speed Broadband connection - your home or office has a modem or router that's connected to a fixed telecoms line and is providing high-speed Internet access.
So, what about if you want Internet access somewhere where there's no fixed Broadband access? There are three basic options for portable Internet that we'll cover in more detail on this page:
Mobile Internet on a Laptop / PC
Mobile Internet on a mobile phone or PDA
Internet via a landline phone
Mobile Internet on a PC / Laptop / Mac
If you're looking to get high-speed data access without needing to be plugged into a fixed-wire Broadband connection , then there are a few options:
1. Broadband USB Data Modem
Most UK network operators such as o2, T-Mobile, Vodafone and 3 are offering USB data modems that plug into a spare USB port, to provide laptops and desktops with high-speed Internet access over the 3G mobile phone data network. Here's a quick summary of the offers:

O2 Mobile Broadband - Recommended
O2 is offering mobile broadband with their PC and Mac compatible USB dongle on contract and Pay-as-you-go. Currently our preferred option as the pay-as-you-go option is top for occasional use.
Pay-as-you-go: Get the dongle for £20 then choose to pay £2 a day (for days you use it), £7.50 a week or £15 a month. A simpler option than pay-per-megabyte offered by others.
Contract: Starting from £10 a month with a 1 gig a month download cap.
Details on our o2 Mobile Broadband page, or at broadband.o2.co.uk/mobile.
Their Mobile Internet tariffs provide high speed mobile Internet access using a USB modem. The USB modem is sent for next-day delivery. Price from £15 a month (maximum of 3gig monthly download). There's also a Pay-As-You-Go option.
More at www.t-mobile.co.uk


3 is offering a high-speed service with a USB dongle for laptops - There are three options, Lite, Plus and Max with download limits of between 1GB and 15GB a month. Prices for 3's mobile Broadband start at £10 a month.
A free USB modem is provided on contract, or you can buy a pay-as-you-go modem for £49. We review one of these high-speed USB modems, the ZTE, over on our 3 Mobile Broadband page.
More at www.three.co.uk

BT Mobile Broadband
If you're considering signing or switching to BT's home broadband service, you can pick up a BT Mobile Broadband USB modem for as little as a one-off £9.99, with a free allowance of a Gig a month.
More details on BT's Mobile Broadband offering on the BT Mobile Broadband site.

Vodafone Mobile Broadband -
Speeds of up to 7.2Meg, Vodafone's Mobile Broadband is now Half Price for Life - at £15 a month for 3gig per month.
Available with a USB modem or a Pebble modem. More details at www.vodafone.co.uk.
2. Mobile Phone as a modem
This is a slightly more fiddly option, but is better for situations where you only require occasional Internet sessions from a laptop.
Many mobile phones particularly smartphones and high-end mobiles, can be used as a data modem. Effectively, you set up your mobile phone for GPRS or 3G data access (your mobile phone Network Operator may need to enable this service for you). You can then connect your mobile phone to your laptop (typically using a USB cable, Bluetooth, or Infra-red), then set-up your laptop to connect to the Internet using the connected mobile phone as a modem.
3. wi-fi Hotspots
There are thousands of wi-fi hotspots - in airports, coffee shops, fast food restaurants and shopping centres. If you have a portable computer that's wi-fi enabled, or you can get a wi-fi adapter, you should be able to make use of a wi-fi hotspot. The downside is that there aren't that many hotspots around, and access isn't always cheap. For more on wi-fi, see our Wi-fi page.
4. Portable wi-fi modem
Got a device that has built-in wi-fi? Then a portable wi-fi transmitter might be the answer. These use the mobile phone network to get an Internet connection, then they make that Internet signal available as a wi-fi connection. Get a portable wi-fi modem, switch it on, then tune your laptop, iPod Touch, games console or other wireless device into the modem's SSID for a high-speed Mobile Internet connection without the need for wires or a hotspot.
Full details on our Mobile wi-fi page, or check out MiFi from 3 or the Novatel MiFi 2352.
Here are some useful links:
---
Internet on a mobile phone / PDA

One great way of keeping connected whilst away from your desktop or laptop, is on a mobile phone. There's a whole stack of connected "Smartphones" out there that come with the required software for connecting to the Internet for surfing and email.
Typically, they will connect using either 3G or the slower GPRS data service. Many smartphones and PDAs also come with wi-fi, so if you're in range of a wi-fi hotspot, you may be able to get faster Internet that way.
We have two particular favourites:
Windows Mobile devices. Typically these either have a touch-screen, or a keyboard, and come with Messaging (for POP or IMAP email) and a cut-down version of Internet Explorer, for web browsing. Easy to use, and powerful.
In the UK, we recommend that XDA range from o2 - Check out shop.o2.co.uk for details of their XDA devices, or see our Windows Mobile page.




Web Browsing on an XDA Orbit Windows Mobile

The Apple iPhone. This phone had its much-hyped launch in December 2007 - for us, it's one of the best mobile devices we've ever used for surfing - the web browser is very, very impressive, and the email client gets the job done nicely. Possibly a little over-priced, and not the most powerful phone in the world, but with its gorgeous touch screen and powerful Safari browser, if you do a lot of Mobile Internet, this is well worth a look.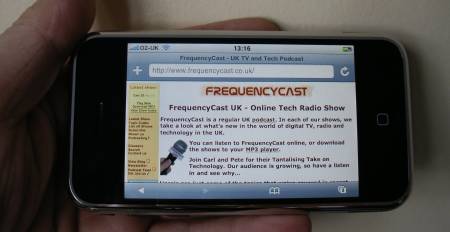 Web Browsing on the UK iPhone
Useful links:
---
Portable modem (fixed line)
If you don't fancy getting Internet access using the mobile phone network, and a fixed-line Broadband connection isn't an option, you could resort to a good old dial-up modem. These are fairly portable, and provided you can plug into a phone line, you can make use of a pay-as-you-go dial-up service using a standard modem.
Modems run at a top speed of 56kbps (hardly broadband), but for e-mail or browsing, it's better than nothing. You can buy standard dial-up modems from PC World and Dabs.com.
---
Got a question USB Modems, and Mobile Broadband? Ask us!
Broadband Links