Nokia 7650 Smartphone Information
The Nokia 7650 uses the Nokia Series 60 platform (powered by Symbian OS v6.1), and is a combined mobile phone, digital camera and PDA.

The device has 4MB of onboard memory, a colour screen, digital camera that takes 640x480 images, and has screen dimensions of 176x208 pixels (34x41 mm)

UK availability: The Nokia 7650 is no longer sold as a mainstream phone. If you're looking for this handset, try the following:
| | |
| --- | --- |
| Camera on a 7650 | WAP over GPRS on a 7650 |
More on the Nokia 7650
Nokia 7650 Review:
The 7650 is a little taller, wider and deeper than many other contemporary mobiles, but when you consider what this phone is packing, it's understandable. Features like Bluetooth, GPRS, MMS (Multimedia Messaging Service), and, best of all, the built-in camera, mean that this phone is set to be a hit.
The first thing you'll notice, is the apparent lack of a numeric keypad - don't be fooled into thinking that the device is touchscreen-driven - there is a slide-out keypad, that also doubles as a lens protector for the camera (of which, more later...). With the keypad retracted, the height is around 115mm, and when expanded, 160mm.
The phone is a comfy hold, although the camera lens isn't inset in any way, which tends to result in a little fingerprint smearing when the case is opened. The numeric keypad is quite responsive, but much of the device navigation is not done using the keypad, it's with the small black joystick below the screen. The joystick allows four-way navigation, with a press-in to select. There are two hardware buttons immediately below the screen, and their function changes depending on which application you're using. There's also a dedicated Menu, voice-record and On/off button (which also allows selection of a new profile). On the numeric keypad, there's also an 'ABC' button, that allows selection of T9 text recognition and some other general text options, such as Insert word and Insert symbol.
Software-wise, the device has SMS, Email and Wap built-in (No web browser, but the Opera browser for 7650 is available for download), and supports the new Multimedia Messaging format MMS. Standard PIM Contacts, To-do and Calendar are all there, as are a couple of fairly basic games (with a few extra ones on the supplied CD).
The killer app for this phone, is, of course, the camera. With a fairly empty memory, the 7650 can hold around 60 high-resolution 640x480 images. There's the option to switch image quality between High, Normal and Basic, to allow you to squeeze more photos into memory, and there's a fairly basic 'night mode' that can help with low-light image taking. When in camera mode, the screen becomes your view finder, and pressing the joystick in, takes the picture, and plays a 'click' effect at you, to confirm that the snap has been taken. Oddly, the 'click' happens slightly ahead of the actual photo being taken, which can ruin the snap if the photo subject moves during the half-second delay. Once taken, the snap can be saved to the Images application (for viewing and zooming), or sent on to your mates via Bluetooth, infrared, email or MMS. Photo quality itself isn't actually that great, but it's certainly good enough to be useful when out on the town for the night, or snapping pictures of family and friends to add to your Contacts address book In general, the phone is very responsive, feature-packed and surprisingly powerful.
Looking for negatives is tricky, as this really is a nice piece of kit. Occasionally, the user interface throws up a few surprises - menu options sometimes vanish, depending on what mode you're in, and some of the more obscure settings aren't quite where you'd expect them to be, but in general, navigation is good, and the phone's a pleasure to use.
Clearly marketed for gadget-fans who like the latest technology, this is likely to be a hit - the first colour cameraphone with the Nokia brandname... how can it go wrong?
Built-in software:
Telephone
Contacts
Call log
Messaging. Series 60 setup help
Camera
Images
Calendar
WAP (WAP 1.2.1 with WTLS security) . (More on 7650 WAP Browser)
Profile management
To-do
Connection manager (Bluetooth, IR, modem)
Notes
Calculator
Currency converter
Voice recorder
Ringtone composer
Clock
Games (Snake Ex, Mix Pix)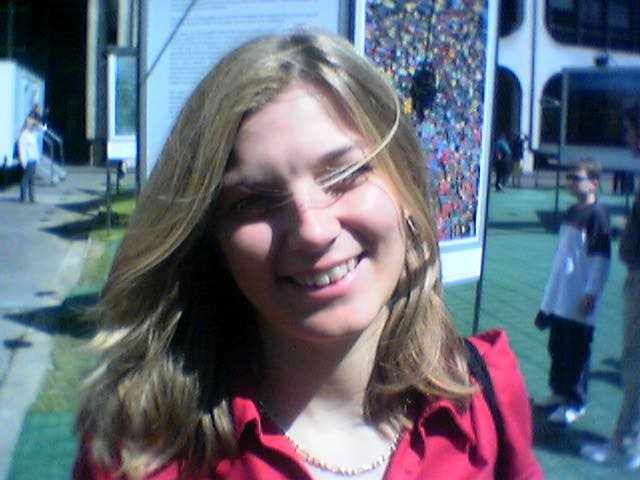 Picture quality - image taken on a 7650

FAQs
Operating system

The Nokia 7650 uses the Symbian Operating System. To check the version number of the operating system on your phone, type *#0000# as if it were a phone number.

The handset can be upgraded to the latest version of the operating system at approved Nokia Service Centres - If the phone is still under warranty, this will be done free-of-charge. The process takes up to an hour, but service centre policies vary depending on how busy they are, and whether they have the reprogramming equipment onsite. Note that all data is lost when you upgrade, so it's vital to do your own backup first. Online upgrades are not available.

Accessories?
There's a wide range of accessories, including spare batteries, cases, chargers, in-car kits, hands-free units, data cables and fascias, available at Carphone Warehouse and MobileShop.
.
Sorting of Contacts
There doesn't appear to be a way of changing the sort order from 'Surname Firstname' to 'Firstname Surname'.
Many users have tried to find such an option, but it appears there isn't one.
You may like to try NameSwap, available from http://my-symbian.com/s60/software
Hotmail and AOL access?

Hotmail and AOL use proprietary email systems, as opposed to the more common POP email systems - this makes it tricky to access mail on a Series 60 device. For email on the move, consider using a standard POP3 provider such as BT Yahoo (see setup details) that offers free email accounts that can be configured on a Series 60 phone.

If you really want to use Hotmail or AOL, see our Series 60 FAQ on this subject.

Default Contacts
For contacts with lots of phone numbers, note that you can set one default mobile, work and home number. Select Options - Defaults, then set the 'Phone number' to the numbers as appropriate. They'll then get a little icon on the left hand side of the contacts menu.
How do I turn reports off?
Messaging | Options | Settings | Short message | Receive report: Yes / No
Can I use the 7650 as a modem?

Yes, using Infrared or Bluetooth.

Infrared - The 7650 has a 'Modem' option under 'Connectivity'. Selecting this option allows another device (such as a Pocket PC or Laptop) to connect to the Internet using infrared. If the equipment you wish to connect to doesn't have infrared, consider a 'USB-IRDA Adaptor' from Maplin Electronics (Cat no: RV88V).
You can also use the handset as a modem from a Bluetooth PDA, or a PC with Bluetooth connectivity (such as a Belkin USB Bluetooth adapter)

How do I hard reset a 7650?

We accept no responsibility for use of this code. It is undocumented, not supported by Nokia and should be used at your own risk.

The soft-format code for Series 60 phones is *#7370# . You enter this code as you would enter a phone number in the Phone application. It performs a format of the Internal drive - All data will be lost if you use this feature.

The method of performing a hard-format, i.e resetting it completely to factory defaults and removing all data, is as follows:

Switch off the phone.
Hold down the following three buttons: Green (call answer) button, * button, and '3' button
While holding these buttons, press the power button and switch on the phone
When the message 'Formatting' appears on the screen, release all of the buttons

Note that you shouldn't switch the phone off or remove the battery when performing either of these operations, and it's advised that the handset has a reasonable amount of battery charge before performing a format/reset.

My phone's memory is too full to be used

We sometimes hear from users of Series 60 handset users stating that they've filled up their memory, and the memory is so full that they can't get in to delete any files - then the phone is switched on, all they see is a blank screen.

We've not had any experience of this, but the best thing to try is to restart the phone (by taking the battery out), and then start the phone in "safe mode". This causes the phone to load as few apps as possible at startup. To do this, hold down the ABC key, and while holding it down, start up the phone. This might let you get into the system.

If you're able to get to the operating system, you should be able to format the phone and start again. See above for the procedure - This will remove all data, and you'll have to restore your phone's information from a backup.

If you still can't get into the phone, or can't get beyond the blank screen - the final option appears to be to take the phone to the nearest Club Nokia shop (or your retailer), who should be able to re-flash the phone to factory settings.

Email from your 7650
If you're looking to use your 7650 for sending and receiving e-mail, consider taking out an account with free provider, BT Yahoo For details of connectivity on a 7650, Series 60 Connectivity section.
How do I use WAP / What is 'Services'?
The 7650 does not have a web browser, but does have a WAP browser, which can be accessed via the Services menu. For details of Wap on a 7650, and setting up the Wap browser, see our 7650 WAP page
Email problems
If attempting to retrieve email gives you a "General: System error", make sure you have "Gateway IP address" set to 0.0.0.0. (Tools | Settings | Connection | Access points)
This message also appears if you are trying to connect to an email account over a WAP connection (e.g. trying to connect to BT Yahoo's mailbox while dialed up over o2's WAP service).
Also, see our 7650 connectivity page
How do I enable Auto Keylock?
Surprisingly, the Nokia 7650 doesn't come with an automatic key lock that switches on after a certain period of time to prevent accidental keypresses - however, third-party application Handy Keylock is available to fill this gap. The functionality is also included as part of Psiloc Extended Profiles application.
How do I install software onto my phone?

Software for Symbian OS phones is normally supplied using a Symbian installation file (with a .sis extension). This is a single file that contains the components needed to get a piece of software installed and ready to run. A SIS file can be run on a Symbian phone (e.g. from the Inbox or via a file manager. It can also be run via the PC connectivity solution that was supplied on the CD with the handset. Assuming you have a SIS file on your PC/Mac (either downloaded from the Internet or on a CD), the ways to install a SIS file onto your handset are as follows:

Beaming - Beam the file to your handset from your PC using Bluetooth or IR. If you don't currently have the ability to beam files to the handset via Bluetooth or infrared (either from another handheld device or from a PC), then you may wish to purchase an IRDA adapter for your PC (this means you'll be able to install software, backup and synchronise data between phone and PC) - See our Series 60 PC connectivity page for more.
Install via PC - Assuming you've installed the PC connectivity suite that was supplied with your phone, look for the "Install software" option. You'll need to have the handset connected to the PC via serial, Bluetooth or infrared for this to work. - See our Series 60 PC connectivity page for more.
By email - The alternative, is to email the file that you're trying to install, typically a SIS (Symbian installation file) to your own email account, and then use your phone to logon to your email (details) and download the SIS file as an attachment into your phone's Messaging Inbox.

If you've downloaded an application and find you can't install it - make sure the file you're trying to install is a SIS (Symbian Installation) file. Many files are distributed in a compressed form (using the ZIP file format). If the file has a .ZIP extension, you'll need to unzip it first. You can do this with a PC application such as WinZip, or on the phone itself using the ZipMan application.

How do I connect my 7650 to my PC?

The 7650 can connect to a PC via Bluetooth (7650 conforms to Bluetooth v1.0) or infrared (cable, serial and USB are not supported! - see below). Here is a summary of how to connect your 7650 to your PC.

IR connection. From the 7650, select 'Connect | Infrared' to turn the phone's IR on. Line up the phone with the PC infrared port, and Windows should detect the 7650. Then, use the Nokia Connectivity package to select the file you want to send to the 7650. For more on IR, see our PC connectivity page
There are several IR adapters available, including the pictured 'USB-IRDA Adaptor' from Maplin Electronics (Cat no: RV88V).
Bluetooth connection. From the 7650, select 'Connect | Bluetooth'. Turn Bluetooth 'On', then move to the second tab by moving the joystick to the right. This should show you all Bluetooth devices in range. If your PC isn't shown, select 'Options | New paired device' and let the 7650 search for the PC connection. When the phone and PC are paired, use the Nokia Connectivity package to select the file you want to send to the 7650.
If your PC doesn't support Bluetooth, then you can add it cheaply and easily using a USB Bluetooth adapter. We recommend the Belkin USB Bluetooth adapter.
For details of Bluetooth, see our Bluetooth page, and for help connecting, see our PC connectivity page

Files received on the 7650 can be found in the Messaging application, in the Inbox folder

For more help, see our Series 60 PC connect page

Data cables for 7650

Many visitors to this site report that they've heard of data cables for serial connection between a PC and a Nokia 7650. Be warned that these cables are for use with special software for configuring the 7650 using F-BUS or M2BUS. This can be used for phone unlocking, and advanced programming use. It's not for use with the Nokia's PC Suite for 7650. If you try to use it with the software supplied on the 7650 CD, you'll probably see an "Accessory not supported" message. These data cables require use of a special tool to connect, and a small amount of dismantling the phone before the connection can be made. These cables can be found cheaply on eBay

If you're looking to connect to your PC for picture/file transfer, backup and software installation, look for a Bluetooth or IR adapter, as per the section above.

Can I use a Bluetooth headset?
Sadly, no. The Nokia 7650 doesn't support Bluetooth headsets, as it does not have the required audio routing hardware/software. Bluetooth is supported for data transfer only.
Can I browse the web from my 7650?

The 7650 comes with a Wap browser, but does not come with an HTML web browser. However, one is available in the form of the Doris Browser is available as a small application that can be evaluated for free for ten days. Once installed, you can find it from the Tools | Apps icon. The browser supports image rendering, access to secure sites as well as viewing Word and PDF documents - and it all fits in under 50k.

From April 2003, the Opera browser is available for the Series 60.

How do I silence the camera click?
Select the 'Silent' profile, or turn off the 'Warning tones' from Profiles
Can I play MP3 files on my phone?
We're quite keen on the application UltraMP3!, which has a built-in playlist editor
How do I delete message reports?

It's possible to set up Messaging to send you a 'delivered receipt' when a text message gets delivered ("Settings | Short message Receive report". Receipts are stored in the Log application.

It's not possible to remove individual items from the Log application, the entries will disappear when they are older than the "Log duration" setting. ("Log | Options | Settings"). There is a 'Clear log' option in the "Log | Options" menu, which will remove all log entries, including the call costs and durations.

Record longer videos
If you're looking to use your 7650 as a camcorder, and are frustrated that the Nokia video recorder application has a maximum file size limit, consider Philips LifeVibes Camcoder PRO
Can I use the 7650 in the States?
No. The 7650 is a dual-band phone operating on EGSM900/1800 (Europe, Africa, Asia Pacific), and the US operate on GSM1900 . You can still use camera / organiser features, but can't make voice or data calls, or send text messages
How do I install ringtones?
7650 supports playback of .mid or .wav files, and use of these file formats as ringtones. To use such a sound file, beam or email the file to your 7650. It will then appear in the Messaging Inbox. Open the message and select 'Options | Save'. Then, from 'Profiles', select a profile and set the 'Ringing tone' to the new file.
For more on ringtones, see the mobile phone FAQ
How do I get to the ringtones settings?
Go to Profiles, select which profile you're in (if you're not sure, it's probably 'General'), press 'Options', 'Personalise', then press on the 'Ringing tone' option. Scroll up or down, and press 'Select' on the tone you want.
Recycle your mobile

If you've got an old mobile phone handset that you're no longer using... do your bit for the environment, and recycle it safely. You'll also make some money when you send your old handset back.

Don't leave it in the back of a drawer - see if it can find a new lease of life, and pocket you some cash.

For a summary of the best deals on making cash from your old handset, try the comparison search tool at www.sellyouroldmobile.co.uk

Receive faxes on your mobile
Looking to get faxes on your Series 60 phone? See our answer in the Series 60 FAQ
How do share my pictures with others?

Once you have taken a picture on the 7650, there are three ways to get the files from your phone to other people or computers:

You can copy it to your PC with the Nokia software supplied on the CD (see above). Depending on what you have connected to your computer, you can use Infrared or Bluetooth. Set your PC to receive files (using the IR or Bluetooth software supplied with your adapter), select the photo to send (from Images), then from the Options menu, select Send.
You can use the Messaging application and email the picture to yourself (or a friend)

What's my 7650's serial number?

Enter '*#06#' into the Phone application, to get your handset's serial number (known as the IMEI) - useful if your phone is stolen.
Video on the 7650?
PacketVideo recently demonstrated an application that can record video clips on a 7650. This can be downloaded from My-Symbian
FM radio for my 7650?

Some Nokia devices come with a built-in FM radio, but the Nokia 7650 does not. We're often asked whether software is available to add a radio to their phone. Unfortunately, it's not that simple, as it's not just a software issue. Phones that have built-in radios contain dedicated hardware in the phone to do this (an FM RF tuner)... and the 7650 doesn't have that. If you're really desperate to listen to radio from your handset, note that it is possible to listen to streaming audio over the Internet via GPRS (using an application such as Avec Radio), although don't expect the results to be up to much!

There are some Nokia headsets available with an FM radio in the lead, but we can't find one that works with the 7650.

Changing the default picture

To change the default wallpaper image used in the phone application, do the following:

Press Menu
Go to Tools | Settings | Phone | Standby mode
Press the joystick on the "Background image" option.
From the "Yes / No" option, select "Yes". You're now able to select from an image in your images folder

General problems
If you're experiencing a software problem not detailed on this page, here are a few general bits of advice. Firstly, try removing the battery and reinserting the battery to reboot the phone. The next (more drastic) step is to back up your phone to your PC, then perform a reset of the phone as detailed elsewhere on this page. If this hasn't helped, note that some of the early versions of Series 60 software contained bugs, which have been fixed in later releases. Check your software version number and see what the latest version is (see elsewhere on this page). To upgrade to a more recent software release, take your phone to your nearest Nokia Service Centre. The upgrade should be free. Note you'll lose all data, so make sure you back it up first.
Data conversion
For help with information on converting your Contacts, Calendar and documents for viewing on your phone, see our Conversion page for some general guidance.
Various 7650 passcodes:

Below is a list of the various code types you may find on the 7650:

Lock code

Length: 5 digits
Detail:Used to prevent unauthorised access to certain functions on the phone
Set from: Tools > Settings > Security > Phone & SIM
Default: The default lock code for Nokia Series 60 devices is 12345.
Lost? - If you've changed this code and forgotten it - you will need to visit a Nokia authorised service center, who will be able to reset the lock code for you.

PIN code

Length: 4 digits
Detail: This is an optional 4 digit code to protect your SIM
Set from: Tools > Settings > Security > Phone & SIM
Lost? - If you keep trying, you'll eventually get locked out and need to contact your network operator for a PUK code (see below)

PUK code

Length: 8 digits
Detail: You'll be asked for this 8 digit code if you've entered the wrong SIM code more than the allowed number of times. You'll need to contact your network operator to get this lock lifted. PUK code help.

Wallet Code

Detail: This alphanumeric code is used to gain access to the secure data store for the Wallet application, where you can save bank and credit card information, plus other private data, securely.
Lost? - If you've forgotten the wallet code, enter the following string as a telephone number: *#7370925538# - this will allow you to delete the existing wallet and create a new wallet code. You will be prompted for the phone's lock code to proceed (Normally 12345, unless you've change it).

Network locking code

If your phone was fixed to work on a specific network (for example, Orange), this lock may prevent you from using another SIM in the handset. You may see "SIM card rejected" or "SIM card unaccepted". This lock can be lifted for you by contacting the network operator in question (there may be a fee for this).

Who's calling?

Thanks to caller display, we can see who's calling. For answers to your Caller Display questions, see our Caller Display Series 60 FAQ

Is the phone available in other languages?
The 7650 is available in 31 languages. Each phone is shipped with 3 languages - English, and two others, depending on the region in which the phone is shipped. It may be possible for your approved Nokia Service Centre to re-flash your phone to different languages. Contact Nokia for more information.