BT Yahoo Internet Information
Information on the services offered by BT Yahoo, plus help with setting up the service.
This page is primarily aimed at dial-up customers. For help with Broadband, see our BT Broadband page.
Free Smartphone from BT!
Want a free Smartphone with BT Broadband? Get a free Windows Mobile or Android smartphone when you sign to BT Broadband Anywhere.
To get your free smartphone, go to bt.com/btbroadband.
BT's Internet Tariffs
BT is currently offering several tariffs:
Package
Monthly fee
Details
Broadband
From £13
BT Broadband - Speeds up to 16 Meg, and stacks of extras, including:

Free BT Home Hub - BT's Wireless Internet Router - With 'N' technology for a wider range and better connection
Optional BT Mobile Broadband dongle for your laptop
Free security protection: Anti-phishing, Spam email filter, Email anti-virus protection, Anti-spyware & Identity theft support
BT Vision: Digital TV hard-disc recorder and access to on-demand content on your telly (BT Vision Help)


Inclusive wi-fi minutes from BT Openzone wireless access points
Optional Broadband Anywhere Smartphone
Free Technical Support (0800 number)

BT offers the following Broadband options:

Talk and Surf - Speeds up to 16Meg. 10 Gig monthly transfer allowance. Unlimited evening and weekend calls. Free BT Home Hub and BT Vision available.
Unlimited Broadband and Calls -Speeds up to 16 Meg. Unlimited monthly download. Unlimited UK Anytime calls. Comes with Norton Security and a free BT Wireless BT Home Hub.
Broadband Anywhere - Speeds up to 16 Meg. Unlimited downloads and Anytime calls, plus a free Windows or Android Smartphone.

More details at www.bt.com/btbroadband

Pay-as-you-go
None

Dial-up access. Only pay when you're online (by the minute) - great for low or mobile users. Charged from as little as 1p per minute evenings and weekends. 5 email addresses and 15 Megs of webspace.

More details at register.btinternet.com
Prices correct as of April 2012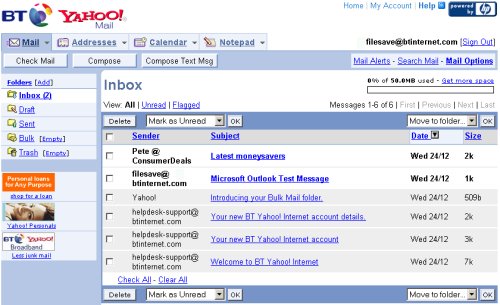 Example of BT Yahoo Webmail
BT Yahoo settings
Username / login name
<username supplied by BT Yahoo, e.g. myname@btinternet.com>
Incoming (POP3) email server
mail.btinternet.com
Outgoing (SMTP) email server
mail.btinternet.com (Note: Now requires Secure Authentication)
Website (FTP) server
ftp.btinternet.com or ftp.uk.geocities.com
Dial-up numbers:
BT Yahoo Anytime 0808 993 3001
BT Yahoo Pay-As-You-Go 0845 756 0000
International PSTN 00 44 121 478 9200
News (NNTP) server
news.btopenworld.com
For help with BT email settings, see our UK Email Settings page
Useful BT Yahoo information
Dialup service status report: Call 0800 731 7777 or check here
Broadband service status report: Call 0800 169 0199 or check here
BT Broadband Technical Support: 0800 111 4567.
Technical support helpdesk: 0808 100 5667.
Broadband technical support: support@btopenworld.com
Billing / Customer Services: 0800 633 5335 between 8am and midnight.
Setting up BT Yahoo on your mobile device:
If you have a mobile phone or handheld computer that can connect to the Internet for web and/or email, you may be able to connect with BT Yahoo on the move.
We have pages setup dedicated to providing a walkthrough of how to get BT Yahoo set up. Click on one of the following for specific setup details:
If your phone isn't covered in the list above, it means we may not have a dedicated step-by-step page, but the notes in this box should help.

First... If you're not a BT Yahoo customer, sign up to BT Yahoo free-of-charge and get a pay-as-you go account. No subscription fee, and you only pay standard rates for the time you're online.
Go to register.btinternet.com from a PC, and create an account. You'll then get some details that you'll need to set up your account on your mobile device. Here's a summary of what you'll need to enter on your mobile device:
Connection name: BT Yahoo
Data bearer: GSM
Phone number: 0845 756 0000
Username: (This is your email address, e.g. myname@btinternet.com)
Password: (as advised by BT Yahoo)
Outgoing mail server: mail.btinternet.com
Incoming mail server: mail.btinternet.com
Mailbox type: POP3
Frequently asked questions
How do I get an account?

You can sign up for a BT Yahoo! account on one of the following links: Dialup account or Broadband account

Status check

If you're having problems with BT Yahoo, first off, check that their services are running correctly at their Service Status page.

Check the Dialup-status page or Broadband status page for info on any problems with BT Yahoo. Alternatively, call free on 0800 731 7777 (dialup) or 0800 169 0199 (broadband)

Check mail online

BT Yahoo customers can access their email via the webmail service.

Go to bt.yahoo.com
Enter your username (e.g. yourname@btinternet.com) and password
From under the heading "BT Yahoo! Mail Preview", select "Inbox"

Error 553 on sending email

Having a problem sending an email from your PC? If you're seeing "Error 553" when you send, could it be that your email account is set to get your emails with a non-BT email address?

In 2008, BT added some extra security to their email sending. If your outgoing email address is different from your Btinternet.com email address, you need to register non-BT email addresses, so that they know they're legit.

To register your non-BT email address:

Go to http://bt.yahoo.com/webmail and sign in with your BTinternet address.
Go to Yahoo! Mail, select Options (on the right)
Select "Mail options", "Accounts", "Add or edit"
Add an account for your non-BT email address.

CD of BT Yahoo software

We've heard from a number of site visitors saying that they have a problem with the "order your CD" button on the BT Yahoo site. Here are some notes on this:

First off, the FileSaveAs website is not part of BT - so please don't ask us to send you a disk, or forward on your personal details. We can't help with CDs.
New or existing customers can download the BT Internet software, so you don't need a CD - pick PAYG or Anytime from register.btinternet.com and download the software you need
Try giving BT a call to request a CD - The number we have for BT Yahoo dial-up is 0800 633 5335. We understand that the number for a Broadband CD is 0800 085 7343. If you know a better number for BT Yahoo Customer Services, please let us know.

Closing account

If you're looking to close your account, call the Customer Relation Team on 0800 085 2819 to arrange this. If it's a Pay-as-you-go account, you don't need to cancel (as you're not paying anything anyway), but if you wish to cancel, the number is 0800 633 5335.

If you're looking for an alternative to BT, see our Internet page.
Other links
Sign up for a BT Broadband account


BTOpenworld's WAP portal: http://wap.btopenworld.com/


For details on the benefits of Broadband access, see our dedicated Broadband page.


BT FON - Information about getting free access to wireless Broadband
BT Credit Card - An easy way to save money on your BT Broadband bill
Any questions? Please ask in our networking forum