Sendo X Smartphone
This page provides information on the Sendo X, and helps with getting connected to the Internet for email and WAP
The Sendo X, announced in late October 2003, is powered by Symbian OS v6.1 (Series 60), and is a combined mobile phone and PDA.

The Sendo X is a tri-band GPRS phone with a colour screen, digital camera (with digital zoom and a built-in flash for nighttime use), camcorder, MP3 player, RealOne video player and onboard document viewers.

Onboard memory: 32Meg (plus expandable via MMC and SD cards)
Screen dimensions 176 x 220 pixel. Weight 120g.

UK Availability: Discontinued. Became available in Nov 2004.

Update: Sendo officially in receivership 29 June 2005. Motorola has bought Sendo's Research labs

Discuss the Sendo X in our Sendo X forum
More details:
The Sendo X is a stylish new handset from Sendo with a massive selection of features available to the user. With a cool carbon fibre effect body, you don't have to worry about not looking cool with an ugly handset.
The Sendo X comes with Bluetooth built-in so you can talk wirelessly using a Bluetooth headset or you can send pictures to your mates through its Bluetooth also.
The Sendo X also comes with a built-in MP3 and MPEG4 player so you can listen or watch your favourite music video listen to your favourite album.
The Sendo is equipped with a 640 x 480 VGA camera which is capable of taking photos and videos. A flash is also included for those extra dark places or when your going to take a picture in the dark.
Other features include: clock, alarm, GPRS, SMS, MMS, Symbian OS, Polyphonic Ringtones, Vibrating Alert, Games and Infrared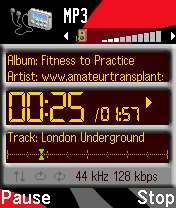 Other links
Email from your Sendo X
If you're looking to use your Sendo X phone for sending and receiving e-mail, consider taking out an account with free provider, BT Yahoo. For details of connectivity, see our Series 60 Getting Connected section.
How do I install software?

Software for Symbian OS phones is normally supplied using a Symbian installation file (with a .sis extension). This is a single file that contains the components needed to get a piece of software installed and ready to run. A SIS file can be run on a Symbian phone (e.g. from the Inbox or via a file manager. It can also be run via the PC connectivity solution that was supplied on the CD with the handset.

Sometimes SIS files are distributed inside a ZIP file (for compression). See the ZIP section of our Series 60 FAQ for details of how to extract a SIS file from a ZIP file

Assuming you have a SIS file on your PC/Mac (either downloaded from the Internet or on a CD), the ways to install a SIS file onto your handset are as follows:

Beaming - Beam the file to your handset from your PC using Bluetooth or IR. If you don't currently have the ability to beam files to the handset via Bluetooth or infrared (either from another handheld device or from a PC), then you may wish to purchase an IRDA adapter for your PC (this means you'll be able to install software, backup and synchronise data between phone and PC) - See our Series 60 PC connectivity page for more.
Install via PC - Assuming you've installed the PC connectivity suite that was supplied with your phone, look for the "Install software" option. You'll need to have the handset connected to the PC via serial, Bluetooth or infrared for this to work. - See our Series 60 PC connectivity page for more.
By email - The alternative, is to email the file that you're trying to install, typically a SIS (Symbian installation file) to your own email account, and then use your phone to logon to your email (details) and download the SIS file as an attachment into your phone's Messaging Inbox.
Via memory card - The Sendo X supports MMC and SD memory cards and you can use these to transfer SIS files to the handset via the card slot and a PC MMC Memory card reader. Copy files onto an MMC / SD from your PC, and then insert the MMC card into your handset. You'll need to have a file manager on your phone to access the file from the memory card (file managers are available from Handango).
USB cable - refer to your phone's manual.

How do I install Java games?

Assuming you're looking to download a Java game from a website via your PC - first, download the Java file onto your PC.

Normally the file will be in the form of a .jar file. Sometimes JAR files are distributed inside a ZIP file (for compression). See the ZIP section of our FAQ for details of how to extract a file from a ZIP file.

Next, send the Java file to your phone (see above)

From the phone menu, go Messaging and then to the Inbox
Select the message containing the JAR file, and press Options > Open

You'll be prompted to install - Select "Yes"
You may get a warning that the application is untrusted. Just continue
For phones with a memory card, you may be prompted to choose 'Phone memory' or 'Memory card'

Once installation is complete, you'll see a brief confirmation note

The application should now appear in the main application menu, so you can exit Messaging and go and run it from the main menu. once you're happy that the application is running as expected, feel free to delete the JAR from the Inbox to save space.

How do I install ringtones?
To use a sound file as a ringtone, beam or email the file to your phone. It will then appear in the Messaging Inbox. Open the message and select 'Options | Save'. Then, from 'Profiles', select a profile and set the 'Ringing tone' to the new file.
For more on ringtones, see the mobile phone FAQ
Compressed ZIP files
If you've downloaded an application and find you can't install it - make sure the file you're trying to install is a SIS (Symbian Installation) file. Many files are distributed in a compressed form (using the ZIP file format). If the file has a .ZIP extension, you'll need to unzip it first. You can do this with a PC application such as WinZip, or on the phone itself using the ZipMan application.
Operating system
The Sendo X uses the Symbian Operating System. To check the version number of the operating system on your phone, type *#0000# as if it were a phone number.
How do I connect my Sendo X to a PC?

Below is a quick summary of the options open to you:

IR connection. To use infrared, select 'Connect | Infrared' to turn the phone's IR on. Line up the phone's IR port (on the left side) with the PC infrared port, and Windows should detect the phone. Then, use the built-in PC software to select the file you want to send to the phone, or the Send facility on the phone to send a file to the PC. For more on IR, see our PC connectivity page
There are several IR adapters available, including the pictured 'USB-IRDA Adaptor' from Maplin Electronics (Cat no: RV88V).


Bluetooth connection. From the phone, select 'Connect | Bluetooth'. Turn Bluetooth 'On', then move to the second tab by moving the joystick to the right. This should show you all Bluetooth devices in range. If your PC isn't shown, select 'Options | New paired device' and let the phone search for the PC connection. When the phone and PC are paired, use the software supplied with the Sendo X to select the file you want to send to the phone.
There are several Bluetooth adapters available - We recommend the Belkin USB Bluetooth adapter available for around £15 from amazon.co.uk.
For details of Bluetooth, see our Bluetooth page, and for help connecting, see our PC connectivity page


Memory card reader. If you don't want to beam files from your PC to the phone, another option is to make use of the MMC/SD card slot in the phone. Get hold of a Memory card reader for around £20 and copy files onto an MMC or SD card plugged into your PC. Find out more on our Memory card page.


USB cable - refer to your phone's manual.

Files beamed to a Sendo X can be found in the Messaging application, in the Inbox folder

Sendo X manual
The Sendo X manual is no longer available from the Sendo site, and I'm afraid we can't find an online PDF any more. Found one? Let us know
Internet over Bluetooth?
Want to access the net on your device using your PC's connection over Bluetooth? It is possible, but pretty tricky. If you want to try, take a look at the complex instructions on Mika Raento's website
My phone reports that it's running low on memory

If in the course of normal operation, you start seeing messages about low memory, you need to remove some files from the Internal drive to recover some space. Note that 'memory' and 'storage' are effectively the same on a Series 60 phone.

If you're not sure what's on your phone, go to Tools > File Manager > Options > Memory details to see what's using your memory
If it's your MMC card that's filling up, go to Extras > Memory > Options > Memory details
To free space, use the File Manager app to either delete files, or to move them to the MMC card

For more on memory, see the questions below...

Extra memory
The Sendo X supports MMC and SD cards for memory expansion. It's often cheaper to buy online... Here are a few online options we've found:

Amazon - Always a good choice for reliable delivery at good prices
eBay.co.uk - bid for new cards at low prices!

For more details, see our Memory Card page

How do I format my memory card?
Go to Extras > Memory > Options > Format Mem Card
Hotmail and AOL access?

Hotmail and AOL use proprietary email systems, as opposed to the more common POP email systems - this makes it tricky to access mail on a Series 60 device. For email on the move, consider using a standard POP3 provider such as BT Yahoo (see setup details) that offers free email accounts that can be configured on a Series 60 phone.

If you really want to use Hotmail or AOL, see our Series 60 FAQ on this subject.

How do I enable Auto Keylock?
Surprisingly, most Series 60 phones doesn't come with an automatic keylock that switches on after a certain period of time to prevent accidental keypresses - however, the Sendo X does - and we're very grateful. You'll find the settings to enable this under Tools > Settings > Security.
Receive faxes on your mobile
Looking to get faxes on your Series 60 phone? See our answer in the Series 60 FAQ
How do I get to the ringtones settings?
Go to Profiles, select which profile you're in (if you're not sure, it's probably 'General'), press 'Options', 'Personalise', then press on the 'Ringing tone' option. Scroll up or down, and press 'Select' on the tone you want.
FM radio?
Some mobiles come with a built-in FM radio, but not the Sendo X. We're often asked whether software is available to add a radio to a phone that doesn't have a built-in FM radio. Unfortunately, it's not that simple, as it's not just a software issue. Phones that have built-in radios contain dedicated hardware in the phone to do this (an FM RF tuner)... and if your phone doesn't have this software, then you're out of luck. If you're really desperate to listen to radio from your handset, note that it is possible to listen to streaming audio over the Internet via GPRS (using an application such as Avec Radio), although don't expect the results to be up to much!
Can I use it as a modem?
Yes, using Infrared or Bluetooth.

Infrared - Series 60 phones have a 'Modem' option under 'Connectivity'. Selecting this option allows another device (such as a Pocket PC or Laptop) to connect to the Internet using infrared. If the equipment you wish to connect to doesn't have infrared, consider a 'USB-IRDA Adaptor' from Maplin Electronics (Cat no: RV88V).
Bluetooth - You can also use the handset as a modem from a Bluetooth PDA, or a PC with Bluetooth connectivity (such as a Belkin USB Bluetooth adapter). For more, see our Bluetooth page.

How do share my pictures with others?

Once you have taken a picture, there are three ways to get the files from your phone to other people or computers:

You can copy it to your PC with the software supplied on the CD . Depending on what you have connected to your computer, you can use Infrared or Bluetooth. Set your PC to receive files (using the IR or Bluetooth software supplied with your adapter), select the photo to send (from Images), then from the Options menu, select Send.
You can use the Messaging application and email the picture to yourself (or a friend)

Changing the default picture

To change the default wallpaper image used in the phone application, do the following:

Press Menu
Go to Tools | Settings | Phone | Standby mode
Press the joystick on the "Background image" option.
From the "Yes / No" option, select "Yes". You're now able to select from an image in your images folder

Copy entries from SIM to phone
If you're looking to transfer all of your names and phone numbers from your SIM card into the phone memory, here's what you need to do:

Contacts > Options > SIM Directory > Options > Mark > Mark all > Options > Copy to Contacts

What's my phone's serial number?
Enter '*#06#' as if it were a phone number, to get your handset's serial number (known as the IMEI) - useful to keep a note of in case your phone is stolen. You may also need this number when registering certain types of software.
Who's calling?

Thanks to caller display, we can see who's calling. For answers to your Caller Display questions, see our Caller Display Series 60 FAQ

Can I read my work email?
By default, Series 60 handsets support collection of email using the POP and IMAP protocols. Office systems such as Microsoft Exchange and Lotus Notes use a different set of protocols when communicating to desktop PCs for corporate email. Both Exchange and Notes support POP and IMAP email collection, but this is a service that many IT administrators restrict access to, for security reasons. If you are looking to collect your email from your phone, contact your company's IT department to see if they support POP and IMAP. They should supply you with the settings you need.
For help with setting up POP and IMAP email, see our Series 60 connectivity page
How do I format a Sendo X?

We accept no responsibility for use of this procedure. It should be used at your own risk.

The soft-format code for Series 60 phones is *#7370# . You enter this code as you would enter a phone number in the Phone application. It performs a format of the Internal drive - All data will be lost if you use this feature.

The method of performing a hard-format, i.e resetting it completely to factory defaults and removing all data, is as follows:

Switch off the phone.
Hold down the '5' key, and with this held in, turn the phone on with the power button
Wait until a green tick appears over the right softkey, then release the '5'
Follow the prompt to reset the phone

Note that you shouldn't switch the phone off or remove the battery when performing either of these operations, and it's advised that the handset has a reasonable amount of battery charge before performing a format/reset.

Alternative connectivity software

Rather than the software that came as standard with the phone, there's a rather useful third-party application called Oxygen II- This application supports Contacts, Calendar, Messaging and file management.
For details of how this works, take a look at our Oxygen page

Data conversion
For help with information on converting your Contacts, Calendar and documents for viewing on your phone, see our Conversion page for some general guidance.
Select Access Point?

If this message keeps popping up for no reason, it sounds like your Series 60 phone is trying to connect to the 'Net using GPRS and doesn't know which access point to use. Reasons for this are likely to be:

You've installed a piece of software that needs to connect to the 'Net (such as Activemail)
You have an email or MMS in your Outbox that's trying to send
You have GPRS set to "When available" (See Tools > Settings > Connection > GPRS)

May also be worth looking at the settings of your access points (Tools > Settings > Connection > Access Points).

As a last resort - Another poster in this forum has fixed the problem by backing up their contacts and other vital info, then performing a hard-reset - losing all data.

The various Series 60 passcodes:
Below is a list of the various code types you may find on Series 60 devices:

Lock code

Length: 5 digits
Detail:Used to prevent unauthorised access to certain functions on the phone
Set from: Tools > Settings > Security > Phone & SIM

PIN code

Length: 4 digits
Detail: This is an optional 4 digit code to protect your SIM
Set from: Tools > Settings > Security > Phone & SIM
Lost? - If you keep trying, you'll eventually get locked out and need to contact your network operator for a PUK code (see below)

PUK code

Length: 8 digits
Detail: You'll be asked for this 8 digit code if you've entered the wrong SIM code more than the allowed number of times. You'll need to contact your network operator to get this lock lifted. PUK code help.

Network locking code

If your phone was fixed to work on a specific network (for example, Orange), this lock may prevent you from using another SIM in the handset. You may see "SIM card rejected" or "SIM card unaccepted". This lock can be lifted for you by contacting the network operator in question (there may be a fee for this).