Nokia N95 Explored
This page contains information on the powerful Nokia N95 handset, including answers to common questions, and some help and advice.
The Nokia N95 is a combined quad-band, 3G mobile phone, with a 5 megapixel digital camera and wi-fi connectivity. This is the first Nokia Series 60 handset with onboard GPS for handheld Sat-Nav. The N95 uses the Nokia Series 60 platform (powered by Symbian OS v9.1).

Dimensions: 99 x 53 x 21mm (120 grams)
Screen: Colour, 240 x 320 pixels
Powered by Symbian Series 60 (third edition, feature pack 1)
Memory: Up to 150 Meg internal memory, with microSD expansion

Features:

GPS - Onboard satellite receiver for satellite navigation.
Connectivity: USB, Infrared, Bluetooth, GSM, WCDMA, HSDPA and WLAN wi-fi
5 megapixel camera, with Carl Zeiss optics and VGA video capture
Has a stereo FM radio and supports Visual Radio

Discuss the N95 in our Nokia Series 60 handset forum
UK Availability: Now (became available in April 2007)
Available with half-price rental and free car charger online at Vodafone.co.uk
Available free on a £50 a month contract, directly from T-Mobile online
Available free on Vodafone or Orange contracts from Phones 4 U
Available on o2 and T-Mobile from MobileShop
SIM-free unlocked from Play.com with free delivery.

Nokia N95 Review
This phone is one that we've been waiting on for some time now, and we weren't disappointed - this phone does just about everything it's possible for a mobile to do, and packs it into a tiny package. So, where shall we start?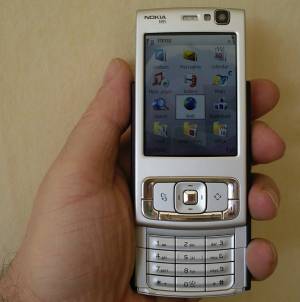 The N95 is shorter, and about the same depth as the excellent Nokia N73, and it's a comfy hold in the hand. The N95 has a slide-out keypad... well, two actually....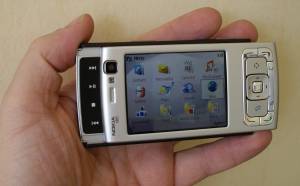 Sliding the screen up reveals the numeric keypad, and sliding the screen down reveals the media controls, skip, play and pause, as well as flipping the screen from portrait to landscape.
The phone is incredibly feature-packed. On the comms side, it's quad-band, 3G for fast net access, has Wi-fi, Bluetooth, infrared and USB connectivity.
On the software front, there's a heck of a lot. You get the standard Symbian Series 60 apps, Contacts, Calendar, Messaging, Gallery, Web, Music Player, etc, but you also get Maps (more later!), Visual Radio, Real Player, Flash Player, Lifeblog, Quick Office (Word, Powerpoint & Excel), Adobe PDF reader, a ZIP app, and even a Barcode reader.
| | |
| --- | --- |
| The N95 Main Menu | The N95 Applications Menu |
GPS
We're guessing the one you're most interested in reading about, is the GPS satellite navigation stuff, so let's take a look at that. Switching on the GPS receiver for the first time caused the phone to hunt for satellites - this first lock took around 10 minutes (a slow cold-start is common for GPS receivers). We then went into the Map application and were treated to an Earth-from-space zoom in to our current location (familiar to Google Earth users). It then pinpointed our location accurately onto a map.
It's important to note that the map data isn't held on the phone - it's downloaded over the Internet using 3G or GPRS, so there's a little delay. The downside of this over-the-air service, is the speed, but the upside is you don't have to fill your machine's memory with map data for parts of the country you'll never use, and it means that the map data can take on a global scale, and can be updated much more frequently.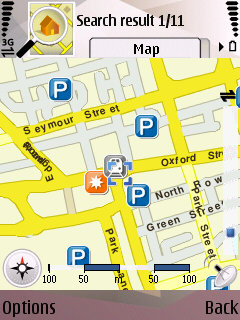 The N95 Map application pinpointing our location
The N95 Map application also supports place-to-place navigation, and you can select a destination by address (including postcode), landmark, or by scrolling around the map. When a route's calculated, you can scroll through step-by-step turns, or start in Navigation mode. You can have turn-by-turn voice prompts ("turn left after 150 yards", etc). When you first use voice navigation, the voice files have to be downloaded, which takes 1 or 2 minutes - these are stored to your phone's memory or an installed memory card.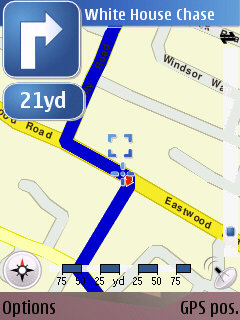 The N95 Map application pinpointing our location
We spent hours playing with the mapping software - very impressive, and completely useable. Before now, we've been using a TomTom One for our navigation, and this makes for an interesting alternative. The route planner is great, and there's some hidden nice touches, such as 2D or 3D map display, support for city guides and the option to change navigation preferences and map colours.
So, what else can we say about the N95? Web browsing on the move is an important thing for us, and the browser on the N95 doesn't disappoint - we were even able to download and listen to our technology podcast (via the N95 stereo speakers) over a wi-fi connection.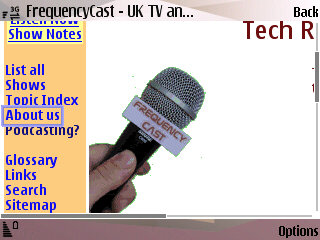 The N95 web browser, in landscape mode
Other features? The camera is simply great. Loads of options to play with, a Carl Zeiss lens, and 5 Megapixels. Camera software does the job, and the lens has a sliding cover to keep it scratch-free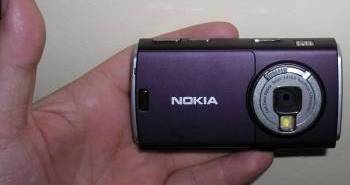 The back of the N95, with the lens uncovered
Supplied with the N95 - CD, manual, headphones, remote control for the headphones, audio out leads, USB lead and power supply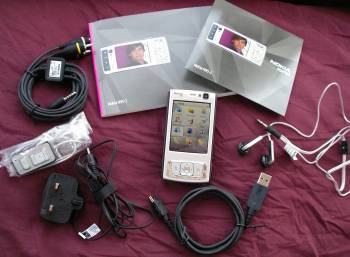 The back of the N95, with the lens uncovered
Summary
An excellent piece of kit - highly recommended. Sat Nav works a treat (if you can live with the downloading of data), the phone is both powerful and stylish, and its comms is amazing. The team is torn - as one of our number loves his o2 XDA Orbit, which offers most of the same functionality, adds on a touch-screen, and is cheaper. Where the XDA loses out is on the camera (less megapixels and no flash)... although it is a little cheaper. The only real negative to report on the N95, is the battery life - there 's a stack of functionality on the Nokia N95 but it does take it toll on the battery life, and we're finding we're out of juice if we don't give the phone a nightly charge.

Nokia's done a superb job with this phone, and the more you explore, the more subtle touches you find, such as the excellent stereo playback on the two built-in speakers, complete with stereo widening. We expect this to be the most wanted phone of 2007...

Sell your old phone for cash!
Got an old mobile phone handset that you're no longer using? Don't leave it gathering dust - recycle it. You may even be able to make some money for getting rid of your old phone safely.
For a summary of the best deals on making cash from your old handset, try the comparison search tool at www.sellyouroldmobile.co.uk
N95 FAQ
Your questions on the N95.
Accessories?

There's a wide range of accessories, including spare batteries, cases, chargers, in-car kits, hands-free units, data cables and fascias, available at Carphone Warehouse and MobileShop.

.

Email from your N95
If you're looking to use your N95 for sending and receiving e-mail, see our Series 60 Connect page.
More power
Our top accessory for the Nokia N95 is PowerChimp, a portable, rechargeable power supply with bunch of connectors, including the required mini-Nokia.
As reviewed in Show 32 of our UK Tech podcast. More details, see our PowerChimp review.


How do I connect my N95 to my PC?

The N95 can connect to a PC via Bluetooth or infrared using Nokia's connectivity software supplied on CD, or for download from www.nokia.com. Here is a summary of how to connect your N95 to your PC.

USB cable. The N95 is supplied with a USB cable that connects from the PC to the handset . When connected, you have to option to use the Nokia PC Suite to interact with the phone, or make a direct connection and access the filing system using Windows 'My Computer'.
IR connection. From the N95, go to Tools > Infrared to turn the phone's IR on. Line up the phone with the PC infrared port, and Windows should detect the N95. Then, use the Nokia Connectivity package to select the file you want to send to the N95. For more on IR, see our PC connectivity page
There are several IR adapters available, including the pictured 'USB-IRDA Adaptor' from Maplin Electronics (Cat no: RV88V).
Bluetooth connection. From the N95, go to Tools > Bluetooth. Turn Bluetooth 'On', then move to the second tab by moving the joystick to the right. This should show you all Bluetooth devices in range. If your PC isn't shown, select 'Options > New paired device' and let the N95 search for the PC connection. When the phone and PC are paired, use the Nokia Connectivity package to select the file you want to send to the N95.
If your PC doesn't support Bluetooth, then you can add it cheaply and easily using a USB Bluetooth adapter. We recommend the Belkin USB Bluetooth adapter available for around £15 from amazon.co.uk.
For details of Bluetooth, see our Bluetooth page, and for help connecting, see our PC connectivity page
Memory card reader. Another option is to make use of the microSD card slot in the N95. Get hold of a Memory card reader for around £20 and copy files onto a microSD card plugged into your PC. Find out more on our Memory card page.

Files beamed to the N95 can be found in the Messaging application, in the Inbox folder

wi-fi access on the N95
To set up a wireless connection using wi-fi, go to Connectivity > 'Conn mgr' , then select 'Available WLAN'.
For general wi-fi help, see our Wi-fi page
How do I install software?

Software for Symbian OS phones is normally supplied using a Symbian installation file (with a .sis extension). This is a single file that contains the components needed to get a piece of software installed and ready to run. A SIS file can be run on a Symbian phone (e.g. from the Inbox or via the File Manager. It can also be run via the PC connectivity solution that was supplied on the CD with the Nokia N95. Assuming you have a SIS file on your PC/Mac (either downloaded from the Internet or on a CD), the ways to install a SIS file onto your handset are as follows:

If you've downloaded an application and find you can't install it - make sure the file you're trying to install is a SIS (Symbian Installation) file. Many files are distributed in a compressed form (using the ZIP file format). If the file has a .ZIP extension, you'll need to unzip it first. You can do this with a PC application such as WinZip, or on the phone itself using the ZIP application in the Office folder.

For help with installing Java applications and games, see our Java on Series 60 FAQ.

Print out your photos

If you've taken some pictures of your chums with your phone's camera - here's a good way to share - Get the Polaroid PoGo - No messy ink cartridges, use your phone's Bluetooth to get instant prints with this portable, rechargeable Bluetooth printer.

See our Polaroid PoGo Review for more.



How do I uninstall software?

To uninstall software that was installed onto a Series 60 phone, go to Tools > App. Mgr from the main menu, select the application, press Options, and select 'Remove' from the menu

Extra memory for N95

The Nokia N95 supports microSD cards for memory expansion. Nokia can sell you their own microSD cards, but their prices for Nokia-branded cards are higher than for standard cards. We've not heard of any incompatibility with non-Nokia cards, so it's worth shopping around to get a third-party card. Here are a few online options:

Amazon - Always a good choice for reliable delivery at good prices
eBay.co.uk - bid for new cards at low prices!

For more details, see our Memory Card page

How do I format my memory card?
Go to Tools > Memory > Options > Format Mem Card
Hotmail and AOL access?

Hotmail and AOL use proprietary email systems, as opposed to the more common POP email systems - this makes it tricky to access mail on a Series 60 device. For email on the move, consider using a standard POP3 provider such as BT Yahoo (see setup details) that offers free email accounts that can be configured on a Series 60 phone.

If you really want to use Hotmail or AOL, see our Series 60 FAQ on this subject.

Can I use the N95 in the States?
Yes. The N95 is a quad-band phone operating on EGSM900/1800 (Europe, Africa, Asia Pacific), and EGSM 850/GSM1900 (USA, Canada, South America). There should be no problem using the N95 with network operators in these countries. Roaming restrictions from your network operator may prevent use of some services in other countries.
How do I enable Auto Keylock?
If you're looking for an automatic key lock that switches on after a certain period of time to prevent accidental keypresses, try Handy Keylock. The functionality is also included as part of Psiloc Extended Profiles application.
Receive faxes on your mobile
Looking to get faxes on your Series 60 phone? See our answer in the Series 60 FAQ
How do I get to the ringtones settings?
Go to Tools > Profiles, select which profile you're in (if you're not sure, it's probably 'General'), press 'Options', 'Personalise', then press on the 'Ringing tone' option. Scroll up or down, and press 'Select' on the tone you want.
Can I use it as a modem?
Yes, using Infrared or Bluetooth.

Infrared - The N95 has a 'Modem' option under 'Tools'. Selecting this option allows another device (such as a Pocket PC or Laptop) to connect to the Internet using infrared. If the equipment you wish to connect to doesn't have infrared, consider a 'USB-IRDA Adaptor' from Maplin Electronics (Cat no: RV88V).
You can also use the handset as a modem from a Bluetooth PDA, or a PC with Bluetooth connectivity (such as a Belkin USB Bluetooth adapter). For more, see our Bluetooth page.

How do share my pictures with others?

Once you have taken a picture on the N95, there are three ways to get the files from your phone to other people or computers:

You can copy it to your PC with the Nokia software supplied on the CD. Depending on what you have connected to your computer, you can use Infrared or Bluetooth. Set your PC to receive files (using the IR or Bluetooth software supplied with your adapter), select the photo to send (from 'Gallery'), then from the Options menu, select Send.
You can use the Messaging application and email the picture to yourself (or a friend)

Changing the default picture

To change the default wallpaper image used in the phone application, do the following:

From the main menu, go to Gallery
Go to Images
Select the image to use as a background
Select Options > Use Image > Set as Wallpaper

What's my N95's serial number?
Enter '*#06#' as if it were a phone number, to get your handset's serial number (known as the IMEI) - useful to keep a note of in case your phone is stolen. You may also need this number when registering certain types of software.
Who's calling?

Thanks to caller display, we can see who's calling. For answers to your Caller Display questions, see our Caller Display Series 60 FAQ

Recycle your mobile

If you've got an old mobile phone handset that you're no longer using... do your bit for the environment, and recycle it safely. You'll also make some money when you send your old handset back.

Don't leave it in the back of a drawer - see if it can find a new lease of life, and pocket you some cash.

For a summary of the best deals on making cash from your old handset, try the comparison search tool at www.sellyouroldmobile.co.uk



How do I format or hard reset a N95?

We accept no responsibility for use of this code. It is undocumented, not supported by Nokia and should be used at your own risk.

The soft-format code for Series 60 phones is *#7370# . You enter this code as you would enter a phone number in the Phone application. It performs a format of the Internal drive - All data will be lost if you use this feature.

The method of performing a hard-format, i.e resetting it completely to factory defaults and removing all data, is as follows:

Switch off the phone.
Hold down the following three buttons: Green (call answer) button, * button, and '3' button
While holding these buttons, press the power button and switch on the phone
When the message 'Formatting' appears on the screen, release all of the buttons

Note that you shouldn't switch the phone off or remove the battery when performing either of these operations, and it's advised that the handset has a reasonable amount of battery charge before performing a format/reset.

Alternative connectivity software

Rather than the software that came as standard with the phone, there's a rather useful third-party application called Oxygen II - This application supports Contacts, Calendar, Messaging and file management.
For details of how this works, take a look at our Oxygen page

Operating system

The Nokia N95 uses the Symbian Operating System. To check the version number of the operating system on your phone, type *#0000# as if it were a phone number.

The device can be upgraded to the latest version of the operating system at approved Nokia Service Centres - If the phone is still under warranty, this will be done free-of-charge. The process takes up to an hour, but service centre policies vary depending on how busy they are, and whether they have the reprogramming equipment onsite. Note that all data is lost when you upgrade, so it's vital to do your own backup first.

Copy to memory card
For details of how to copy files to/from an installed memory card, see the answer in our Series 60 FAQ.
Data conversion
For help with information on converting your Contacts, Calendar and documents for viewing on your phone, see our Conversion page for some general guidance.
Anti-virus
Viruses for Series 60 handsets are fairly rare, but they are around - mostly distributed via dodgy SIS files. Common Symbian viruses include Cabir, Skulls and Lasco. If you think you may have been affected, or are worried about security - try getting an anti-virus package for your Series 60 phone. Options include F-Secure, SimWorks and SMobile VirusGuard, and these are all available for download from www.handango.com.
My phone reports that it's running low on memory

If in the course of normal operation, you start seeing messages about low memory, you need to remove some files from the Internal drive to recover some space. Note that 'memory' and 'storage' are effectively the same on a N95 - the phone's Internal memory acts as RAM for programs and storage space for files.

If you're not sure what's on your phone, go to Tools > File Mgr > Options > Memory details to see what's using your memory
If it's your microSD card that's filling up, go to Tools > Memory > Options > Memory details to see how it's being used, or consider getting a larger memory card
To free space, use the File Manager app to either delete files, or to move them to the micro-SD card

For more on memory, see the questions below...

SMS to PC?

If you're looking to copy your SMS text messages to a PC, you'll find that the Nokia PC Suite software doesn't support this. The best option is to try Oxygen II - This is an alternative PC Suite and supports copying of SMS, MMS and other message types, as well as a few other things that Nokia suite can't do. Take a look at our Oxygen page

Various N95 passcodes:
Below is a list of the various code types you'll find on the N95:

Lock code

Length: 5 digits
Detail: Prevents access to certain functions on the phone
Set from: Tools > Settings > Security > Phone & SIM
Default: The default lock code for Nokia Series 60 devices is 12345.
Lost? - If you've changed this code and forgotten it - you will need to visit a Nokia authorised service centre, who will be able to reset the lock code for you.

PIN code

Length: 4 digits
Detail: This is an optional 4 digit code to protect your SIM
Set from: Tools > Settings > Security > Phone & SIM
Lost? - If you keep trying, you'll eventually get locked out and need to contact your network operator for a PUK code (see below)

PUK code

Length: 8 digits
Detail: You'll be asked for this 8 digit code if you've entered the wrong SIM code more than the allowed number of times. You'll need to contact your network operator to get this lock lifted. PUK code help.

Network locking code

If your phone was fixed to work on a specific network (for example, Orange), this lock may prevent you from using another SIM in the handset. You may see "SIM card rejected" or "SIM card unaccepted". This lock can be lifted for you by contacting the network operator in question (there may be a fee for this).

Memory Card lock code

Our forum often gets messages from people that are seeing "Memory card locked". This means that your microSD card has had a password set on it. If you know the password, and want to remove it, go to Tools > Memory.
Lost? - Sorry, but we don't know of a way to remove this code. The advice we've seen via our forum suggests that you may want to format your memory card either from the Tools > Memory > Options > Format mem. card, or using a PC Memory Card Reader. If you know of a better solution, please pass this on via our forum to help others that have managed to lock themselves out of their cards!
We have the answer to lots more Series 60 questions on our Series 60 FAQ
Other links
Want to talk about the Nokia N95? Please use our forum, or leave a message on our Podcast Podline, 0208 133 4567