Siemens SX1 Smartphone
This page provides information on the Siemens SX1, and helps with getting connected to the Internet for email and WAP
The Siemens SX1 is powered by Symbian OS v6.1 (Series 60), and is a combined mobile phone and PDA. Released in February 2004.

The SX1 is a GPRS phone with a colour touchscreen, digital camera (like the Nokia 6600), built-in FM radio, video player, camcorder and music player. F

Physical dimensions: 105 x 55 x 19mm
Screen dimensions 208 x 320. Weight 110g.

The SX1 has strips of keys built in to each side of the phone, instead of an ordinary keypad, to give it a sleek shape. This design innovation also shifts the large, 64K color high-resolution screen into the center of the device without compromising overall size as the SX1 only weighs 110 grams. Embedded discreetly underneath the screen are central navigation keys which help make the features of the SX1 even easier to navigate in the usual portrait mode or, if the application supports it, in landscape mode. Powerful as it is beautiful, the SX1 hosts the ultimate entertainment and business package. Features packed into a slender 99cm volume frame include: built-in video player, camcorder, music player and FM radio; rich unlimited gaming supported by Series 60 or Java (J2ME); full set of business applications directly comparable to a normal PDA, including local and wireless sync.

UK Availability: Now discontinued.


If you're looking to get hold of this handset, try the following:

Discuss the SX1 in our Nokia Series 60 forum
Other links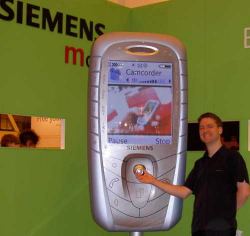 The SX1 - Not as small as some may think!
Siemens SX1 FAQs:
Operating system
The Siemens SX1 uses the Symbian Operating System. To check the version number, type *#0000#
Accessories?
There's a wide range of accessories, including spare batteries, cases, chargers, in-car kits, hands-free, data cables and fascias, at Carphone Warehouse
Email from the SX1
If you're looking to use your SX1 for sending and receiving e-mail, consider taking out an account with free provider, BT Yahoo. For details of connectivity, see our Series 60 Getting Connected section.
PC Connectivity Software

The SX1 was supplied with software to allow connection to the PC - this is called MPM (Mobile Phone Manager), and there's a special add-on to support Siemens SX1 functionality. This appears not to be available on the Siemens website, but can be download from elsewhere - try a Google search

How do I install software?

Software for Symbian OS phones is normally supplied using a Symbian installation file (with a .sis extension). This is a single file that contains the components needed to get a piece of software installed and ready to run. A SIS file can be run on a Symbian phone (e.g. from the Inbox or via a file manager. It can also be run via the PC connectivity solution that was supplied on the CD with the handset. Assuming you have a SIS file on your PC/Mac (either downloaded from the Internet or on a CD), the ways to install a SIS file onto your handset are as follows:

Extra memory for SX1
The Siemens SX1 supports MMC cards for memory expansion. Here are a few online options:

Amazon and Dabs.com stock a range of MMC cards - offering a wide range of sizes from different manufacturers
Consider bidding for an MMC card at Ebay.co.uk - nab a bargain

For more details, see our Memory Card page

Hotmail and AOL access?

Hotmail and AOL use proprietary email systems, as opposed to the more common POP email systems - this makes it tricky to access mail on a Series 60 device. For email on the move, consider using a standard POP3 provider such as BT Yahoo (see setup details) that offers free email accounts that can be configured on a Series 60 phone.

If you really want to use Hotmail or AOL, see our Series 60 FAQ on this subject.

Can I use the SX1 in the States?
Yes. The SX1 is a tri-band phone operating on EGSM900/1800 (Europe, Africa, Asia Pacific), and GSM1900 (USA, Canada, South America). Roaming restrictions from your network operator may prevent use of some services in other countries.
How do I enable Auto Keylock?
Surprisingly, the Siemens SX1 doesn't come with an automatic keylock that switches on after a certain period of time to prevent accidental keypresses. However, third-party application Handy Keylock is available to fill this gap. The functionality is also included as part of Psiloc Extended Profiles application.
Travel news on the move
Traffic-i is a dedicated application that lets you receive live road traffic information from the Trafficmaster network direct on your SX1 over GPRS. Find out about road issues in your area, plus an indication of the speed of traffic on motorways and

For more on this application, how to set it up, and details of using this on the move, see our dedicated Traffic-i page

For more information on mobile travel news, see our Travel page or our PDA-friendly Mobile Travel page.

What's my serial number?

Enter '*#06#' for your handset's serial number (known as the IMEI) - useful if your phone is stolen
Can I read my work email?
By default, Series 60 handsets support collection of email using the POP and IMAP protocols. Office systems such as Microsoft Exchange and Lotus Notes use a different set of protocols when communicating to desktop PCs for corporate email. Both Exchange and Notes support POP and IMAP email collection, but this is a service that many IT administrators restrict access to, for security reasons. If you are looking to collect your email from your phone, contact your company's IT department to see if they support POP and IMAP. They should supply you with the settings you need.
For help with setting up POP and IMAP email, see our Series 60 connectivity page
How do I format or hard reset a SX1?

We accept no responsibility for use of these codes. They are undocumented, not supported by Siemens and should be used at your own risk.

The reset code for Series 60 phones is *#7370# (entered as you'd enter a phone number). All data will be lost if you use this feature.

We've also received the following procedure, via an anonymous email - we haven't tried this either: To format the SX1, turn off the phone, then press * and # button simultaneously. While holding the keys, press the On button key, then when the phone is on, release the On key while holding the * and # key you will have to wait till the format is finished.

Note that you shouldn't switch the phone off or remove the battery when performing of these operations, and it's advised that the handset has a reasonable amount of battery charge before performing a format/reset.

Can I play MP3 files on my phone?
We're quite keen on the application UltraMP3! , which has a built-in playlist editor
Receive faxes on your mobile
Looking to get faxes on your Series 60 phone? See our answer in the Series 60 FAQ
Other problems
If you're having other problems with your phone, try our Series 60 FAQ, which includes more useful tips
The various Series 60 passcodes:
Below is a list of the various code types you may find on Series 60 devices:

Lock code

Length: 5 digits
Detail:Used to prevent unauthorised access to certain functions on the phone
Set from: Tools > Settings > Security > Phone & SIM

PIN code

Length: 4 digits
Detail: This is an optional 4 digit code to protect your SIM
Set from: Tools > Settings > Security > Phone & SIM
Lost? - If you keep trying, you'll eventually get locked out and need to contact your network operator for a PUK code (see below)

PUK code

Length: 8 digits
Detail: You'll be asked for this 8 digit code if you've entered the wrong SIM code more than the allowed number of times. You'll need to contact your network operator to get this lock lifted. PUK code help.

Network locking code

If your phone was fixed to work on a specific network (for example, Orange), this lock may prevent you from using another SIM in the handset. You may see "SIM card rejected" or "SIM card unaccepted". This lock can be lifted for you by contacting the network operator in question (there may be a fee for this).