UK Broadband Information and Advice
Details on UK Broadband Internet, and a look at what the UK Broadband providers have to offer
What is Broadband?
A broadband connection (ADSL) provides high-speed Internet access over a standard phone line. The advantage of a broadband connection over the older dialup service, is that Broadband is considerably faster, and is 'always-on', meaning that once you're logged on, your PC is online until the PC is turned off again.
Broadband offers high-speed Internet access and allows telephone calls and a permanent Internet connection to share a single phone line simultaneously.
What do I need?
Broadband coverage in your area. Each broadband provider allows you to enter your phone number or postcode to check availability. A basic test is done on your line, and when you sign up, a more comprehensive test is carried out.
A Broadband (ADSL) modem or router. These cost from around £50 (PC World) - although many Internet providers, including BT Broadband, provide you with a free router when you first sign up to their service. If it's offered, try to get a free wireless router with your Broadband package.
Microfilters. When Broadband is enabled, the broadband signal is available via any extension socket in your home as well as the main point. You'll need to use a filter to cut out the Broadband "crackle". You need a filter on every phone socket that has something plugged into it - this includes phone handsets, fax machines and your Sky box.
Check your likely download speed:
To get a feel, try a check with BT first... enter your phone number and postcode at the speedchecker: bt.com/btbroadband - then, check some of the other providers to find the best deal.
UK Broadband Internet Providers compared
BT Broadband - BT offers broadband and fibre packages with speeds up to 900Meg. BT has the largest Broadband infrastructure in the UK.

Special offers: BT are offering a range of extras to encourage people to make the switch to Broadband. Currently they're offering:

Free wireless modem - Get a BT Hub for wi-fi access in your home.
BT TV- Hard-disk recorder and access to on-demand movies and TV shows on your telly

Free security - Norton PC antivirus & firewall software on most packages
Free Technical Support - 24/7 0800 support number

More details at www.bt.com/btbroadband



Sky Broadband offers standard broadband and a higher-speed fioblre broadband. Main packages are:

Sky Broadband Unlimited: As the name suggests, no download limit. Speeds available up to 17Mb download.
Sky Fibre: Speeds of up to 76Mb download. Standard fibre package has a cap of 25GB a month, or there's an unlimited package

All packages come with a free wireless router, known as the Sky Hub

Additionally, there's Sky Talk whicjh offers inclusive free UK evening and weekend calls, and you can keep your existing line and number. Sky line rental of £18.99 a month applies.

For full details of Sky's Broadband service, see our Sky Broadband Info page, or go to sky.com/shop/broadband-talk




TOP DEAL: Tired of paying a fortune for your Broadband? Switch to Plusnet and pay £6.49 for their basic broadband service. You don't get all the bells and whistles such as a digital TV service, but if you just need a low-priced broadband service, then this is for you. Plusnet also are known for their excellent customer service, and their Yorkshire Tech Support team. See our Plusnet Information page for more.

10 Gig a month allowance, speeds of up to 16 Meg, from £6.49 a month with free setup.

80% of the UK can get low-priced broadband from Plusnet - Can you? Check at www.plus.net.



FASTEST: Virgin Media is the UK's cable Internet provider, taking over from Telewest and NTL cable. As well as offering a cable Internet service, they also offer Internet to customers outside their cable coverage area. Here's a summary of what Virgin offers:

Up to 30 Mb: Up to 30 Meg download speed, with no download limit - £14.50 a month
Up to 60 Mb: Up to 60 Meg download speed, with no download limit - £18.50 a month
Up to 100Mb: Up to 100 Meg download speed, with no download limit - then £25.50 a month

Virgin Media's Broadband services include:

Free Broadband modem
Free Internet security
No download limits (Acceptable Usage Policy applies)
15 Virgin email addresses
Virgin Media also offers digital TV, home phone and mobile phone - signing up for a package can bring great savings

Virgin Line rental of £13.90 applies

For more details, go to www.virginmedia.com.

TalkTalk offers home broadband and phone service. They acquired one of their competitors, Tiscali, in 2009.

Full details at www.talktalk.co.uk




Be Broadband is not the most well known name, but they have a great selling point - Speeds of up to 19 Meg on the BE Unlimited package. The number of exchanges supporting Be Broadband is growing (slowly). Prices to join the Broadband revolution start from £7.50 for their basic service or under £18 a month for their fastest service.

Check if Be is available in your area at www.bethere.co.uk.
Installing Broadband
If you're looking to get Broadband, you'll need to be in an area of broadband coverage, have signed up with a company to give you Broadband, and have a Broadband modem.
Once you have signed up for your account, there's normally around a five day wait, while your provider makes the appropriate changes to your phone service at your local phone exchange. After that, you'll be switched on to Broadband. Here's a summary of what happens next: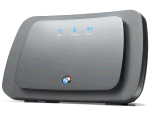 If you don't have a Broadband modem, you'll hopefully have requested one - if you've gone with BT Broadband, you'll probably be sent a BT Home Hub (pictured). The modem will probably be posted or couriered to you.
Once you have your modem and it's your activation day, here's what you'll need to do to connected:
Start up the PC, and install the supplied software - it's the modem drivers for the Broadband modem
Plug the microfilter into the phone socket (you also need microfilters for other handsets/equipment in your house, as above)
Plug the modem's phone lead into the ADSL port of the filter
Plug the modem's USB lead into a spare USB port on the PC
From the Start menu, start up the supplied software, and enter the account details supplied by your broadband provider. You should just have a username and password - unlike a dialup account, there's no phone number


Summary of setup

Frequently Asked Questions
Got a question on Broadband in the UK? Check our Broadband FAQ
Broadband Links