PDA Advice - Choosing an online PDA
Help and advice on what to look for when buying a PDA that's able to go online
There are many sites dedicated to helping people identify the best handheld device for their needs. This page offers advice from the perspective of a user's requirement to be connected while on the move, for email and Internet access. If there's something you'd like to see added, please let us know.

For some general advice on buying a PDA, see our PDA buyers page

If you're looking for a handheld way to connect to the Internet for email or web surfing, there are two options open to you - using a dedicated all-in-one "smartphone", or using a handheld computer coupled with a mobile phone.
One-box solutions
A one-box solution is a smart way of getting online. Rather than having a handheld computer connecting to a mobile phone via infrared or Bluetooth, the one-box solution gives you everything you need in one package - in other words, a handheld computer with a built-in phone, or a phone with built-in email/web software. Particularly popular in this area are the following:
Windows Mobile devices - such as the Qtek S200 or the o2 XDA -These Pocket PC devices are combined PDA and mobile phones with all the software you need, and excellent connectivity options
Symbian OS devices - such as the Nokia 6680 or the SonyEricsson P910i. Symbian's software started life on the Psion range of PDAs, and has evolved to be a powerful smartphone platform with built-in web browser and email software
The real advantage of the one-box solution is the simplicity - there's a lot less fiddly setup needed, and the solution just works.
Two-box solutions
Two box solutions (a separate phone and computer) tend to be cheaper options, and if you're really budget-conscious and not looking for the most up-to-date stuff, end-of-line models, or even second-hand machines can be the way to go. The down-side is that in order to connect the handheld computer to the phone, you need to connect either with a cable, or more commonly, wirelessly using either infrared or Bluetooth - all of which can be a little fiddly to set up.
Looking for a PDA? We recommend totalpda.co.uk
Ways to connect
If you're using a one-box smartphone, you'll probably have all you need already. For a two-box solution, you'll need to have the following:
A handheld computer that has Internet / email software
A mobile phone with a built-in data modem
A way of connecting the two - most commonly you'll need both boxes to have Infrared. You can also connect via Bluetooth, or in some cases via a dedicated cable connection. Infrared is the most common, requires the two boxes to be in line-of-sight with each other, and is the least complicated to set up.
You'll also need an Internet service provider (your existing provider should be fine), and a mobile phone account with a network operator (such as Vodafone, o2, Orange, T-Mobile, etc). Note that your mobile phone service must be "data-enabled". A phone call to your network operator will get this done, and there's normally no charge for setup.
| | | |
| --- | --- | --- |
| Email on a SonyEricsson P800 | Browsing on a Nokia 3650 | Surfing on a Pocket PC |
Tip.
Bookmark this site if you're planning to connect your handset to the Internet. We have pages of configuration on getting online with a Pocket PC, Palm or Psion machine, plus help with setup for Symbian smartphones, and online settings for BT Yahoo and o2.
Running costs
The most common way of making a connection to the Internet when on the move, is via a dial-up service... In other words your smartphone or pda/mobile dial a phone number supplied by your Internet Service Provider (BT Yahoo, Virgin Media, Tiscali, etc). You can expect to be billed for every second that you're online. Some things to note:
In the mobile phone world, don't expect a low-call 0845 or a local-rate dial-up number to be cheaper... Commonly you'll be paying the standard rate for a call to a landline number (check your network operator's tariff)
Your mobile operator may offer you free minutes, but internet numbers may not qualify - so check your contract/tariff to confirm this. If you don't get free minutes, consider shopping about for a new tariff.
Connection over a dialup service from a mobile phone is slow. You're looking at data speeds of 9.6kbps - a PC modem is 56kbps
Consider using GPRS instead of a dial-up service. GPRS is faster than standard dialup, but is billed differently (per megabyte, not per second). It's also not available on all handsets, has to be enabled by your network operator, and can be a little quirky to set up.
Case Study 1: Two-box solution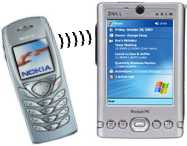 PDA: Dell Axim Pocket PC
Phone: Basic Nokia mobile phone with Bluetooth or IR
The Dell Axim range of Pocket PCs have had excellent reviews, contain a fair amount of power for their size and cost, and tend to be reasonably-priced. These PDAs come with all the software that you need to connect to the Internet. For the handset, we're using the now obsolete Nokia 6100, which is a medium-range handset with a built-in modem and infrared connectivity for use with the Pocket PC. We're using a free Internet service from BT Yahoo.
Cost: Dell Axim Pocket PCs start from around £200 (directly from www.dell.co.uk). You can pick up a basic Bluetooth-enabled phone free on contract at O2 online or from Carphone Warehouse - expect to pay around £20 a month
Costs
Hardware cost: £200
Monthly rental: £20 (for the mobile phone)
Online costs: 10p per minute
Internet charge: nil
Extras: Up to 1000 free texts and an inclusive GPRS WAP allowance
Links