Palm Treo 680 Smartphone
This page contains information on the Treo 680 smartphone.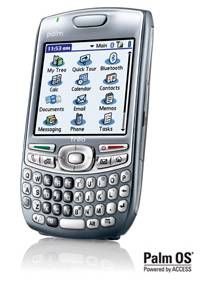 The Palm Treo is a surprisingly powerful smartphone. With email, messaging, web, organiser and more, this is a powerful little communicator.
Surprisingly easy to use, its large screen and keyboard make it just the right size. You can also use the Treo 680 with GPS for satellite navigation.
Palm Treo 680 Specification
320 x 320 pixel touchscreen (65,000 colours)
Full QWERTY key layout with backlighting
Palm OSŪ 5.4
Processor: IntelŪ PXA270 312 MHz
Dimensions: 111 x 58 x 21 mm
Wireless: GSM/GPRS/EDGE and Bluetooth
Memory: 64MB non-volatile flash memory
Battery: Removable, rechargeable lithium-ion battery
FAQs
| | |
| --- | --- |
| Spares and accessories | If you're looking for spares and accessories, such as spare styli, cases, Memory cards, leads and batteries, try the Palm Store. Failing that, we also recommend Partmaster. You'll also find a good selection of connectivity accessories at computer specialists Dabs.com. |
| How do I copy data to another PDA? | See our dedicated page on PDA conversion for details of using HotSync with Palm Desktop and PocketMirror |
| Palm repairs? | If you need to get your Palm repaired, you should contact the appropriate Palm repair centre - In the UK, go to www.palm.com/europe/en/support/ |
| Email on a Palm? | If you're looking to access email or the Internet on the move, you may find that your palm already has what it takes to access the 'net with your existing mobile phone. For help on getting connected from your Palm OS device, see our dedicated page on configuring your Palm Treo for Email and Internet access |

Got a question on the Treo 680? Ask us!