Palm OS PDAs
This page contains information handheld organisers and smartphones powered by the Palm OS operating system. We also have pages on how to connect your Palm, Treo or Clie to the Internet, for email, web and wap access. If you're looking for help, try our Palm OS forum.
Palm Z22

Basic Palm OS device

OS: Palm OS 5.4
Memory: 32 Meg
Power: Internal rechargeable
Processor: 200MHZ
Display: 160 x 160
Dimensions: 17x26x10mm

Palm Treo 680 - Combined phone and PDA

Top-of-the range data-enabled PDA and smartphone, with a camera, keyboard and access to data services over GPRS. It has a colour touch screen (320 x 320 pixels), has 64MB of memory (with more via SD / MMC slot), and allows web and email access. More on our Treo 680 page.

OS: Palm OS 5.4.9
Processor: Intel XScale PXA270
Palm OS computers and smartphones are available from:
Palm Store - Online store from Palm, worth checking for their specials
Amazon - For online bargains
Samples of Palm applications from a Tungsten E (Palm OS v5)
Links to top Palm sites:
Lots more links at the On The Net page.


Software to check out: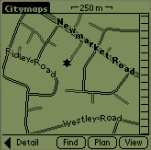 CityMaps and RoutePlanner -Excellent route planning software from TomTom (formerly Street Planner from Palmtop BV). These products are simply amazing, allowing you to plan routes to town level or street level in amazing detail. You can also hook up to a GPS system for moving map navigation. Very detailed. Also runs on Psion/Symbian OS and PalmOS. For more on GPS from your Palm, see our GPS page
Real One Mobile - Real Audio and Video on a Palm.
Palm-related links:
Palm's UK Site - Information, support and Palm's online store
Pricerunner or Kelkoo - Check out the best UK prices on new Palm / PalmOne / Sony Clie hardware.
eBay.co.uk or eBay.com - Bid for new or used Palm machines and accessories, and sell your unwanted Palm stuff
Partmaster - Spare styli, cases, Memory cards, leads and batteries can all be found on the Partmaster site for to-the-door delivery. Also recommended for accessories is Dabs.com
Palm OS and Mac - Help and advice on connecting a Palm OS device to an Apple Mac
Tungsten T5 - Details of this Palm OS device
Tungsten E - Details of this Palm OS device
TV and Radio Guides - Forget buying TV listings magazines. Get programme listings on your Palm!
Palm Connected - A copy of an old article from Palmtop User Magazine on Internet connectivity
Online with a Palm - Help on getting your Palm OS device online for Internet and Email
FAQs
Spares and accessories

If you're looking for spares and accessories, such as spare styli, cases, Memory cards, leads and batteries, try the Palm Store.

Failing that, we also recommend Partmaster. You'll also find a good selection of connectivity accessories at computer specialists Dabs.com.

How do I copy data to another PDA?
See our dedicated page on PDA conversion for details of using HotSync with Palm Desktop and PocketMirror
wi-fi and a Palm?
wi-fi allows you to connect anywhere you have Wi-Fi access - at home, the office or at hotels, cafes and airports. You can send and receive email, browse the web, even wirelessly synchronize with your computer. (May require additional service plans, software and equipment.)

Some Palm models come with wi-fi built in. For other models, such as the Tungsten T3 , T5 and the Zire 72, a wi-fi SD card is now available from Dabs.com and Amazon .
Palm repairs?
If you need to get your Palm repaired, you should contact the appropriate Palm repair centre- In the UK, go to http://www.palm.com/europe/en/support/
Email on a Palm?
If you're looking to access email or the Internet on the move, you may find that your palm already has what it takes to access the 'net with your existing mobile phone. For help on getting connected from your Palm OS device, see our dedicated page on configuring your Palm, Clie or Handspring for Email and Internet access
How do I set up WAP?
WAP is what's used to allow mobile phone users to view internet pages from their mobile without the bells and whistles that you find on a desktop browser. It's also possible to access WAP content from your Palm. See our dedicated page on configuring your Palm, Clie or Handspring for WAP access