o2 XDA Orbit Windows Mobile Help and Advice
This page contains a brief review on the o2 XDA Orbit Windows Mobile, and some useful information on using this device.
Manufactured by HTC, this feature-packed phone / PDA is also known as the HTC Artemis (HTC P3300), and is also branded as the T-Mobile MDA Compact III.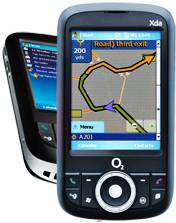 Key points:
Onboard GPS for satellite navigation
Great connectivity: wi-fi, GPRS, Bluetooth and USB
Built-in 2 megapixel camera (with video)
Loaded with multimedia software (mp3, video player and FM radio)
Small, light and powerful
Powered by Microsoft, for sync of email, contacts and diary with PC
Details on the o2 XDA Orbit
OS: Windows Mobile Version 6.0
Expansion: Micro SD slot
Display: 240 x 320 pixel touchscreen (43 x 58mm)
Memory: 64MB RAM / 128Meg ROM
Navigation: Touch screen, track wheel, trackball
Battery: Removable, rechargeable Lithium-ion 1200mAh (150-200 hours standby, 3.5-5 hours talk).
Processor: 201MHz TI OMAP 850

Now available in the UK (first seen Dec 2006)
o2 version: Available contract for free from O2's online store on selected tariffs (with Free Co-pilot software)
T-Mobile version: MDA Compact III available for free on selected tariffs from T-Mobile (with Free Co-pilot software, but with wi-fi disabled)
o2 XDA Orbit Review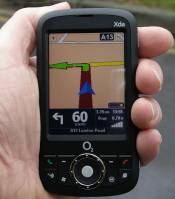 We got hold of the o2 XDA Orbit in December 2006, just after its UK release. First impressions have been very positive. This device is another in the popular XDA range from o2, which offer high-specification and high functionality to those looking to get more features on their mobile. The XDA Orbit combines a high-end mobile phone with the power of the latest version of Windows Pocket PC operating system. It's manufactured by HTC, and is an update on their Prophet (Qtek S200) device. The phone is also available from T-Mobile, branded as the MDA Compact III.

As a PDA, the Orbit offers all of the features you'd expect from a Windows Mobile device, such as email, Internet, Contacts, Calendar, Word and full sync to Windows and Microsoft Outlook. It also has an onboard GPS receiver, for use with satellite navigation software, such as Copilot or TomTom Navigator. The xda Orbit has wireless connectivity with Wi-fi and Bluetooth, plus support for USB, and it's also a quad-band data enabled mobile phone with a 2 megapixel camera.

Size-wise, this is a great fit for the hand, and is one of the most comfy Windows Mobile devices we've held.
Navigation using the Orbit is impressive. Obviously, for most of the interaction, there's the touch screen, but the manufacturers have done away with the traditional 5-way joystick, in favour of two navigation methods - First, there's a silver scroll wheel, which works well for up/down navigation (think iPod), and secondly, there's a small trackball. Being familiar with the more traditional joystick, we felt some initial culture-shock, but after a while, we came to the conclusion that for web browsing, and more importantly, map navigation, the trackball idea is pretty neat... so now we're sold.
Here's a closer look at some the headline features of this phone:
Connectivity: Integrated Wi-fi and Bluetooth using Windows Mobile's own software. On the bottom of the phone is a standard mini-USB connector (used for charging, headphones and connection to a PC). Sadly, the only thing this phone doesn't offer, is infrared connectivity. Note that, for some odd reason, T-Mobile has elected to disable wi-fi on their variant of this phone, the MDA Compact III.
The phone is a very capable communicator, and one of the key uses of the o2 XDA Orbit is likely to be getting online, either out-and-about with GPRS, surfing over a Wi-fi network or hotspot, or even connected to a PC via USB. The device comes with the software you'll need for Internet access, such as Web, email, MSN (including Hotmail access and Messenger), or services such as Avantgo or Skype (for free calls)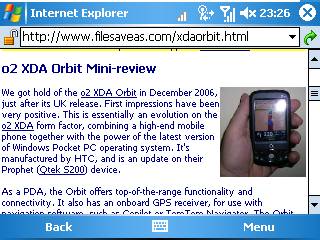 Surfing on the o2 XDA Orbit in Landscape mode
Satellite Navigation: The o2 XDA Orbit has a built-in GPS receiver, so can be used with Satellite Navigation software, most commonly used for route planning. If you decide to go for the o2 XDA Orbit / T-Mobile Compact III, check the offer you're signing for carefully, and make sure you find a deal that throws in the free Sat Nav software. For example, if you go for the Orbit in an o2 store, the software is only free if you're on a £40 a month tariff, but ordering at O2's online store at the time of writing, you get the Co-pilot Sat Nav software for free.
Good news seems to be that the satellite receiver in this phone can be used with other sat nav software. We much prefer TomTom's Navigator software to the Co-pilot package, and we were able to load this up onto our Orbit without problems. Here's a shot of the TomTom Navigator software on an XDA Orbit: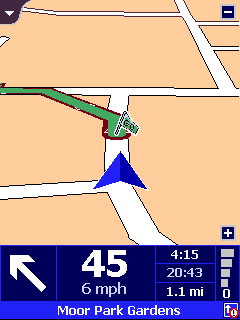 TomTom Navigator on the o2 XDA Orbit
The satellite receiver built-in to the Orbit is a SirF III chipset receiver, which offers a faster startup and seek time than many of its predecessors, and can locate a position from the orbiting satellites pretty quickly. The Orbit phone also has a little app called QuickGPS, which can speed up the time taken to find your location by GPS by using a database of positions from the Internet, although we found the first out-of-box lock to be fast enough.
Camera: The o2 XDA Orbit sports a 2 megapixel camera with a resolution of up to 1600x1200. The camera software has a number of modes: photo, video, MMS video, contacts picture, picture theme, Sports and Burst mode. There are various ambience settings and a digital zoom (10x)to play with, and some fairly basic options to allow cropping and rotating of images. From Microsoft's Pictures and Videos application, media browser, you can view a slide show, or easily send an image to others. Photo quality is pretty impressive, although as with most devices in this class, it's let down by the lack of flash for those indoor shots. This phone also captures video (176x144 and 128x96).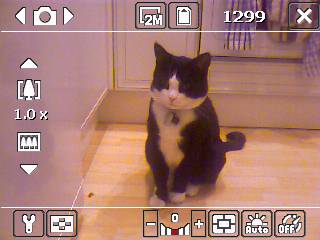 The camera application
Business apps: The standard Microsoft Windows Mobile set: Pocket Word, Pocket Outlook, Pocket Excel, plus Powerpoint Mobile. There's also ClearVue PDF for on-device PDF viewing, and Terminal Services for remote access to a desktop PC. Synchronisation to PC is achieved smoothly using Microsoft's ActiveSync.
| | | |
| --- | --- | --- |
| ClearVue PDF | Pocket Excel | MSN Messenger |
Telephony: As a phone, o2's xda Orbit is more than capable, but may take a little getting used to - first off, you need to get used to using a touch-screen to dial phone numbers, as opposed to a standard phone keypad. This isn't a problem, just odd if you've got years of experience with dialling on a traditional mobile. Creating an SMS is a joy - the touch-keyboard or the handwriting recogniser makes composing text messages easy. As a phone, the xda Orbit is ok - perfectly usable, but slightly harder work than a more traditional phone.
| | | |
| --- | --- | --- |
| Phone Dialler | Connectivity settings | Email |
FM Radio: Well, why not? The radio has 20 presets, auto-scan and works with headset or on loudspeaker (possibly a little quiet). You need to have the supplied headphones connected (as the radio uses this for the FM aerial). The radio picks up the name of the station you're listening to, using RDS.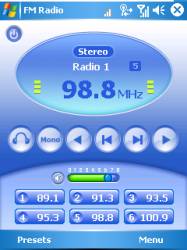 FM Radio on the XDA Orbit
Other apps: The phone is packed with other goodies, such as a copy of Windows Media Player capable of playing a number of audio and video formats as well as streaming audio (podcasts). There's also a huge range of third party software applications that are available for the Windows Mobile platform, meaning that there's lots you can add to your Orbit to make it even more useful
| | | |
| --- | --- | --- |
| Playing a video | Free voice calls with Skype | Sending a text |
XDA Orbit Summary
So, what do we think of the XDA Orbit? Well, we're pretty impressed. The ability to use the phone for route planning without the need for a separate Bluetooth GPS receiver is great - it works perfectly well in a car for navigation, as well as on foot. We're also into our mobile surfing, so we're happy with it's Internet connectivity - effortless surfing over GPRS, wi-fi access points, or when connected to a PC's USB port. The phone has an OK 64Megs of RAM, and you can add a Micro SD card for expanding on-device storage (essential for SatNav software). You can also add loads of great Windows Mobile applications. All in a neat size.
The downsides? It has a relatively slow processor, meaning it's prone to minor slowdowns when running thirsty apps such as Sat Nav. There's always a trade-off with processor speed vs battery life, so we can live with this.

Overall, as a connected PDA, this excels, and is the smallest and most feature-packed one-box solution we've found. At FileSaveAs, we're a fan of connected devices and smartphones, and this is currently topping our chart.
Pros: Small size, maximum features, GPS onboard, powerful software, top connectivity and 2 Megapixel camera
Cons: Slowish processor
December 2006
Supplied with the o2 XDA Orbit: The o2 XDA Orbit comes with a power adapter, USB cable, set of stereo headphones, User Guide, a spare stylus, and two CDs of software. The discs include Microsoft ActiveSync 4.2, Microsoft Outlook 2002, Clearvue PDF viewer, wireless modem USB driver and a GPRS monitor application.
Note re. Navigation software: Sat Nav software is not always supplied with this phone, and you should check to ensure that the software is bundled in when you buy this phone. At the time of writing, the phone comes bundled with Copilot when purchased online from O2 online and T-Mobile, but it wasn't available free when purchased instore at o2 stores.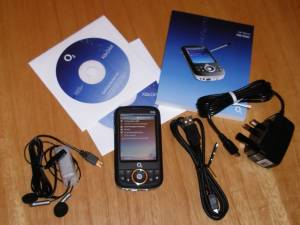 Our summary? If you're looking for a powerful phone and PDA with just about every connectivity option, this is the one for you... Again, be warned that the T-Mobile version (MDA Compact III) has had wi-fi disabled, making the o2 XDA Orbit variant much more attractive.


Sell your old phone for cash!
Got an old mobile phone handset that you're no longer using? Don't leave it gathering dust - recycle it. You may even be able to make some money for getting rid of your old phone safely.
For a summary of the best deals on making cash from your old handset, try the comparison search tool at www.sellyouroldmobile.co.uk
Frequently-asked questions:
This section contains the FAQ for the o2 XDA Orbit / T-Mobile MDA Compact III . If you've got a question for this section, please let us know.
Latest software version?

To check your version, do the following: Start > Settings > 'System' tab > 'Device information' application > 'Version' tab.

As of August 2007, the latest release that we know of for the o2 xda Orbit is: ROM version: 3.4.206.2 WWE (18/04/07)

Update: August 2007: A ROM update for the XDA Orbit has just been released, to upgrade the OS from WM5.0, to Windows Mobile 6.0. This free software update can be downloaded from http://www.my-xda.com/software_updates.jsp

Looking for software?
Check out www.handango.com for one of the widest ranges of Pocket PC software out there. If they don't have what you need, try www.pocketgear.com.
Memory Card
The o2 XDA Orbit has an expansion slot for a Micro-SD card. This can be found below the battery compartment next to the SIM card slot. If you're looking to get hold of a Micro SD card to allow extra memory to be added to your Orbit or MDA III, we recommend Amazon. For more info and other suppliers, see our Memory Card page
Looking for accessories?

For a good range of Windows Mobile spares and accessories, we recommend you try Partmaster are great for spare styli, cases, Memory cards, leads and batteries can all be found on the Partmaster site for to-the-door delivery. There's also Dabs.com for spares

Specifically for the o2 XDA Orbit and T-Mobile MDA Compact III, we've found:

Know of any other accessory suppliers? Let us know?

Discuss the xda Orbit
If you've got questions about the o2 XDA Orbit / T-Mobile MDA Compact III / HTC Artemis, why not ask in our Windows Mobile forum? Hopefully other users will find this forum and start adding some discussion. Go to the forum
How do I reset?

To perform a soft-reset (if the device has locked), briefly insert the stylus or a paperclip into the reset hole on the left-hand side of the o2 XDA Orbit.

If you want to hard-reset your o2 XDA Orbit, here's how. This will return your machine to factory defaults - losing all of your data. To format your xda Orbit, go to Start > Settings > 'System' tab and select "Clear Storage" - then follow the prompts.

I need help connecting

If you're looking to get your o2 XDA Orbit / T-Mobile MDA Compact III / HTC P3300 connected to Internet or to a wireless network, we have some pages of help on this, as follows:

Activesync problems

For problems with ActiveSync, see our page dedicated to Microsoft's PC synchronisation solution, Activesync

Navigation software

With luck, you'll be able to get some free software bundled with your XDA Orbit. This is most likely to be the CoPilot package.

Our personal favourite though, is TomTom Navigator. This is easy-to-use, and one of the most well respected satnav apps around. It provides spoken route directions (we're using the voice of John Cleese!), and it works a treat on the Orbit. You can also add a free Speed Camera database to get alerts as you're motoring along. Full UK & Europe maps (to street / postcode level), and a whole stack of extra features. Highly recommended!

For more on TomTom Navigator on a Windows Mobile device, see our Navigator page. See the TomTom FAQ on this page for help using Navigator

TomTom Navigator with the Orbit

Both TomTom Navigator 5 and TomTom Navigator 6 work just fine on the o2 XDA Orbit.

Installation of TomTom Navigator onto the XDA is straightforward - you need to connect the XDA Orbit to the PC using ActiveSync, then install TomTom using the setup application on the TomTom CD. Due to the amount of space needed for the maps, you'll need to install to the Micro SD card.

If you're looking for information on how to get TomTom Navigator working with your o2 XDA Orbit, the following might be of use:

After you have installed TomTom Navigator successfully, here's how to get the Orbit's built-in GPS receiver to work with TomTom

Start > Settings > 'System' tab > GPS
From the GPS settings 'Programs' tab, set the "GPS program port" to a spare COM port - COM4 works for us


Close the dialog by selecting 'Ok'
Now, open TomTom Navigator. Go to the menu, select 'Change preferences' > 'Show GPS status'. Next, press the 'Configure' button
Scroll through the predefined GPS receivers, and select ' Other NMEA GPS device'. Press 'Select'
Next, set the baud rate. The default of 4800 worked fine for us, but we also had good results with the maximum speed of 115200. Then press 'Done
Finally, set the COM port to the port selected earlier, e.g. COM4


That should be it. The next screen should show the GPS Status screen , with information on the satellites received.

GPS on the Orbit

A question from a site visitor about GPS on the XDA Orbit: "Can the Orbit use GPS with the standard satellite (free service), and does the software for the GPS expire after a date pre-set?"

The GPS receiver on the Orbit gets its signal from orbiting GPS satellites - this satellite service is free to use and there is no subscription or service expiry date. Depending on who you buy the phone from, you may get TomTom or CoPilot navigation software supplied with the phone. We're not aware of any expiry on either of these packages when sold with the Orbit. See also our Mobile Maps page.

Skype on the XDA orbit?

The o2 XDA Orbit can be used to connect to Skype - a service that offers voice over the Internet - with this, you get free voice calls to other Skype customers around the world, or can make low-priced calls to landline and mobile phones.

Skype has released software for a range of Windows Mobile devices, including the o2 XDA Orbit, and as long as your device can connect to the Internet (preferably using wi-fi, but GPRS works), then you can use Skype. On the Orbit, it seems best to use a headset for better audio quality - Also, due to the slowish processor on the Orbit, multitasking mid-call causes a slowdown.
The version of Skype we used is v2.0, and we picked the Skype Mobile - Low CPU version

For more on Skype, see our Skype page, or go to www.skype.com

Bluetooth Headset

We've been asked for help on how to get an o2 XDA Orbit working with a Bluetooth headset for hands-free voice calls, so we've added the answer to our Windows Mobile FAQ.

Headphones on the Orbit

Thanks to forum visitor UKenGB for asking us about use of headsets and headphones with the XDA Orbit. He asked a number of questions about using the Orbit with its internal mic and earpiece, as a speakerphone and via a headset. We did some tests, and here's what we found:

When used as a phone (with no headphones or headset), you use the phone's built-in mic and listen via the ear-hole at the top, or in loudspeaker mode. The phone works with Skype through the ear hole or on loudspeaker. MP3 playback and Sat Nav instructions come through the loudspeaker.
We connected the supplied headphones (terminated in a mini-B USB plug). These headphones have a built-in microphone, so can be used for voice calls and Skype calls. When these headphones are connected, MP3 audio is played via the headphones as are voice instructions from the Sat Nav software
We paired with a Bluetooth headset (the Plantronics Discovery 640). This worked perfectly for hands-free voice calls, but MP3 audio / Sat Nav voice audio was not routed through the Bluetooth headset, and Skype didn't work on the Bluetooth headset. We had a search around the net, and found a workaround though - There's an application called BlueMusic from Teksoft that allows audio to be routed to a Bluetooth headset. We tried this with our Plantronics Discovery 640 Bluetooth headset, and it worked perfectly, allowing Skype, MP3 and TomTom navigation instructions to be heard over Bluetooth.

Power adapter

The power supply provided with our o2 XDA Orbit (for the UK) is a standards mains transformer, terminated in a mini-USB plug. The adapter reads as follows:

Input 100-240V ~0.2A 50-60Hz LPS.
Output 5V , 1A
HTC Part number: 79H00051-03M

Other Specs

Taken from the UK English manual:

SAR: 0.496 W/Kg @ 10g
GSM: 850, 900, 1800, 1900
Compliant with the following directives: IEC 60950-1, ETSI EN 301 511, ETSI EN 301 489-1, ETSI EN 301 489-7, ETSI EN 301 489-17, ETSI EN 300 328, EN 50360: 2001, EN 50371: 2002, EN55013: 2001, EN55020: 2202
Dimensions: 108 x 58 x 16.8 mm
Weight: 130g with battery
GPS: Sirf StarIII with Ephemeris Extension support, 20 parallel channels

Help with MMS
If you're looking for help setting up your XDA Orbit for picture messaging (MMS), take a look at the entry on our MMS Useful Info page
Help with wi-fi
If you're looking to set your XDA Orbit up to connect to the Internet or to your desktop PC using 802.11 wireless networking, see our dedicated WiFi page.
Corrupt memory card

We've seen instances of a rather odd problem with the XDA Orbit, and from checking online, we're not alone. It seems that, for some unknown reason, the microSD card in the XDA Orbit can get corrupted - the symptom is that when using File Manager to browse the microSD card, some of the folder names and files are garbage.

It seems that there was a bug in the system that manufacturer HTC addressed. In August 2007, a new ROM image was released by o2 that reportedly fixes the problem. More

Printing

Looking to be able to print directly from your Windows Mobile device? See our Printing FAQ

XDA Orbit in Landscape

We've been asked how to switch the o2 XDA Orbit between Landscape and Portrait. Here's how:

Go to Start > Settings. Select the System tab and tap on 'Screen'. There's an Orientation option.
You can also set up a shortcut on one of the hardware keys. Go to Start > Settings. Select the 'Personal' tab, and select 'Buttons'. Pick a hardware button, then select "Assign a program" and change to "Rotate screen".

How can I transfer data from another PDA?
Moving data from one PDA to another, or trying to convert a non-standard file into Pocket PC format can be troublesome. As it's such a common question, we've created a dedicated conversion page. If the information on this page isn't useful, or we're missing a format, please let us know.