The Qtek S200 Windows Mobile
This page contains a brief review on the Qtek S200 Windows Mobile, and some useful information on using this device.
Manufactured by HTC, this feature-packed phone and PDA is also known as the HTC Prophet and the i-mate JAMin.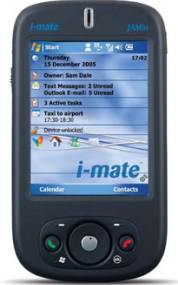 Key points:
Great connectivity: GPRS, Wi-fi, Bluetooth, USB and infrared
Built-in 2 megapixel camera (with video)
Loaded with multimedia software (mp3 & video player)
Small and light
Details on the Qtek S200
OS: Windows Mobile Version 5
Expansion: SD slot
Display: 240 x 320 pixel touchscreen (43 x 58mm)
Memory: 64MB RAM / 128Meg ROM
Navigation: Touch screen, four-way navigator
Battery: Removable, rechargeable Lithium-ion (150-200 hours standby, 3.5-5 hours talk).
Processor: 195MHz TI OMAP 850
Availability:
Now available (first seen Feb 2006)
imate JAMin available SIM-free for £315 from Amazon
Qtek S200 Mini-review
We got our hands on the Qtek S200 at the start of March 2006, just after its release, and so far, we're pretty impressed. This is essentially an evolution on the o2 XDA form factor, combining a high-end mobile phone together with the power of the latest version of Windows Pocket PC operating system.

As a PDA, this device offers top-of-the-range functionality and connectivity... all the buzzwords are there: wireless connectivity with wi-fi and Bluetooth, support for USB and infrared connectivity, as well as being a quad-band data enabled mobile phone.

Size-wise, it's a lot less bulky than its predecessors - it's only slightly wider than a credit card, making it a nice comfy fit in the hand.
Here's a closer look at some the headline features:
Connectivity: Smoothly integrated Wi-fi and Bluetooth using Windows Mobile's own software. At the bottom of the right-hand size, there's an infrared window, and on the bottom, a standard mini-USB connector (we're pleased to see that it uses a standard connector, whereas most smartphones have unique connectors to bump up accessory sales)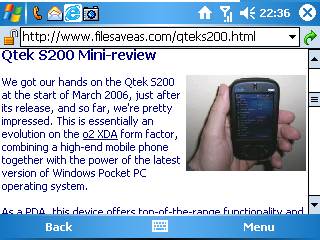 Surfing in Landscape mode
The primary use for the S200 is going to be getting online, whether when connected to a PC over USB, surfing over a Wi-fi network, or using the phone's excellent GPRS connectivity, using online services such as Web, email, MSN (including Hotmail access!), or services such as Avantgo and Skype, is a dream
| | | |
| --- | --- | --- |
| Phone Dialler | Connectivity settings | Email |
Camera: The Qtek S200 sports a 2 megapixel camera. The lens has a small switch to allow switching to macro-mode for close-up image taking. The camera software, photo, video, MMS video, Sport and Burst mode. There are various ambience settings and a digital zoom to play with, and some fairly basic options to allow cropping and rotating of images. From the media browser, you can view a slide show, or easily send an image to others. Photo quality is pretty impressive, although as with most devices in this class, it's let down by the lack of flash for those indoor shots.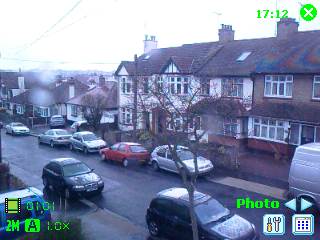 The camera application
Business apps: The standard Microsoft Windows Mobile set: Pocket Word, Pocket Outlook, Pocket Excel, plus Powerpoint Mobile. There's also ClearVue PDF for on-device PDF viewing, and Terminal Services for remote access to a desktop PC. Synchronisation to PC is achieved smoothly using Microsoft's ActiveSync v4.1
| | | |
| --- | --- | --- |
| ClearVue PDF | Pocket Excel | MSN Messenger |
Telephony: As a phone, the S200 is more than capable, but there are a couple of oddities - firstly, if you haven't used a touch-screen to dial phone numbers, you'll be in for a gear change.. not a problem, just odd if you've got years of experience with dialling on a traditional mobile. Creating an SMS is a joy - the touch-keyboard or the handwriting recogniser makes creating texts a pleasure. As a phone, the S200 is 'ok' - usable, but slightly harder work than a more traditional phone. We also found the vibrate a bit extreme. When set to vibrate on an incoming text, it's not the discrete ½ second buzz we're familiar with, but a desk-walking five seconds of power buzz. We're guessing that folk will be buying this phone for it's data and connectivity, and not as a slick pocketable mobile... and the telephony part of the product just scores an "ok" with us...
| | | |
| --- | --- | --- |
| Playing a video | Free voice calls with Skype | Sending a text |
Summary
We like this device - as a one-box data connectivity tool, it's the biz - effortless surfing over Wi-fi, USB or GPRS depending on where you are. SD slot for adding loads of great Pocket PC apps, crisp touch-screen display, and eminently pocketable. It is loaded with a relatively slow processor, making for slightly jerky video playback, and prone to minor slowdowns when running thirsty apps - according to the manufacturers, the lower processor speed helps with getting an improved battery life, and that's more important to the target users who want to be able to go online and work on the move, rather than play games and watch videos.

Overall, as a connected PDA, this excels, and is the smallest and most feature-packed one-box solution we've found.
Pros: Small size, maximum features, powerful software, standard USB connector, 2Megapixel camera with macro
Cons: Slowish processor
March 2006
The Qtek S200 comes with a belt-clip case, power adapter, USB cable, set of stereo headphones, getting started guide, manual, a spare stylus, and two CDs of software. The discs include Microsoft ActiveSync 4.1, Microsoft Outlook 2002 and a GPRS monitor application and a collection of other applications.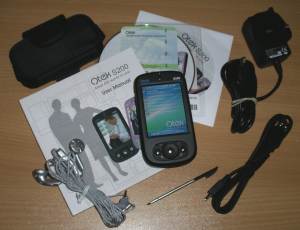 Our summary? If you're looking for a powerful phone and PDA with just about every connectivity option, this is the one for you...


Sell your old phone for cash!
Got an old mobile phone handset that you're no longer using? Don't leave it gathering dust - recycle it. You may even be able to make some money for getting rid of your old phone safely.
For a summary of the best deals on making cash from your old handset, try the comparison search tool at www.sellyouroldmobile.co.uk
Frequently-asked questions:
This section contains the FAQ for the Qtek S200 / JAMin. If you've got a question for this section, please let us know.
Latest software version?

To check your version, do the following: Start > Settings > 'System' tab > 'Device information' application > 'Version' tab.

As of March 2006, the latest release that we know of, is: ROM Revision: 2.9.7.24 WWE (09 Feb 06)

At this time, it's not clear how ROM upgrades will be made available. More on upgrades/support

Discuss the S200
If you've got questions about the Qtek S200 / JAMin / Prophet, why not ask in our Pocket PC forum? Hopefully other users will find this forum and start adding some discussion. Go to the forum
How do I reset?

To perform a soft-reset (if the device has locked), briefly insert the stylus or a paperclip into the reset hole on the bottom left of the S200.

If you want to hard-reset your Qtek S200, here's how. This will return your machine to factory defaults - losing all of your data.To format your S200, go to Start > Settings > 'System' tab and select "Clear Storage" - then follow the prompts.

I need help connecting

If you're looking to get your s200 connected to Internet or to a wireless network, we have some pages of help on this, as follows:

Activesync problems

For problems with ActiveSync, see our page dedicated to Microsoft's PC synchronisation solution, Activesync

ARM, MIPS or SH3 ?

If you come across Pocket PC software asking you to pick one of these three options, the one to go for is ARM. These options represent earlier days of Pocket PC development, where an application had to be compiled for a specific processor.
If you see software making this distinction, it indicates the software may have been complied a few years ago, and therefore may not run on the latest machines. If in doubt, check with the software author

Navigation software
If you're looking to use your s200 for live navigation and mapping, consider TomTom Navigator. Connects via Bluetooth to a GPS receiver, and with the Qtek s200's loudspeaker, the live spoken route directions (we're using the voice of John Cleese!), it works a treat. You can also add a free Speed Camera database to get alerts as you're motoring along. Full UK & Europe maps (to street / postcode level), and a whole stack of extra features. Highly recommended!

For more on TomTom Navigator on a Pocket PC device, see our TomTom Navigator page.
Qtek Support

This is an interesting one. We've been looking for the technical support page for the Qtek S200, so that we could find a ROM update for our device, and have hit an interesting problem. First, we went to Qtek's site and followed the Support link. We were asked to type in the IMEI number for our handset, which we did - this told us that need to get support from www.teleservice.com - We went there, and found nothing related to Qtek. We sent Teleservice's head office an email, only to be told that they didn't support the Qtek, and couldn't provide a contact address at Qtek.
We can't find any contact details on the Qtek website, so we can't ask them directly.

We did find www.myqtek.com which seems to be run by Brightpoint and offers ROM patches, but when we tried to access their ROM download section, we typed in our IMEI and got "Not a valid IMEI# (only Brightpoint authorized original products are supported by this site). Contact your place of purchase for ongoing support of your device"

Eventually, we contacted the original manufacturers HTC, and were directed to www.windowsmobile.dangaard.com - although they don't list the S200, we mailed them and got confirmation that they support this product. Hopefully, they'll be able to help with software and firmware update for the Qtek S200 when one is released. We've also been told that a range of ROM upgrades for various HTC products is available from the XDA Developers forum. Please let us know if you have any more info to add on this topic, or better still, post a message in our Windows Mobile forum.
For info on our language ROMs, see here.

Skype on the Qtek?

The Qtek S200 can be used to connect to Skype - a service that offers voice over the Internet - with this, you get free voice calls to other Skype customers around the world, or can make low-priced calls to landline and mobile phones.

Skype has released software for a range of Windows Mobile devices, including the Qtek S200, and as long as your device can connect to the Internet (preferably using Wi-fi, but GPRS works), then you can use Skype. On the S200, it seems best to use a headset for better audio quality - Also, due to the slowish processor on the S200, multitasking mid-call causes a slowdown.
The version of Skype we used is v2.0, and we picked the Skype Mobile - Low CPU version

For more on Skype, see our Skype page, or go to www.skype.com

Other languages

If you have a Qtek S200 and want to change it to run in a different language, you will need to 'flash' it with a suitable Qtek S200 ROM image in the language that you want.

This involves finding a downloadable ROM installer for the Qtek S200 in the language you want, connecting your phone to your PC via the USB cable, and running the ROM installation program. This will 'flash' update the operating system in the phone - note that all data on the phone will be lost, and if you pick the wrong ROM image, you may not be able to use the phone.

Unfortunately, it's quite difficult to get hold of ROM images for the Qtek phone. Please see the FAQ about Support for more on ROM images, and for some suggestions on where to find images. If you need more help on this subject, please ask in our forum - please don't email us asking for ROMs in other languages. All that we know is on this page

If you're looking to get the PC connectivity program ActiveSync in another language, Microsoft make the solution available in different langages on their Windows Mobile download page

Power adapter

The power supply provided with our S200 (for the UK) is a standards mains transformer, terminated in a mini-USB plug. The adapter reads as follows:

Input 100-240V ~0.2A 50-60Hz LPS.
Output 5V , 1A
HTC Part number: 79H00051-03

Other Specs

Taken from the UK English manual:

SAR: 0.243 W/Kg @ 10g CE
GSM: 850, 900, 1800, 1900
Compliant with the following directives: IEC 60950-1, ETSI EN 301 511, ETSI EN 301 489-1, ETSI EN 301 489-7, ETSI EN 301 489-17, ETSI EN 300 328, EN 50360:2001, EN 50371:2002
Dimensions: 108 x 58 x 18.2 mm
Weight: 150g with battery

How can I transfer data from another PDA?
Moving data from one PDA to another, or trying to convert a non-standard file into Pocket PC format can be troublesome. As it's such a common question, we've created a dedicated conversion page. If the information on this page isn't useful, or we're missing a format, please let us know.