Palm Help - Accessing Email and Web
Many Palm OS devices come with all the software you need to connect to the Internet. Once connected, you can go online and check your email and browse the web. This page provides details of how to get access to the Internet and email from your Palm OS device...


| | |
| --- | --- |
| Email on a Palm | Surfing on a Palm |
In order to get your Palm device connected to the Internet, you'll need a modem. On this page, we're assuming that you'll be connecting via your Palm's infrared port to a mobile phone with a built-in modem (such as the Nokia 6600).
Some Palm OS devices in the "smartphone" category, such as the Treo 680, have a built-in modem, and some Palms can use Bluetooth for connectivity, but for simplicity's sake, we'll assume an IR phone.
Note that your mobile phone account must be 'data-enabled'. This is a setting that your network operator has to enable for you. The Infrared must be turned on, and the Palm device's IR window must be pointing at the phone IR window.
Getting an Internet account
To connect, you'll need to have an account with an Internet provider. You may wish to use your existing Internet account, or apply for a free account that can be used with your device. On this page, we're assuming you want a new account.
If you're in the UK, and are looking for an ISP (Internet Service Provider) that works well with on a handheld device such as a Palm, Clie or Treo, try:
BT Yahoo - We recommend BT Yahoo's pay-as-you-go account for email and web access. There's no subscription fee and you only pay for the time you're online (details).

Here is a step-by-step guide for setting up using BT Yahoo.
If you're not a BT Yahoo / BTopenworld customer, sign up free-of-charge for a BT Yahoo pay-as-you go account. There's no subscription fee, and you only pay standard rates for the time you're online. Recommended for on-the-move access to your email.
First, go to register.btinternet.com from a PC, and create an account. You'll then get some details that you'll need to set up your account on the handset. Then, looking at the handset, follow these instructions:
Set up your Internet connection
From the main menu, go to "Prefs", and select "Network".
You'll need to create a new service for BT Yahoo, so press the "New" button.
Add the following details:
Service: BT Yahoo
Username: (This is your email address, e.g myname@btinternet.com)
Password: (the password you entered when you created your BT Yahoo account)

Tap on the Connection option, and select "Edit Connections..."
We now need to set up the modem connection... Press the "New button"
Name: IR mobile
Connect to: Modem
Via: Infrared

Press "OK" to save the setting, then at the "Available connections" screen, make sure "IR mobile" is selected, and press "Done"
A new field, "Phone" will appear. Add BT Yahoo's dialup number of 08457560000
Press "Done" to save the settings

You should now be ready to connect to the Internet. Make sure your modem is available and turned on (if using IR, turn the phone's IR on and align the windows, and either try to make a connection from an Internet application, or test the connection from the 'Connect' button in Prefs | Network.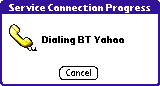 Web browsing
Depending on the machine you have, you may find that you've already got a Web. We rather like Handspring's Blazer web browser (as it can also cope with WAP pages), but there are plenty to chose from - See either the PalmGear or PalmOne software areas for links to downloadable browsers that are either free, or available to download on a try-before-you-buy basis. Fortunately, web browsers don't require any advanced setup, and as long as your connection is set up correctly, they should just work. When you open the browser, and enter a web address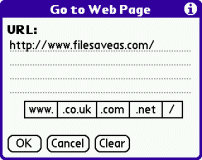 Entering a web address on Blazer
Email software
You'll need to have an email client installed onto your Palm device - as there are so many devices and so many packages available, we can't provide details of how to set up every possible email client for every possible Palm OS device, so we'll pick a common solution, which hopefully will be close to what you need.


For this page, we'll be setting up the email software for a Palm Tungsten E. The device doesn't have an email client built-in, but has one supplied on the CD from Palm. The program that the Tungsten E uses for it's email access, is Palm's VersaMail.

You'll first of all need to install the email program, if it's not already built-in to your Palm device. If it's on the CD, look for the application in one of the folders on the CD, or consider downloading VersaMail (formerly known as MultiMail) from www.palmone.com.
Once you've found the file, install it by double-clicking the installation file on your PC. After following the on-screen installation instructions, you'll need to connect your PC to your Palm and perform a HotSync, to allow the email application to install onto the Palm.
Once this is done, do the following:
Set up your email settings

Open the email program on the Palm (in this case, VersaMail), and select "Account setup" from the menu.
Press "New" to create a new mail account
On the next screen, enter the following:
Account name:"BT Yahoo"

Mail service: "Other"

Protocol: "POP3"
Press 'Next'. On the next screen, enter the following:
Username: (This is your email address, e.g myname@btinternet.com)

Password: (the password you entered when you created your BT Yahoo account)

Press 'Next'. On the next screen, enter the following:
Email address: Your email address (This is your email address, e.g myname@btinternet.com)

Incoming Mail Server: mail.btinternet.com
Outgoing Mail Server: mail.btinternet.com

Setup is complete, so press "Done"
You have now entered enough information to allow you to collect your email. Ensure your modem is connected and your IR windows lined up, then from VersaMail's mail screen, select "Get Mail", choose "Subjects only" and "Ok". The connection should dial up, you should sign on to BT Yahoo, and start seeing your messages downloaded.
Wap browsing
WAP pages are optimised for use over a mobile network, and lack the graphical content and formatting of web pages, meaning they load faster.
For more on WAP, and what's available, see our

WAP page
---
Problem solving
Problems connecting?

When communicating with an infrared mobile phone, ensure that the phone's Infrared is switched on, and ensure distance of between 5 - 15cm (too close may swamp the IR eye).
Ensure that your Network operator (e.g. o2, Orange, Vodafone) has 'data-enabled' your SIM card. If not, call their Customer Service people.
If you can connect, but can't browse content, it could be that your SIM is not data-enabled, or that you're trying to browse content that your tariff/connection doesn't allow - such as browsing web pages via a WAP dial-up, or using an MMS APN (GPRS) to view WAP content. Check that you have the right settings for the service you're trying to access, and that your Network Operator has enabled the service you're trying to connect using.
Still having problems? See our Connected? page, or try asking in our forum
Problems sending emails
If you can receive, but not send emails, it is likely to be one of two things:
If you get an error such as "Problem sending message", you may be trying to send a message to one ISP's mailbox while connected to a different ISP. To prevent spamming, most ISPs require you to connect to their service (not someone else's) in order to send an email via their SMTP server. For instance, don't be surprised if you find that can't send mail from your BT Yahoo account (using the server address mail.btinternet.com) if you've logged on to Virgin Media.
Your ISP is looking for CLI (Caller Line Identification), and it is not being sent - Some Internet Service Providers (such as Wanadoo) use CLI to identify users. If this is disabled, you can get around this by adding 1470, in front of the telephone number.
Frequently asked questions:
Broadband / ADSL / Cable email
If you have a Broadband Advice or cable account (such as Virgin Media), you may think that you can't use your Palm to collect email via POP or IMAP, however, there is a form of workaround.
Many broadband/cable suppliers offer dialup access too. Check with your supplier. Failing that, provided that the supplier uses POP3 email (as opposed to webmail), then you should be able to access your mail through another provider. Get yourself a free account with BT Yahoo and try to access your provider's POP server. Note that sending mail from via your supplier's SMTP server probably won't work, so you may need to use BT Yahoo's SMTP address.

Alternatively, if in range of your broadband modem, you may be able to use Bluetooth or Wi-fi to share your Internet connection. This can be quite difficult to set up and is not recommended for beginners. Your Palm will require appropriate Bluetooth or WiFi hardware and software, and your PC will need to be configured to accept a connection from a remote device using these protocols. Due to the fact that there are so many possible combinations of Palm, Bluetooth and Wi-Fi connectivity options, it's not possible for us to supply step-by-step instructions here. Your best option is to search Google specifying your make of Palm and how you wish to connect. Alternatively, ask for help in our Palm forum.
Hotmail and AOL

Hotmail and AOL use proprietary email systems, as opposed to the more common POP email systems - this makes it tricky to access mail on a mobile device. For email on the move, consider using a standard POP3 provider such as BT Yahoo (see setup details) that offers free email accounts that can be configured on mobile phone email programs.

Standard Palm OS email software can't be used to get to your Hotmail or AOL email, as these services use proprietary email systems, rather than the standard POP service used by most Internet Service Providers.

There is, however, an alternative. You can use a Palm OS web browser to access your emails over webmail - including Hotmail and AOL mail. The screenshot on the right demonstrates a Hotmail account accessed via the Blazer web browser on a Palm Tungsten E, using the following link: http://mobile.msn.com/hm/folder.aspx

AOL: We've also been directed to an AOL Mail FAQ that suggests that a suitable email program can be configured to get email access via IMAP (as opposed to POP3). Many smartphones and PDAs support IMAP (check in the email section). For devices that don't support IMAP, you can download one from Handango
More questions? Please ask in our Palm Forum
Other links: