Polaroid PoGo Portable Printer UK Review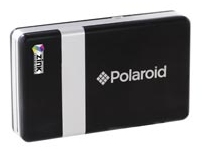 The PoGo is a portable, rechargeable, ink-free printer for printing out snaps from your mobile phone or digital camera. The highlights:
Print directly from your mobile phone or digital camera
Portable and rechargeable
Printed without ink - no refills needed
Prints photos in under 60 seconds
Photos are dry immediately
No computer needed

On this page, we have a quick review of the Polaroid PoGo Instant Mobile Printer, some photos of the printer, and answers to questions asked by our site visitors.
Polaroid PoGo Availability
The Polaroid PoGo is available from the following online stockists:
Polaroid PoGo Specification:
Dimensions: 120 x 72 x 23.5mm
Weight: 8oz
Battery: Removable, rechargeable. Prints approx 20 prints per full charge.
Connectivity: Bluetooth (class 2) OPP, USB 2.0 (Full - Speed 12 MBPS)
Photo Size 50mm x 76.2mm, sticky backed.
Polaroid PoGo UK Review
Portable colour printers are nothing new. Connect them to your camera, transfer photos across, and print them out.
Where this little printer differs, is that it's not an inkjet printer, and it's truly portable. It uses something called ZINK (or Zero Ink) technology, to print without the need for expensive or messy ink cartridges.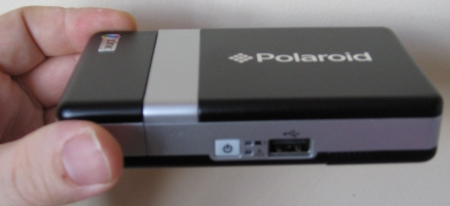 Using the PoGo is very straightforward - it comes with a rechargeable battery, and once it's charged, you insert a supply of photo paper. You can buy a packet of 10 or 30 ZINK Photo Paper packages.
Then, you send over a photo you want to print - either using your mobile phone's Bluetooth connection, or if your digital camera has a USB connector that supports PictBridge, plug in the camera's lead and print straight from your camera.

We tried this with our Nokia 6220 cameraphone. Here's what we did:
Took a photo with the 5Megapixel onboard camera
Pressed the Send button on the phone, which popped up a "By MMS", "By Email" or "By Bluetooth" option. We went for "Bluetooth"
Next, we were asked for the Bluetooth Code, needed to "pair" to the printer. By default this is 6000
Then, the phone started sending the photo, and after a few seconds, the printer started printing.
Under 60 seconds later... one photo.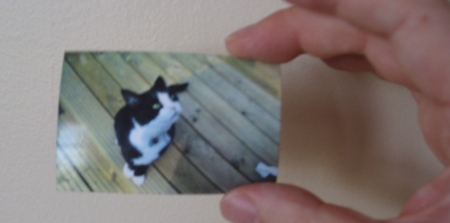 Here's a 600dpi scan of part of the resulting picture, so you can judge quality: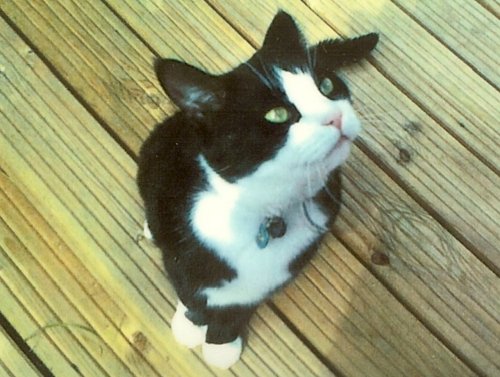 The pictures print without borders onto the special ZINK Photo Paper. The paper is a little small, at 7.6cm by 5cm, but it's good enough to pick up a decent amount of detail and capture the memory. The photo paper also has a peel-off backing, which is a nice touch.
An amazingly simple system to use - it's portable, lightweight, and allows near instant printouts of what you've take a picture of - no messy ink or expensive cartridges needed. With paper being available in packs of 30 for about £8, the cost of inkless printing is 27p per photo - not bad.
The PoGo is supplied with a mains charger, battery pack, a fairly stingy 10 sheets of photo paper, and a short manual.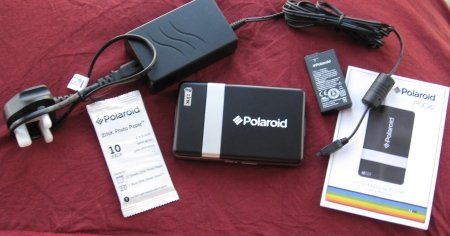 Summary:
We love it. Decent quality prints, and no messing about with expensive ink cartridges. Granted, the photos are a little on the small side, but you're trading off size against portability and convenience.
A good day for Polaroid.
Polaroid PoGo Questions:
What's the Bluetooth Pairing code? 6000


How do I fit the paper?: Open the paper compartment, and insert the ZINK Photo Paper shiny-side up, label-side down, with the Blue alignment card at the bottom of the deck, with the writing face down - as indicated in this picture.




How to insert paper into the Polaroid Pogo

Where do I get the paper from? Polaroid PoGo ZINK Photo Paper is available in packs of 10 or 30 from PC World , Amazon.co.uk and Pixmania.
Does the Polaroid PoGo work with the Apple iPhone? Nope, seems not.
Other useful links: