Wi-Fi Information and Advice
Information, help and advice on wi-fi wireless networking, especially for mobile phones and handheld devices.
What is Wi-fi?
Wi-fi is wireless networking - the ability to connect to a network or PC using radio signals (as opposed to network cabling). It's faster and has a greater range than Bluetooth, and is ideal for home or office connectivity. Using a wi-fi setup with your PDA or laptop means that you can share a Broadband Advice Internet connection, swap files, or share a printer or storage area between computer users.
Wi-fi comes in two speeds: 802.11b (data transfer rates up to 11 megabits per second) or the newer 801.11g standard that goes up to 54 megabits per second. This compares with Bluetooth's much slower speed of 0.57 megabits per second. There's a newer standard, 802.11n being phased in that offers even faster connectivity.
Wifi 802.11b/g operates in the 2.4GHz frequency band (also used by Bluetooth and microwave ovens), and has a typical range of around 500 feet (with clear line of sight). Indoors, you can expect around 150 feet with 802.11 - this will increase with the 802.11n protocol.
Got a question about wi-fi? Ask in our forum
Getting the kit
Here's a summary of wi-fi hardware types:
Wireless Network Access Point

Allow machines to connect onto a network to share resources such as a Broadband Advice Internet connection and a printer. If looking for an access point, try:

Dabs.com- Good for network accessories at decent prices
PC World - Take a look in "Upgrades", "Network" to see what's on offer
Amazon - Always a good choice for reliable delivery at good prices

BT is currently offering a free wi-fi router, the BT Home Hub, on selected broadband packages

The BT Home Hub

It's part of BT's long-term plan to get one of these boxes into every home. It's essentially a wi-fi router that is used for your broadband, home phone, voice-over-Internet, and BT's TV service BT Vision. You can also share out your bandwidth to others, using the BT Fon network.

The BT Home Hub is supplied free with all Broadband packages from BT, except the basic Option 1 plan. It's pictured here with the optional BT Hub DECT phone.

These little adapters plug into a spare USB port on your PC and add wi-fi functionality, at a reasonable price. Pictured here is a USB wi-fi adapter - the Belkin Wi-Fi USB Adapter, that supports 802.11n (the newer standard) as well as high-security. . If you're looking for a USB wi-fi dongle, try:

Dabs.com - Great for a wide range of low-price wi-fi kit.
PC World - Take a look in "Upgrades", "Network" to see what's on offer
Amazon - Always a good choice for reliable delivery at good prices


More: See our Wi-Fi USB Dongles Page

Most new laptops and notebooks come with wi-fi built-in, but older models don't. For older machines, you should be able to use a PCMCIA cards that slide into a special slot on older laptops, adding wi-fi connectivity. If looking for a card, try:

Argos online - At the time of writing, they're offering a Belkin wi-fi PCMCIA card for £20 (Cat 676/6623)
PC World - Take a look in their wireless networking section
Dabs.com - Great for PC network equipment.
T-Mobile Mobile Broadband - For the ultimate in flexibility - these support 3G and GPRS, so you're not restricted to wi-fi

Wireless PCI Network Card

Network card that plugs into a PCI slot on your computer's motherboard. Also available as PCMCIA cards for use in laptops. Pictured here is a Belkin 802.11g Wireless Desktop Network Card, for a little over £40 from PC World. Ideal for connecting a PC to an existing wireless network, or to allow a PDA or laptop to connect to your PC to share files or an Internet connection.

If looking for a card, try:

PC World - Take a look in "Upgrades", "Network" to see what's on offer
eBay.co.uk - bid for new cards at low prices!
Amazon - Always a good choice for reliable delivery at good prices

Portable Wi-fi Modem

Get a portable wi-fi modem that uses the mobile phone network. Instead of using a USB dongle for your mobile broadband, use a portable wi-fi base station for up to 3.6Mbps wi-fi Internet access without wires

MiFi from 3 - Details of the mobile wi-fi service from UK operator 3.

Into your digital photography? Here's a nifty tool - An SD card with built-in Wi-fi? Why? Two reasons: One, upload your photos over wi-fi automatically, and two, geo-tag your location (based on nearby Wi-fi hotspots). A nice piece of technology, and at a decent price.

For more information, see our Eye-Fi SD Card review

Ethernet-to-Wifi Adapters

What do you do if you have a peice of equipment that you want to connect to the Internet, but it doesn't have Wi-fi? This could be a printer or a digital TV.

The answer is to get a converter, such as the Netgear Universal Eithernet-to-wifi converter. These are available from places like Amazon, Maplin.co.uk and PC World

For more details see our Netgear Wi-fi adapater page.

If you have a laptop or a Pocket PC, look for an 802.11 wireless cards for your device. This could be a CF card (pictured) or an SD card, or a PCMCIA card for a laptop. If looking for a card, try:

PC World - Take a look in "Upgrades", "Network" to see what's on offer
Dabs.com- Good for network accessories.
eBay.co.uk - bid for new cards at low prices!

Mobiles & Handheld computers

Many Mobile Phones and PDAs have built-in wi-fi. Three of our favourites are the Nokia N95, the o2 XDA Orbit and the Apple iPhone. You can get Windows Mobile devices from:

Wi-fi phones

Get cheaper voice calls by using a wi-fi phone to route your phone calls over the Internet. Pictured here is the Vonage wi-fi phone

More details at www.vonage.co.uk or on our Vonage page

We recommend Dabs.com as suppliers of wi-fi and Bluetooth hardware
Case study: Enabling your house for broadband Wi-fi
Example: A household has a PC, laptop and a Windows Mobile device. The house has a broadband connection, and all three devices want to connect wirelessly.
There are several different ways of enabling a house or small office for wi-fi, but we'll concentrate on one of the more common options. Also, as they're such a range of wireless devices out there, we can't hope to offer a walkthrough for every situation, so we're keeping it general:
In a basic 'wired' setup, a PC is connected to broadband via a USB modem. For the setup we're going to cover in this example, you'll need a wireless router combined with a broadband ADSL modem. You'll need to replace the existing broadband modem with a wireless network access router. Most wireless routers have one or more ethernet connectors, allowing a direct cable connection to the PC. If you're looking for a wireless router, take a look at one of the BT Voyager range, or if you're with www.bt.com/btbroadband/, consider a Home Hub, which is a wireless broadband router.
You will need to connect the router to your phone socket (for broadband), and then establish a connection between the router and the PC - you will need a PCI or USB ethernet adapter for this (available from the likes of PC World and Dabs.com).
Once connected, you can then use your PC to connect to the router and set up access to the Internet and the other wireless devices
If the laptop or PDA have built-in wi-fi, then setup should be straightforward, otherwise you may need to get a connectivity card. Once the mobile device is wi-fi enabled, it's a case of setting up the device to connect to the Internet via the router
If you're looking for more guidance, ask in our wi-fi forum - it'll help us to get this page updated too...
Update: BT offering free wi-fi router, the BT Home Hub on selected broadband packages - see www.bt.com/btbroadband/
Wi-fi connectivity problems
If you're having problems with your wi-fi connection, try the following troubleshooting suggestions:
Some general things to check
Disable Security

Try disabling security (WPA or WEP) at both ends, at least until you can establish an insecure connection. As soon as you get the connection working, remember to re-enable WPA or WEP, for security purposes. On the PC, this can be set from Control panel | Network connection | <wifi card icon> | Wireless Network tab | Properties.

Remember to re-enable your WPA or WEP for a secure connection.

Check your Firewall

Temporarily turn off any firewalls you may have to see if that solves things. On our test network, we had a copy of Norton Security's firewall, and although we'd configured the firewall to allow our PC to connect to the Internet, the firewall saw the attempt by the Pocket PC to connect to the PC as an intrusion and blocked it. The workaround for Norton Personal Firewall is to allow the IP address of the Pocket PC through (Personal Firewall | Configure button | Networking tab | Add trusted | IP address).

Remember that turning off your firewall presents a risk of others accessing your system.

Check your mode
Check that both ends are using the same mode: Ad-hoc (two computers) or Infrastructure (larger network, or access point)
Some specific PC things to try
Workgroup name
If connecting between PC and PC: Make sure both computers have the same network name (See 'My Computer | Properties | Computer name | Workgroup)
SSID
Make sure that both ends of a connection have the same SSID (network name). On the PC, this can be set from Control panel | Network connection | <wifi card icon> | Wireless Network tab | Properties.
IP address problem
If you've tried all of the above, chances are, there's a problem with the IP address, subnet mask or default gateway addresses at one end of the other. Check these settings carefully. On the PC, this can be set from Control panel | Network connection | <wifi card icon> | Properties | TCP/IP | Properties.
Wi-fi Frequently-asked questions:
Need some help with wi-fi? Need some troubleshooting advice? For specific technical questions, ask in our forum.
What's a WPA or WEP key?

To stop people accessing your Internet connection or your network, you need security. Originally, this was done using WEP, but now more commonly with WPA.

The basic security used for wireless networking involves having a 64-bit WEP key. In fact this is only 40-bits, and is normally expressed as a ten digit hexadecimal key. (Hexadecimal is the number range 0-9 and A-F). An example of a suitable WEP key would be: 4C72F08AE1.

WPA is a more secure security protocol, and should be used as a preference over WEP

I don't know my WPA or WEP key!

Both ends of a secure WiFi connection need to use exactly the same WPA or WEP key. Your router hold the WPA or WEP key and each bit of equipment connecting to it will need that key.

If connecting via work, ask your administrator. In a home setup, go to the PC wi-fi utility and enter the same key as the one set up on your router.

What's an SSID?
Standing for Service Set Identification, this is a string that a wi-fi network identifies the network as - a name that can use used to identify which network you're logged on to. For machines to connect, they must have the same SSID
What's the difference between Ad-hoc and Infrastructure?
Two computers talking to each other can form an Ad-hoc network (also known as Peer-to-Peer networking). This doesn't need anything complicated like a router, gateway or network access point. Where using a more formal network connecting to multiple machines, it's likely to be Infrastructure.
Wi-fi Webcams

You already know what a webcam can do for you... but what about a wi-fi camera? Having a camera without wires allows you to position a webcam in a load more places, and means that you're not required to keep your PC powered.

This opens up a range of options, such as: wireless security camera, the ability to keep an eye on your pet while you're at work, a door-entry camera, time-lapse photography, or covert monitoring. These are now available for under £100

More details on our wi-fi Webcam page

Wi-fi radio

If you're looking for a wider choice of radio, consider a wi-fi radio - these can pick up stations from around the world... stations that have made their services available as a stream over the Internet. There's thousands of stations available.

If the idea of a huge radio choice appeals, you may wish to take a look at the Revo range of Internet Radios. These use wi-fi to access streaming radio stations from around the world, and support Real Audio and Windows Media formats. They makes use of an existing wi-fi network to access the world's Internet stations without relying on a USB dongle connected to a PC. You also don't need to have your PC switched on.

As an alternative, there's also the Acoustic Energy Wi-Fi Internet Radio, which is available from Play for £150.

Control and watch TV over wi-fi

Something wifi-related for TV addicts - In June 2006, the Slingbox became available in the UK - this connects into your TV system and your wi-fi network, so that you can watch TV from elsewhere over the Internet (at work, while travelling, etc). If you have a PVR (such as Sky+), you can take remote control and set your recorder while you're out. Clever stuff.

Available from AdvancedMP3players. More on Radioandtelly's Slingbox page

Wi-fi range

wi-fi 802.11 has a typical range of around 140 metres (outdoors, with clear line of site). Indoors, you can expect around 38 metres with 802.11b/g - this will be less with each wall/floor the signal passes through. This increases with the newer 802.11n protocol. wi-fi devices with a decent, directional aerial can obviously get a better distance than PDAs and USB sticks that don't have a decent aerial.

If you can't get the range you need, get a wi-fi range extender. We've found one at Maplin, the Network Range extender. These can be placed around your home or office to fill in dead spots or to extend range. You can also try Dabs.com for wireless network extenders.

More suggestions: Listen to our podcast on the subject: Wi-Fi Issues

Even wider range? wi-fi does have a fairly low range. There are proposals for a service called WiMax, which will offer a coverage measured in miles not metres, but it's not here yet. If you need to get Internet over a wider distance - consider getting Mobile Broadband using a USB dongle. More on our USB Dongle page

How safe is wi-fi?
wi-fi uses radio signals. There have been scares about safety of mobile phones, but what about wi-fi? We answered this question for our podcast a while back. Check out the answer on the FrequencyCast Podcast wi-fi FAQ.
Apple iPhone and Touch?

Apple's popular iPhone and iTouch are both wi-fi enabled. It's possible to surf the net, access emails, browse Google Maps and do a whole stack of other things with an Apple iPhone or iTouch and a wi-fi connection.

If you need help setting up wi-fi on an Apple iPhone or iTouch, see our Apple iPhone FAQ.

Are WiFi and Bluetooth compatible?
Bluetooth and WiFi are both radio technologies, but they differ in the frequencies and protocols that they use. They don't interfere with each other, but the two don't talk to each other either - in other words you can't get a device with Bluetooth to communicate to a device that only supports WiFi.
Alternatives to wi-fi

If wi-fi isn't the answer for you, but you need a way of sending data around your house without wires - a HomePlug might be what you need.

HomePlugs, also known as Powerline Adapters use your home's mains wiring to send and receive data. Get a pack of two, and use them for Ethernet wiring. Clever eh?

More on our HomePlug page.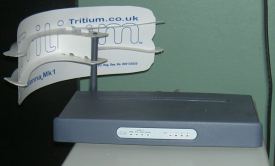 Featured product: The Tritium Flatenna
If you're looking to extend the range of your wireless network, you could splash out on some booster hardware or powered aerials, but you may find a simpler and cheaper solution - the Flatenna. This rather novel product is a reflector that slots over the top of your wireless access point aerial, and allows you to focus the wi-fi signal to target another piece of wi-fi equipment.
Tritium's site boasts that the product offers a 7db increase, and in our tests using a Belkin wireless router connecting to a Pocket PC with a Netgear wi-fi card, we did indeed see a signal increase (between 12% and 34% depending on the location we moved to). We also saw an increase of range as long as we stayed within the target direction. Line-of-sight with no objects
The Flatenna is supplied 'flatpacked' with instructions, and it was easy to put together. The Flatenna, from UK firm Tritium, is 280 x 90mm when constructed, and is available for £6.99 from www.tritium.co.uk
Connecting to a Pocket PC (Windows 2002 software)
We've moved this section to its own dedicated page - See wi-fi on Pocket PC 2002
Connecting to a Pocket PC (Windows Mobile 2003 software)
We've moved this section to its own dedicated page - See wi-fi on Windows Mobile 2003
Links: