Oxygen - PC Connectivity Software for Symbian Phones
Oxygen II for Symbian phones provides a useful alternative to the connectivity solution supplied with Symbian handsets. It currently supports the following phones:
Nokia 3230, Nokia 3600, Nokia 3620, Nokia 3650, Nokia 3660, Nokia 6260, Nokia 6600, Nokia 6620, Nokia 6630, Nokia 6670, Nokia 6680, Nokia 6681, Nokia 7610, Nokia 7650, Nokia 7710, Nokia 9300, Nokia 9500, Nokia N70, Nokia N90, Nokia N-Gage, Nokia N-Gage QD, Panasonic X700, Samsung SGH-D720, Samsung SGH-D720S, Samsung SGH-D728, Samsung SGH-D730, Sendo X, Siemens SX1, Sony Ericsson P800, Sony Ericsson P900, Sony Ericsson P910i, Vodafone 702NK, Vodafone X701.
Oxygen Phone Manager II for Symbian phones allows you to work with Phonebook, Calendar, To-Do Items, Profiles, Images, Melodies and Messages.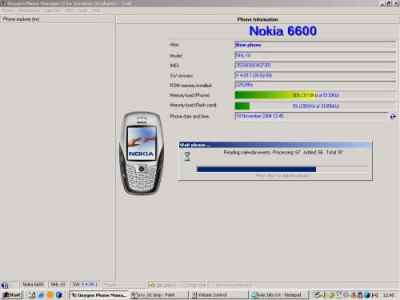 A free trial of Oxygen II is available directly from the developers at www.opm-2.com/Symbian
Calendar Management:
Calendar section allows you to organize your schedule in Microsoft Outlook-like Planner view as well as view all events as a table. You can create events of various types: Meeting, Reminder, Anniversary etc. Planner shows all the events of the selected day (work week, week, month) visually. Recurrent events like Birthdays can be easily organized also. You can set the Active time margins to limit events view (e.g. from 10:00 to 18:00). You also can adjust time scale from 5 minutes to 1 hour.
View, edit and manage your diary from the PC - download your entries and manage your schedule with a variety of different views, including a sortable text list, planner view, or a birthday summary view

You can create events of various types: Meeting, Reminder, Anniversary etc.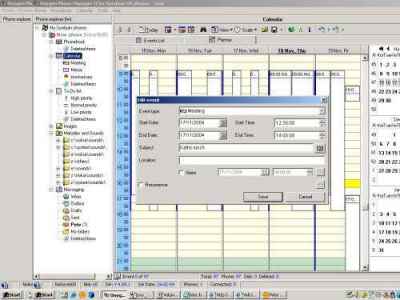 Contact management
You can load your phonebook from phone, edit contacts either using vCard edit window or directly in phonebook table, set individual contact picture and ringtone, define Full Name format individually for each contact, pack contacts database, import data from Microsoft Outlook, WAB (Windows address book), CSV (comma-separated values) and export phonebook back to Outlook, WAB, CSV and other popular formats.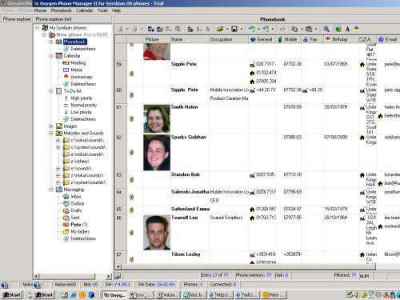 Message Management
Messages section represents all messages (SMS, Smart SMS, MMS, E-mail and others) stored in your phone. This section allows you to read Inbox, Outbox, Drafts, Sent, My folders, Mailbox folders content, display basic message types - SMS, MMS, E-mail, Beamed (received via BT or IrDA), BIO (Picture message, Operator Logo, Ringing tone, WAP access point), read and display file attaches for MMS, E-mail and Beamed messages. It also can create and delete custom message folders, delete messages from your phone and move them between folders. You also will be able to create and send both plain and Unicode SMS messages to individual recipients as well as to contact groups.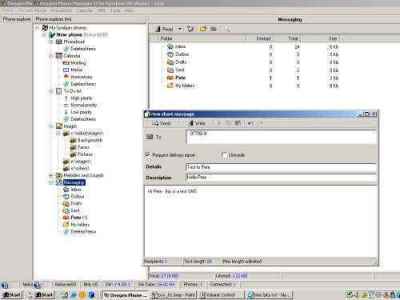 Content management

Use Oxygen II to download content from your phone's internal or memory card memory onto your PC
Images browser allows you to manage all images stored in your phone including Camera snapshots. You can download the images from your phone, delete unwanted images and add new ones, save images to several file formats and copy them to clipboard. Image browser allows you to preview image thumbnails and view full image as a hint by pointing mouse to the thumbnail. Image browser displays each image as a thumbnail that quickly expands to full size when you stop your mouse over the image.

Melodies and Sounds section allows you to view and listen to the melodies, ringing tones and voice records stored in your phone, add new melodies or delete unwanted ones. Supported file formats are RNG, MID, WAV, AMR, AWB, MP3, AU.

Tuning Profiles and To-Do Items is simple and clear like all other functions: you can set all Profiles parameters, manage your tasks, import data from Microsoft Outlook and export tasks back to Microsoft Outlook, XML, CSV and other popular formats.
Oxygen Phone Manager for Symbian phones has an ability to store any data either in Phone memory (Flash memory card is also supported) or on your hard disk. It may be useful if you experience a lack of phone memory and do not want to lose your pictures, contacts, etc.
Installation
Install the application.

You then need to install a companion application on the phone itself. (details on how to connect on our

Series 60 Connection page

)

Once installed, it's a case of starting the Oxygen application from the phone's menu, and turning on the communication using the "Start exchange" option. Then, from the PC end, press F5 from the main Oxygen application. This connects the phone and PC together.

Almost immediately, the PC application reports the phone's software version number and memory usage information
Troubleshooting:
Problem with importing messages. Performing a "read all" seemed to show that messages were being received, but they didn't make it to the PC application, and the connectivity between phone and PC was lost. Importing on a folder-by-folder basis, however, seemed to work nicely. This could be because our test 6600 has a rather messy structure, and a mix of multiple POP email accounts.
A free trial of Oxygen II is available directly from the developers at www.opm-2.com/Symbian