PowerChimp Pocket Power Reviewed
We review the PowerChimp, which lets you charge your mobile phone or MP3 player wherever you are. Our top accessory for mobile users
What is the PowerChimp?
PowerChimp is a portable power supply for your mobile gadgets. Stick it in your pocket, briefcase or bag, and it's a handy emergency power supply for your phone or MP3 player.
We reviewed the PowerChimp in Show 32 of our podcast, FrequencyCast, and thought we'd give this top accessory its own page here. Catch our audio review.
Here's a summary of what the little chimp can do:
Charge your mobile, MP3 and other digital devices on the go
It's fully charged from a USB socket in 5 hours
Charge the two supplied rechargeable AA batteries and take them out to power other devices
Super bright integrated LED torch
When mobile or similar device is fully charged, Powerchimp will auto shut off after 2 minutes
Pulse charging technology ensuring long battery life
Soft touch one button technology, with auto lock when charging or recharging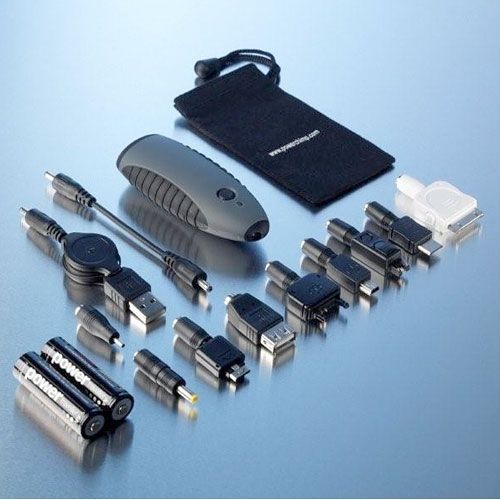 PowerChimp UK Availability
Powerchimp available for under £25 from:
Supplied with PowerChimp:
Powerchimp

Carry case

2 x AA 1800mAh rechargeable batteries

USB retractable charging cable

Tips (see below)
Tips:
iPod/iPhone

Samsung E900

Motorola V66

Mini-USB

Sony Ericsson

Female USB

LG Chocolate

Dc4 PSP

Nokia

and

Mini Nokia
Instructions on how to use the Powerchimp
To switch on the Powerchimp, press down the black button - The LED should flash green
When the LED flashes green, the Powerchimp is charging
LED flashing red means that the Powerchimp needs charging
Flashing red light means the unit needs charging
To charge the Powerchimp, plug into a USB socket. The LED is solid red when charging, flashing red means not charging,, and green when fully charges. Charging takes up to 5 hours
Useful Links: