WAP - UK Information and advice
Information on WAP, the Mobile Internet Service
What is WAP?
WAP stands for Wireless Access Protocol, and is more commonly referred to as "Mobile Internet"
Most of today's mobile phones, smartphones and PDAs come with a built in WAP browser. With a WAP browser, you can access dedicated WAP pages while on the move.

As WAP phones have smaller screens, content is often fairly basic, so pages are quite efficient and downloaded fairly quickly.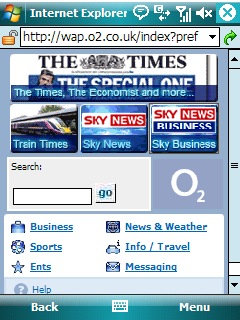 o2's WAP service on a Windows Mobile

WAP is supplied as a service by most mobile phone operators. When WAP launched, it was available from browsers that dialled up a special WAP number. Today, WAP access is available over GPRS, allowing faster browsing via an always-on connection. With GPRS, you are billed by the amount of data you send. Some UK operators, notably o2 online, offer an inclusive GPRS WAP allowance.

This page provides some general links on WAP, setup information for those in the UK, and answers to commonly-asked questions
---
Getting WAP
Here's what you need to get WAP:
A mobile phone with a WAP browser built-in
A SIM card that supports data transfer (if in doubt, ask your network operator if your SIM is data-enabled)
To set up your mobile phone's data connection to a WAP access point. We list the WAP gateways for the UK on this page. You can connect via dial-up (billed by the minute), or more commonly via GPRS (billed by the megabyte)
Once your mobile it set up correctly, you need to go to your network operator's WAP homepage to access WAP content.
WAP tips...
WAP isn't the experience many thought it would be - but it can actually be a very useful tool. There are some common misconceptions about WAP... as time's moved on - most of these are now wrong:
WAP's expensive

Not really. For a start, some operators give you free WAP. Most well known for free WAP access is O2 online (inclusive GPRS WAP allowance with most tariffs). For more details of WAP access and free text messages from o2, see our o2 page.

Also, WAP content is optimised for use on a mobile phone - so it's not cluttered with Java, large images, or banner ads. With standard dial-up, you pay by the minute to access WAP, and with GPRS, you pay for the amount of data you download. As WAP is optimised, the costs for either method are fairly low.

There's nothing useful
There's quite a lot of useful services that you can get over WAP. Two of the most popular are online travel news, and online banking. Here are a couple of examples:

Travel news - Get updated road, rail and tube news over WAP. See our Travel page for details of the services that are available for mobile users with a WAP browser
News headlines - Your WAP provider normally provides a link to a news service from its homepage. Access news, sport and financial headlines from the homepage of your WAP provider to stay up-to-date on the move.

I can't access the Internet

When WAP started, you could only access pages (known as 'decks') that had been specifically written for WAP phones. This meant that the amount of information available was quite limited.

Fortunately, things have changed, and not only is there a lot more content available as sites have found it easier to make their existing content WAP-friendly, but with this great tip, you can access just about any web page over WAP.

Google has make their hugely popular search engine available over WAP - you can search for Web as well as WAP content from a WAP browser, and Google's 'proxy server' does an impressive job of converting standard web content to WAP.

To try this out, from your phone's WAP browser enter the following address: http://www.google.com/ and when you get to the search page, enter a clue that will find the page you're after. Select Search, and you should see a WAP version of the page you're after.

The screen's tiny

True, mobile phone screen's are pretty small - but that's what people want. If you want full-screen Internet surfing, then you'd be lugging a laptop around with you. WAP user's aren't expected to be sitting in front of a phone for hours. WAP is about fast no-frills access to important text on the move.

That having been said, many of the newer mobiles have built-in cameras, which make use of bigger, colour screens to allow people to view photos. This means there's more space for WAP services. Take a look at the Nokia N95, or the o2 XDA Orbit for examples of phones with a much larger colour screen, where WAP surfing suddenly takes on a new life...

WAP has no email
Chances are, your mobile phone operator provides you with email access over WAP. O2 online provide their customers with an email account that can be accessed via applications like Outlook, over the web, or from a WAP phone. Another company that provides Web, WAP and text message email is BT Yahoo (formerly BT Openworld / BT Internet). See our BT Yahoo page.

Additionally, there are services that allow you to access your POP3 email from a WAP browser - the best we've seen can be access from your mobile's WAP browser by typing in the address: http://mail2web.com/wap/
Wap links
A selection of useful WAP links
UK WAP gateway settings
The following table shows basic WAP gateway setup information for the main UK mobile phone operators. The menu options differ between handset manufacturers. Some of the common menu fields explained:
Bearer type: There are two types: GSM or GPRS. GSM works by dialling a dedicated WAP dial-up number and should work on any WAP-enabled handset. GPRS is a newer technology, and only works on selected handsets. GPRS is an always-on service that is billed per-kilobyte, and not as GSM, which is billed per-minute.
Dial-up number - The telephone number that your WAP browser needs to dial to connect. (Not required for GPRS)
GPRS APN - If connecting over GPRS (as opposed to dial-up), you need an Access Point Node address, so the network knows where to direct your request. See our GPRS for full UK GPRS settings
Username and password - Note that these are case sensitive, and should be typed in as shown
Gateway IP details - WAP works by routing traffic through a Gateway that handles optimising the content efficiently. The address is made up of a series numbers separated by dots. This may also be referred to as the WAP Proxy Server address.
Homepage - This is the main page provided by a network operator... The front-door for access to content provided via your network operator
Session mode - See FAQ below
o2
Orange
Vodafone
T-Mobile / Virgin Mobile
GSM Dial-up number
+447712 927927
+44797 3100500
+447836 900808
+44795 3968999
Virgin: +44795 3968988
GPRS APN
wap.o2.co.uk (Contract)
payandgo.o2.co.uk (PAYG)
orangewap (Contract)
paygwap (PAYG)
wap.vodafone.co.uk (Contract)
pp.vodafone.co.uk (PAYG)
general.t-mobile.uk
Virgin: goto.virginmobile.uk
Username
o2wap (Contract)
payandgo (PAYG)
Orange
user@vodafone.net or
web
user or wapuser
Password
password
Multimedia
user or
web
wap
Authentication type
Normal
Normal
Normal
Normal
Gateway IP address
193.113.200.195
192.168.071.035
212.183.137.012
149.254.001.010
Virgin GPRS: 193.30.166.3
Homepage
http://wap.o2.co.uk/
http://orange.multimedia/
http://wap:1999/vodafone.wml
http://wap.t-mobile.co.uk/
http://www.virgin.com/mobile/wap/
Call Type: ISDN
ISDN
ISDN
ISDN
ISDN
Session Mode
Permanent
Permanent
Permanent
Permanent
Notes
More on our o2 Wap page.
N/a
More on Voda GPRS
N/a
This site has pages dedicated to setting up o2 on a selection of smartphones and PDAs. Select a link from the side menu for details of configuring o2. For more information on o2 WAP, go to our dedicated o2 Wap page.
---
WAP questions

Q. What exactly are the Connectionless/Connected/Continuous/Temporary settings all about? *

A. When connecting to a WAP gateway, you normally have to specify a session mode. It's all technical, and you shouldn't let it worry you. Your WAP service provider will normally tell you which one to use, and you should set up your phone or browser accordingly. The two options are:

Connectionless session - Also referred to as 'Temporary'. Connects to port 9200 on the Wap gateway server (or in theory, port 9202 with WTLS security)

Connection-oriented session - Also referred to as 'Permanent' or 'Continuous'. Connects to port 9201 on the Wap gateway server (or 9203 with WTLS security)
Q. I have free WAP from o2 / (BTCellnet / Genie) running on my Psion. Can I use this free connection to surf?

A. Sadly, no. When you connect to a WAP service, you go through a WAP gateway that handles your connection to Internet content. The WAP gateway is only designed to serve up WAP content, and HTML web pages don't qualify. (although see the "tip" about using Google, as above)


Q. I'm having problems connecting. What do you advise?
Data services have to be enabled by your Network Operator. If you can't connect, contact your network operator (e.g. o2, Orange, Vodafone), and ask them to ensure that your SIM card is 'data-enabled'.
If trying to connect via GPRS, note that this is a different service to standard dial-up data access. Again, contact your network operator to ensure GPRS is enabled on your account.
Connecting via infrared to your mobile? Ensure distance of between 5 - 15cm (too close may swamp the IR eye). Also, ensure that Infrared is switched on on your mobile, and that there is sufficient signal strength.
Still having problems? Double-check your settings are 100% correct. Try getting the settings sent to you using the Nokia Configurator at http://www.nokia.com/nokia/0,6771,32863,00.html
If you're still having problems, you'll need to contact the network operator for help.



For more help, see our Connected? page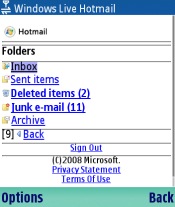 Q. Can I access Hotmail over WAP?

A. Yes. Go to http://mobile.msn.com/ from a Wap browser, then select "Hotmail" from the menu. The screenshot to the right demonstrates WAP running on a Nokia Series 60 Wap browser.
Some users have found a problem with accessing Hotmail on older mobiles. Thanks to Dominic Self for supplying us with the following method of getting access to Hotmail over WAP:
Go to http://www.hotmail.com/wap and enter your log on name and password. Don't worry when you reach the dead end.
Go to http://mobile.msn.com and select MSN Hotmail. You will now get into your Hotmail Inbox!

Q. When I try to connect to a secure site, such as banking, I'm told that my phone is not secure enough.

A. This could be something to do with the version of WAP that's built-in on the handset - Early versions of WAP handsets didn't have WTLS security included, and this is required by some secure WAP sites. You may want to check the handset manufacturer's site to see if your handset has WTLS, or can be upgraded in some way.


Q. I get a message "Message from WAP: Sorry ,you've used the maximum amount of data allowed today."
This would indicate that you have used up your daily allowance of data download using WAP. If you're not aware that you've been using WAP, you may have a service running in the background that's trying to connect to WAP, or downloading content in the background. You should be able to disable WAP and Internet access on your handset if you don't want to be using this service.

Got a question about WAP you'd like answered? We can't help with setup information for every handset on the market, but we can try to point you in the right direction, or add an answer to our FAQ section. Please let us know what you'd like to know by asking a question in our forum...