Palm OS - Setting up for WAP

If you have a Palm OS PDA such as aPalm, Clie or Visor, you can surf WAP content using a browser. This gives you the advantage of a larger screen. With a browser and a mobile phone with infrared, you should be able to configure the browser to access whatever WAP sites you wish.
To set up Wap on a Palm device, you'll need to have the details of a WAP access provider - this will most commonly be your mobile phone company, but could also be your Internet Provider. Wap Access Providers make use of a 'gateway', and you'll need their gateway address, username and password to connect with WAP.
On this page, we're using the UK operator o2 (as they provide an inclusive GPRS WAP allowance if you use them for your mobile phone service). For more on WAP, and WAP settings for other UK operators, see our dedicated WAP page
| | |
| --- | --- |
| AU Systems browser on a Palm V | WAPMan on a Tungsten E |
To get hold of a WAP browser for your Palm, take a look at the selection on the Cellular online site, or search for "WAP" on the Tucows site
---
Setting up O2 WAP on a Palm or Treo
This section outlines how to get dial-up WAP access with UK network operator O2 online. To get WAP access, you need the following:
An O2 online SIM card (which gives you free text messages and an inclusive GPRS WAP allowance)
A mobile phone with a modem (such as a Nokia 6600), or a smartphone.
A Palm OS browser (see above)
Set up your Internet connection
From the main menu, go to "Prefs", and select "Network".
You'll need to create a new service for o2, so press the "New" button.
Add the following details:
Service: o2
Username: o2wap
Password: password
Tap on the Connection option, and select "Edit Connections..."
We now need to set up the modem connection... Press the "New button"
Name: IR mobile
Connect to: Modem

Via: Infrared

Press "OK" to save the setting, then at the "Available connections" screen, make sure "IR mobile" is selected, and press "Done"
A new field, "Phone" will appear. Add o2's dialup number of +447712 927927
Press "Done" to save the settings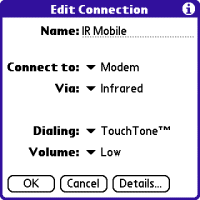 Set up your WAP browser
There'll be some settings you'll need to add to your WAP browser, including the all-important WAP gateway address. Each browser is different, but the table below should contain all the settings you'll need, regardless of which app you use.