iPhone in the UK - Help and Advice
This page contains information on Apple's iPhone, and specifically details of getting and using the phone in the UK.
At launch in 2007, there was a huge amount of hype about this phone - It's an iPod (audio, video, podcasts, images and eBooks), it's a web browser, and it's a phone... all in one. It's also an Apple, so therefore a style icon.

The iPhone also supports a revolutionary touch user interface for faster navigation and browsing.

Here's what the iPhone offers:

Audio / Video / Images
Web browsing
Connectivity: 3G Quad-band mobile phone, GPRS, Bluetooth and WLAN wi-fi.
Onboard GPS satellite positioning

Specs (iPhone 4):

Dimensions: 115 x 59 x 9.3 6mm (137 grams)
Screen: Colour, 960 x 640 pixels
Powered by Apple iOS
Memory: 16 Gig or 32 Gig
UK iPhone Availability:
The Apple iPhone launched in the UK on the 9th of November 2007. The 3G version was released on 11 July 2008, and the 3GS went on sale on 19th June 2009. The iPhone 4 went on sale on 24th June 2010
The UK Apple iPhone 4 and iPhone 3GS iPhone are available online from o2 shop , Vodafone.co.uk, orange.co.uk and tescomobile.com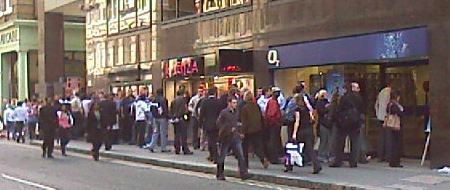 Queues in Central London for the iPhone 3G launch 11 July 2008
iPhone features:
iPhone is a revolutionary device that combines phone, iPod and connected device into one package. Here are the highlights:
Media player: iPhone is a widescreen iPod with touch controls that lets you enjoy your content — including music, audiobooks, videos, TV shows — on a beautiful 3.5-inch display. It allows you to sync the content from the iTunes library on your PC or Mac and access it all with the touch of a finger. You can also buy songs wirelessly through the iTunes Wi-Fi Music store.
Surfing: iPhone features a rich HTML email client and Safari — the most advanced web browser ever on a portable device.
PC and Mac Sync: The iPhone automatically syncs all your contacts, calendar entries and Internet bookmarks with a PC, Mac, or Internet service.
Mapping: With Google Maps you can view maps and satellite images, or get directions and traffic information, all from iPhone's remarkable, easy- to-use multi-touch interface. In August 2009, a number of Sat Nav Apps for iPhone were released.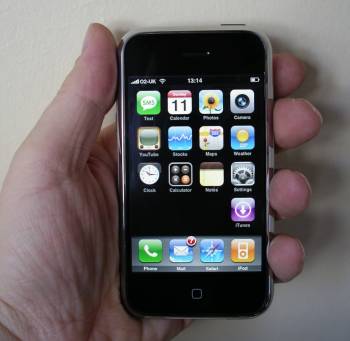 Apple iPhone Review
The iPhone launch has received a massive amount of press, and there are already stacks of iPhone reviews out there - so rather than replicate the many other reviews, we'll try to look at the iPhone from a slightly different angle.
First off, we're in the UK, and we're reviewing the standard out-of-box UK iPhone from o2. Secondly, just about all of us on the FileSaveAs team are not fans of Mac products - although we may just have been converted.
Getting started: First off, the process of getting and activating the iPhone is different from buying just about any other mobile - no contract negotiation and credit checks instore or when buying online. We cover iPhone UK Activation further down this page.
First impressions
This is a slim, and very sexy phone - slimmer that you think, very curvaceous, and a very comfy hold. The screen is simply amazing - crystal-clear and so easy to navigate. Button-wise, there's "on", two controls for volume, and a menu button - the rest is all driven from the screen. The screen has the following icons: Text, Calendar, Photos, Camera, YouTube, Stocks, Maps, Weather, Clock, Calculator, Notes, Settings, iTunes, Phone, Mail, Safari and iPod
Everything about the user interface and navigation is faultless - if you've read the other countless reviews that are out there - you'll know about the seamless transitions, the screen-flip where rotating the device flips portrait/landscape, and the finger navigation. If you've not tried the screen for yourself, get down to an o2 shop or a branch of Carphone Warehouse and give it a go.
iPhone Web Browser
This is the feature we wanted to get to play with. The iPhone comes with the Safari web browser, and claims to be "The Internet on your mobile" - it does actually live up to that claim too - sites that don't work on our former favourites, the Nokia N95 and the XDA Orbit, just work, and the navigation is amazing. When you enter a web address, you get to see the full width of the page, and can drag the page around, choosing which part of the screen to zoom into.
Navigation, text entry and bookmarks are just perfect. Javascript works, and access to secure sites all seems to be there - we tested out a login to First Direct online banking, and it worked without a grumble. For us, this is the top feature of the iPhone - perfect browsing of the real Internet - none of this Mobile Internet / WAP nonsense..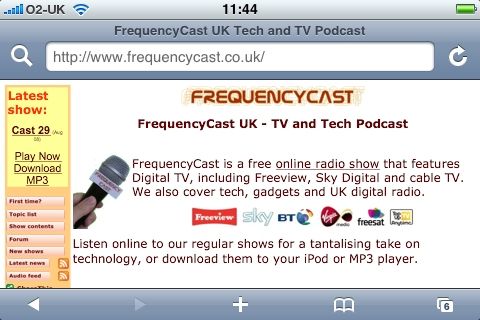 Screenshot of the iPhone web browser
Of course, when browsing, you're limited to the speed of your network. In the UK, we've had 3G data networks for a while, and the first release of the iPhone wasn't a 3G phone - although Apple released a 3G version in July 2008. The good news is that on o2's iPhone tariffs, you get unlimited data transfer, so you don't have to worry about running up a huge bill whilst surfing on the move - great not to have to worry about data charges.
Of course, if you're able to connect using wi-fi, either at home, in the office or at a wi-fi hotspot, browsing is much faster, and the experience is so much better. Note that with the iPhone, you also get free access to all 7,000 of The Cloud's wifi hotspots, for free browsing. BT Broadband customers note that you get a monthly amount of free Wi-fi at BTopenzone hotspots too.
We were also impressed with some of the web apps, particularly the Facebook app. If you're a Facebook user, you'll find that there's a special interface available for iPhone users that makes accessing your Facebook account on the move really easy. various other top sites also support custom iPhone versions, all adding to the online experience.
iPhone Media
Obviously, the iPhone is an iPod, so syncs seamlessly to your iTunes music store - Albums, Podcasts, Audiobooks, playlists, videos, TV shows - it's all there. Media playback is, as you'd expect, very simple and very powerful. This is where we hit the first couple of niggles though. First off, the headphone socket. As you can hopefully see from the photo below, the headphone socket is recessed into the case - this means that many standard headphones won't plug in. Our snazzy Shure E3C headphones don't plug in, meaning we've had to order an iPhone Headphone adapter, or stick with Apple's own headphones, which have a slimmer plug - the iPhone 3G fortunately corrects this, as it has a standard headphone jack.
Second gripe relates to video playback. The iPhone supports the following two video playback formats - MPEG4 and H.264. Most of our collection of videoclips are in DivX, xVid or WMV, so won't playback. Some can be converted using iTunes
, but the success rate wasn't good. We've been using iPod Video Converter to create video that can be viewed on the iPhone.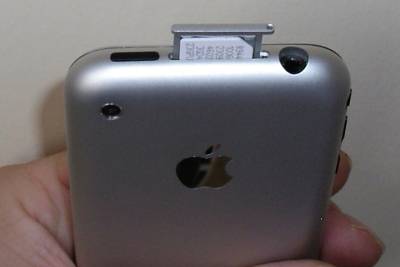 Rear of UK iPhone, showing camera, on-switch, SIM card slot and headphone socket
Other iPhone goodies
Messaging: Email on the iPhone works very well. When we first synced to the PC,we were prompted to sync our email accounts from Outlook to the iPhone - so our POP email account settings appeared on the iPhone. You can set the phone to poll for email at regular internals. The iPhone handles multiple email account, Yahoo Mail, Gmail, .Mac, AOL Mail as well as POP, IMAP and MS Exchange accounts.
Text messages: Beautifully done. Your conversation is presented as a series of speech bubbles, so you can see the history. Initially, there was no support for MMS picture messaging as standard, which for a cameraphone was a little annoying, but this was addressed with OS 3.0 released in June 2009.
Maps: The iPhone comes with Google Maps as standard, so you can search for places, or plan routes. There's a map view or a satellite view. Pretty much what you get from maps.google.com, but on a mobile. Unlike the Nokia N95 and XDA Orbit, there's no onboard GPS to tell you where you are, and it doesn't support voice navigation.
Photos: Again, beautiful user interface, and very easy to view photos. Sync with photos on the PC was pretty seamless too. When we first connected, the iTunes software detected we had Photoshop Elements, and offered us the chance to sync albums, folders, or all images. Only minor niggle is that the iPhone doesn't seem to support subfolders, like our other favourite media player, the Creative Zen Vision M does... so syncing "My Pictures/Holidays" lumps all the subfolders into one view on the iPhone, whilst the Zen allows me to view "My Pictures/Holidays/Disney" and "My Pictures/Holidays/Vegas" separately.
YouTube: Nicely done. Search and video movie clips. Seems you get served lower-res movies if you're on a 2G connection, and better quality clips if you're on wi-fi. Again, a good implementation for the iPhone, if YouTube is your bag.
| | |
| --- | --- |
| Google Maps on the iPhone | YouTube on the iPhone |
iPhone Review Summary
The FileSaveAs team have long been non-Apple people - we've used Windows Mobile or Symbian devices for PDA and mobile phone, and have steered clear of iPods in favour of Creative's MP3 players - as they're generally cheaper than Apple products and have more features (such as FM radio). It was with reluctance that we started playing with the iPhone - we didn't want to leap onto the hype bandwagon and be dazzled by the flashy touchscreen interface.
However, it has to be said that using the iPhone is a very sexy experience - it's been well designed, and beautifully executed - easy-to-use, and the best phone/media player/browser we've ever seen.
There's a lot that isn't supported on the iPhone that other devices do support - we'd love to have seen just one of the following: FM radio, faster browsing with 3G, a better camera (with a flash), or an unlocked version. It's also not overly cheap, although existing o2 customers are able to get out of their existing contracts if they go for an iPhone. It's also not a useful as a phone with built-in Sat Nav or a Windows Mobile that supports Excel and Word. That having been said - as an entertainment device with an amazing web browser - this is one heck of a sexy device. Right... off to play some more...
Supplied with?
The UK iPhone from o2 is supplied with the following: Headphones with inline mic, docking station, USB lead, mains adapter, screen cleaning cloth, and two very thin user guides.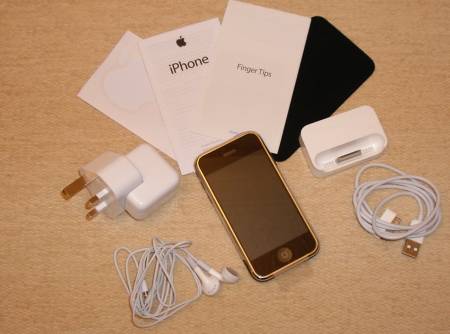 UK iPhone (first edition) box contents
Activating the iPhone in the UK
Once you've got your iPhone, the next thing to do is activate it.
Activation of the iPhone is done through iTunes
on your computer. To be able to do this, you will need to:
Ensure that you have a broadband connection and that your Mac or PC meets the minimum specification required for iTunes.
Download and install the latest version of iTunes from www.apple.com/uk/itunes.
Migrate your existing mobile contacts from your handset or SIM into Outlook, Outlook Express or Address Book on the Mac.
Upload your music onto iTunes.
The Apple iPhone Compared
There was little doubt when the iPhone was first revealed, that it was going to be huge. But how special is the iPhone now that other smartphones are on the market?
Here's our look at how the early iPhones compared with the competition...
iPhone - The Pros

The Name - It's an Apple. Although those in the know appreciate that the iPod doesn't offer as many features as competing MP3 players, it doesn't stop the iPod being huge. The same is likely to be the same for the iPhone. If you like labels, you'll need an iPhone


Web browsing - unique navigation method for easy surfing, and preloaded with the Safari web browser for an amazing browsing experience.


Your iTunes content... music, video, photos, eBooks - on a phone, seamlessly.


Wow Factor - If you've tried one, you'll want to own one. They feel great, and the user interface is simply amazing!



iPhone - The Cons

Although the iPhone is amazing, there are better phones out there on the market, depending on what you're looking for...

Camera - Just 2 Meg (or 3 Meg in the 3G S) ? Pretty low for a smartphone (see the Nokia N series), and there's no flash.


PC connectivity - Windows Mobile phones (like the XDA Orbit) have excellent support for sync with Outlook (email, contacts and calendar), plus support for office apps such as Excel and Word. The iPhone can't boast the same.


Apps - No native ability to create or edit Excel or Word documents, which you can do on found on Windows Mobile devices (note you can view Word and Excel email attachments though).


Ringtones - Adding your own ringtones isn't simple. While some phones let you install or record your own tones, or even play WAV and MP3 files, in the US, you have to get your ringtones through iTunes, and pay to get a 30 second audio clip to use as a ringtone.


Price - For the 3G at launch - £639 ownership (£30 a month for 18 months, plus £99 for the phone).


Battery - The iPhone doesn't have a removable battery, but phones like the Nokia 95 and the o2 XDA Orbit both do.
iPhone F.A.Q
3G?

Is the UK iPhone 3G?

The first edition phone wasn't - it was a 2G phone that used o2's EDGE data network.
In July 2008, Apple released the faster, 3G version. All subsequenct iPhones are 3G enabled

Picture messaging
Can I send photos to other phones? Amazingly, at launch, the iPhone didn't support sending or receiving MMS picture messages, even though the phone has a camera. Sending of photos by email is supported on the iPhone. Perhaps Apple will add support for this in a later software patch?

Update: Jan 2009 - An MMS application, from a third party, is now available in the App Store. More

Update: Jun 2009 - iPhone software version 3.0 finally adds MMS. Problem solved (eventually)

Memory Cards
Can I use memory cards? Nope - No slot. No expandable memory
iPhone Headphone Socket

How disappointing... the original 1st generation iPhone headphone socket takes standard 3.5mm headphones, but the socket only accepts very thin plugs - the standard iPod headphones fit perfectly, as the plug is slimline, but standard headphones with a right-angle or non-slimline plug won't fit.

There is a way round though... you can buy an iPhone headphone socket adapter (pictured). These are available online from Carphone Warehouse in their Accessories section, for £9.99.

The second generation iPhone (the 3G iPhone released in July 2008) as well as the iPhone 3GS and iPhone 4 has a standard headphone jack... thankfully!

Case for your iPhone

Now you have yourself a shiny new iPhone - you need to keep it safe, so you'll be after a case. There's the standard leather case, or a nifty rubberised case. Not a fan of leather cases, our iPhone is protected by the Marware Sport Grip for iPhone, pictured here, which is available in clear or black.

You can get cases, including the Marware, from amazon.co.uk , Dabs.com , AdvancedMP3players - and in the Carphone Warehouse accessories section.

GPS / Sat-Nav

Can you use Sat Nav or GPS positioning with an iPhone?

The original iPhone (2007 model) didn't have a built-in GPS receiver, and there was no way to install a third-party satnav solution such as TomTom Navigator.
The 3G iPhone, released in July 2008, has a built-in GPS receiver and works well with Google Maps. In June 2009, it was announced that a TomTom Navigator for the iPhone was on the way!
August 2009 - Sat Nav apps now available. We compare the iPhone Sat Nav apps


TomTom and CoPilot Sat Nav apps now available - TomTom and CoPilot Compared

Overseas?

Can I use my iPhone overseas? Yes, the iPhone is a quad-band mobile phone (Quad-band: 850, 900, 1800, 1900 MHz), so can be used in most parts of the world.

To use the iPhone outside of the UK, you'll need to ask o2 to enable your mobile phone account for "International roaming". When roaming, check in Settings > Carrier to set which network you roam to. "Automatic" is an obvious choice.

Also, be aware that surfing the 'Net while roaming in another country, won't be cheap. With an o2 iPhone in the UK, you get free data, but outside the UK, you'll be charged by the megabyte you use, and it won't be cheap. If you want to make sure you don't incur costs for using data when roaming, go to Settings > General > Network, and set "Data Roaming" to "Off".

For info on using the o2 iPhone outside of the UK, see our o2 Abroad FAQ.

More power
Our top accessory for the iPhone is PowerChimp, a portable, rechargeable power supply with an iPhone connector. Reviewed in Show 32 of our UK Tech podcast. More details, see our PowerChimp review.
wi-fi and the iPhone

Surfing with Wifi? Yes, the iPhone and the iTouch support Wi-fi. If you have a wi-fi access point at home or work, you should be able to connect to the Internet using that wi-fi connection.

In addition, and in the UK, you can access more than 7,000 of The Cloud's hotspots for free.

Need help setting up wi-fi? To set up Wi-fi on an iPhone or an iPod Touch, do the following:

Go to Settings
Go to wi-fi
Make sure wi-fi is turned on
You have an option to "Choose a network". Assuming you're in range of a wi-fi network that isn't "hidden", it should appear in the list of available networks
If you select a network that uses encryption (indicated by the padlock symbol), you will next be asked to enter the WPA or WEP key.

If you want to access a network that is 'hidden' (i.e. not broadcasting an SSID), then you can select "Other..." to enter the details manually. You will need to know the SSID of the wireless access point.

If you want to access the advanced settings for a detected network, clicking on the blue arrow at the end of the entry will open a window allowing you to edit DHCP, IP Address, Subnet mask, Router IP, DNS address and to set up an HTTP Proxy.

For general wi-fi help, see our Wi-fi page

US iPhone in the UK

If you've got an AT&T US iPhone, you'll be able to use it in the UK. Here are some things to note:

The iPhone is quad-band, so a US iPhone will be able to connect to networks in the UK
Data services: If you access data (browsing, email, Google, etc) using a US SIM card while in the UK, you'll be subject to some pretty hefty "roaming" charges for using data outside of your network's home country. You can enable / disable "Data roaming" from Settings > General > Network.
Using an UK SIM in a US phone: From what we understand, US iPhones are "locked" to the AT&T network, so popping in a UK o2 SIM card won't work. Although the Apple iPhone hardware is the same for the UK and US releases, the serial number (IMEI) identifies the phone's country. Source: MacRumours forum.

US phones can be "unlocked" from the AT&T network, so that they can work with a UK SIM Card - something known as "Jailbreaking the iPhone", but that's not something we discuss on this page. If you want to unlock your phone from its current network (with the associated risks), try a Google search for sites that can help.

Need a UK SIM card?

Looking to get a UK o2 SIM card?

Recycle your mobile

If you've got an old mobile phone handset that you're no longer using... do your bit for the environment, and recycle it safely. You'll also make some money when you send your old handset back.

Don't leave it in the back of a drawer - see if it can find a new lease of life, and pocket you some cash.

For a summary of the best deals on making cash from your old handset, try the comparison search tool at www.sellyouroldmobile.co.uk

More on the iPhone?
Looking for more? Try our iPhone special that our Podcasting team put together as the iPhone launched in the UK - Frequencycast's iPhone special.
Anything you'd like to know about the UK iPhone? Contact us...
Useful iPhone links:
Want to talk about the Apple iPhone? Please use our mobile phone forum, or leave a message on our Podcast Podline, 0208 133 4567