Mobile Wi-fi - Portable Wireless Access Point
Need Internet access using wi-fi, but not in range of a hotspot? Get yourself a mobile wi-fi modem.
What is mobile wi-fi?
Getting mobile Internet access has got easier in recent years, mainly through the use of mobile broadband USB dongles - these are great for plugging into a laptop to give you high-speed broadband without having to connect to a phone line.
The downside with mobile broadband dongles, is they need to connect to a USB port on your laptop, and some of today's kit doesn't have a USB port.
The answer? A portable mobile wi-fi product. These are small modems that contain a 3G data SIM. They connect to the mobile phone network, then act as a wi-fi access point.
Some reasons why mobile wi-fi is handy:
To be able to connect devices that have wi-fi, but aren't laptops, such as: iPod Touch, Nintendo DSi, Internet radios
Using wi-fi on the move or when travelling
Sharing out a connection to any wi-fi devices in range
Multiple simultaneous connections (cheaper than two dongles)
How do I get mobile wi-fi?
In September 2009, 3 became the first operator to offer a mobile wi-fi solution.
Called MiFi Mobile Broadband, 3 is now selling their portable wi-fi modem, the Huawei E5830. There's also the Novatel MiFi 2352.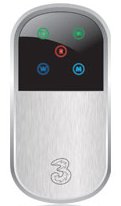 3's Mi-Fi Access Point
The MiFi Modem from 3 accepts a standard SIM Card to connect to the 3G mobile network, then converts this to an 802.11 wi-fi signal. This offers a portable wi-fi wireless access point that any devices close to, can connect to and get an Internet connection. Fast Internet access with no wires.
No need to load any special software, you simply get your wi-fi enabled laptop, portable device, games console, or gadget to use the wi-fi signal generated by the MiFi, then get online with speeds of up to 3.6Mbps (megabits per second). The MiFi modem comes with a built-in rechargeable battery for up to 5 hours continuous surfing on a single charge.
The Huawei E5830 modem can also act as a wired modem if needed, as it has a USB port. Using the USB port, you can also use a connected laptop to send and receive SMS text messages.
MiFi: The Cost?

3 MiFi Availability:
The MiFi model is available for a one-off fee of £49.99. A monthly fee of £15 a month gives you up to up to 5GB a month download limit. No long-term contract is needed, as it's a rolling one-month contract.
The MiFi model is available to order online from 3 Store - There's a 14 exchange policy in place to allow you to return the product if it's not what you expect.
3 MiFi Specification:
Battery: Li 1500mAh
Connectivity: 3G, wi-fi, USB
Supports: microSD 32GB
Dimensions: 86 x 46.5 x 10.5mm
Weight: 90g
Using the MiFi
The MiFi modem has a slot for a standard SIM Card (supplied). Insert the SIM card, then turn the modem on using the button on the side. A green light will indicate that a connection to 3's data network has been made. Then, press the blue "W" button to turn on wi-fi.
The MiFi modem broadcasts with the SSID of i-Mo. Use a wi-fi enabled device to search for the i-Mo access point and connect. You'll be prompted for the wi-fi security key (on the provided card, or under the battery).
wi-fi setting can be changed if required, by connecting to a PC using the supplied USB cable.
Mobile Broadband Links: