o2 Mobile Broadband information
Information on the o2 Mobile Broadband service, including a review of the o2 E160 USB modem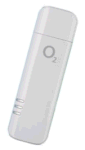 O2 is offering mobile broadband using a USB dongle, on either contract or Pay-as-you-go.

This is currently our preferred mobile Internet solution, as the pay-as-you-go option is perfect for occasional use.

Here are the options:
Pay-as-you-go: Buy the dongle for a one-off £20 then choose to pay £2 a day (for days you use it), £7.50 a week or £15 a month. This is a simpler option than the pay-per-megabyte service offered by other networks.
Contract: Get the dongle free on a £10 a month contract (first 3 months free). There's a 1 gig per month download cap. A service with a 3 GB a month cap is also available.
Full details at broadband.o2.co.uk/mobile.

o2 Mobile Broadband USB Modem Review
We've been test-driving the E160 USB Broadband modem from o2, and we've been pretty impressed with both the modem, and the service.
If you're interested in hearing an audio review of the review of the o2 E160 USB modem, and details of mobile broadband, take a listen to Show 38 of our podcast
o2 E160 USB Modem Specification:
Model: O2 Huawei E160 USB

Size: 85mm x 21 mm x 12 mm
Supports 3G and HSDPA (top speed 3.6 Mbps)
Can be used for data storage (Supports MicroSD card)
Supported Operating Systems: Windows XP, Windows Vista, Mac OS X 10.4 (or higher)
Frequencies: HSDPA/UMTS (850/1900/2100MHz), GSM/GPRS/EDGE (850/900/1800/1900MHz)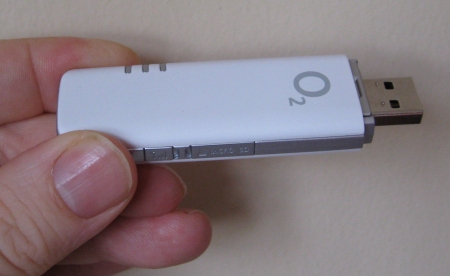 Getting started:
Here, we're looking at the Pay As You Go option from o2, which gets you the E160 USB Modem, made by Huawei.
Out of the box, you get the USB modem, two booklets, a male-to-female USB lead (as an extension if needed), and an o2 SIM card.
First off, install the SIM card. There's a small SIM card-sized drawer you need to pull out to slide in the card
Then, plug into a spare USB port on your PC or Mac. On a PC, the USB drive is detected, and you're prompted to install the software. The software is pre-loaded onto the USB stick, so there's no messing with installation CDs.
Once the software is installed (a piece of cake), you can then access the o2 Connection Manager. This bit of software is the control centre for using the dongle's connection, or the laptop/PC's wireless connection, and is pretty self explanatory - see the screenshot below


o2 Mobile Broadband Connection Manager
Connection to o2's 3G network worked smoothly in our tests. We opted for the Pay-as-you-go version of the modem, and after connection to the o2 3G network, we had to go to the web browser to enter a payment. This was a straightforward process. You don't need to create an account and remember a username and password, it's just a case of typing in a valid credit card number - a nice touch. The only slight downside to this is that your details aren't remembered for next time.
As well as using the o2 3G data service, the connection manager can also manage your 's wi-fi connection. As part of the software installation, you'll also find that a wi-fi Hotspot Directory is installed for you.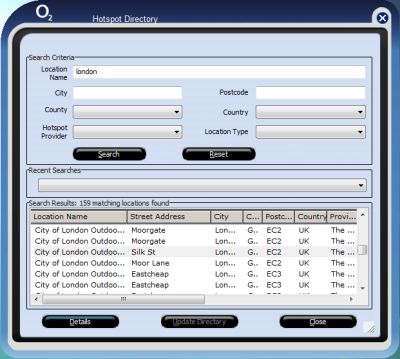 o2 Mobile Broadband wi-fi Hotspot Directory
Other nice touches - we've not seen another one of these USB dongles that has a built-in card reader, so the addition of one from o2 is welcome. You can use it as a memory stick by inserting a microSD card (although note that the o2 USB modem does not support High Capacity microSD cards - known as microSDHC)
One other handy feature - as the dongle includes a SIM card, you can also use it for text messaging - note though that on Pay-as-you-go, you can receive SMS text messages, but not send.
In summary - we're very impressed with this offering from o2, and are happy to recommend it.
You can get Mobile Broadband online from broadband.o2.co.uk/mobile.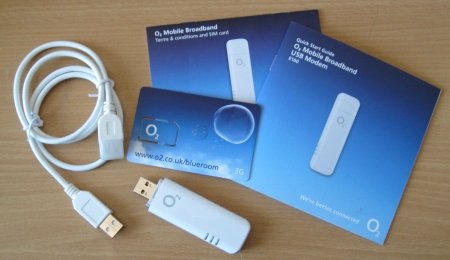 Contents of the o2 Mobile Broadband package
Useful Mobile Broadband Links: