Vonage Voice-over-IP
This page contains information on Vonage - the service offering cheap phone calls over the Internet.
What is Vonage?
Vonage is for customers that already have a broadband connection and want to make huge savings on phone calls, by routing phone calls over the Internet.
From as little as £5.99 per month, Vonage customers can make unlimited landline calls across the UK and Ireland. Plus there are also plans available that provide free unlimited calls to select international locations like Canada, US, France, Italy, Spain, Australia, New Zealand and Germany.
How does Vonage work?
The service works just like a normal phone service. VoIP services from Vonage are a little different to the others we've mentioned here. With Vonage, you can use your existing home phone handsets, and you don't need to have your PC powered up to make and receive calls.
VoIP services include features such as caller display/ID, call forwarding, call return, conference calling, and sophisticated voicemail such as voicemails emailed as an attachment to your email. These features are free with Vonage.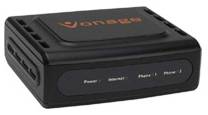 To use Vonage, you get a free adapter that plugs into your broadband router. You can then connect your existing phone handset.
Top feature: As well as low cost calls. you can take your Vonage number away with you while you travel - For example, if you live in London and your Vonage phone number is 0208 xxx xxxx, you can take your Vonage box on holiday, connect it to a broadband account in the country you're visiting, then get calls on your London Vonage number. People in London call you on your Vonage number are only paying a local call.
For more details of Vonage, go to www.vonage.co.uk
Vonage Products
Vonage V-Phone


The Vonage V-phone is billed as the world's smallest and most portable landline. This device fits on a key ring to allow the Vonage service to be used wherever you are. You can make and receive phone calls from any broadband connection, with all the same value added features as the standard Vonage service (including free unlimited calling). No software to download and no installation.

The USB connector already contains the Vonage Talk software so just needs to be plugged it in to a computer (must have a broadband connection).

Vonage wi-fi Phone


The Vonage Wi-Fi Phone From UTStarcom is a pocket-sized, wireless Internet phone that uses Vonage service by connecting to wireless Internet access points worldwide, also known as WiFi hotspots.

The WiFi phone is a great way to enjoy high-quality Vonage Broadband phone service around the globe, and help you save money. How it Works The Vonage WiFi phone works by accessing wireless Internet connections such as a wireless router in your home or office, or WiFi hotspots around the globe. You can access open WiFi hotspots quickly and easily, as well as various secure hotspots.

It works at many hotels, airports, coffee shops, and more! This innovative wireless Internet phone provides portable, high-quality Vonage service with the same great, low-cost plans.
For more details on the Vonage service, go to www.vonage.co.uk
Useful links:
Got a question on Vonage? Please ask in our Networking forum