How to add Wi-fi to your PC using a USB dongle
Got a computer or a laptop, and want to get wireless Internet access? We explore how to do this using a Wireless dongle. Add wi-fi to your PC or laptop using a wi-fi USB adapter.
Wireless Internet on a computer?
Our homes started out with dial-up, and now we have high-speed Broadband. Initially, we started out with modems connected to our main home computer, but now we can connect our home computers to the Internet without needing to be plugged in.
If you're looking to get your home computer, netbook or laptop connected to the Internet, there are essentially three ways:
Plug in your computer to your home broadband router using an Ethernet networking lead
Connect to your broadband router wirelessly
Connected using Mobile Broadband (over the mobile phone network) - Expensive!
On this page, we're going to look at Option 2 - Connecting to your router wirelessly
What you need for Wireless Internet at home:
1. Home Broadband

This could be from BT, Plusnet, Sky, Virgin, or any of the home broadband services on offer

More: Broadband Providers Compared

2. A Wireless Router

Most UK broadband providers offer some kind of wireless (wi-fi) router. If you're with BT, this is likely to be the BT Home Hub (pictured here).

These routers connect to your phone line for Broadband, and let you connect to a computer either via Ethernet cable, or wirelessly.

If you have a router that doesn't support wi-fi, you can buy one from the likes of PC World or Dabs.com - If you can, opt for a router that supports the newer 802.11n standard of wi-fi, which offers better range and speed compared to the older 802.11g

Wi-fi hardware for your computer

Most laptops, net-tops, notebooks and tablet computers come with wi-fi built-in.

If you have a computer that doesn't have wi-fi built-in, you'll be needing a Wi-fi adapter(also known as a wireless USB dongle). These plug into a USB port on your computer - More of these below.
What is a Wi-Fi Dongle?
It's a small device that plugs into a spare USB Port on your computer. It has a wi-fi transmitter/receiver built-in, and it allows your computer to talk to a nearby wireless router.
If you're looking to buy a wi-fi dongle, here are a few things you need to know.
There are three main standards: 802.11b , 802.11g and 802.11n - The 802.11n type is the newest of the three and offers the best range and fastest speed
If you get an 802.11n dongle, make sure you get a USB dongle that is compatible with the older 802.11g format, in case you want to talk to something that doesn't support the latest standard.
You can buy wireless USB dongles from around £15. Good names to look for include Belkin, Netgear and Linksys.
| | |
| --- | --- |
| BELKIN F6D4050 802.11n Wifi dongle | NETGEAR RangeMax Dual Band Wireless-N USB Adaptor |
We Recommend: Belkin N Wireless USB wi-fi adapter
We recommend you try the following:
PC World - A decent range of top-name brands. Buy online, or reserve at your nearest store
Maplin.co.uk - Stocking a decent range of wi-fi adapters
Dabs.com - Great for a wide range of low-price wi-fi kit.
How to use a Wireless Wi-fi dongle
Each dongle and manufacturer are different, so you'll need to refer to the documentation provided with your product, but here are the basics.
Install the supplied software and drivers onto your computer
Connect the USB dongle into a free USB port
From the dongle's software, perform a scan for all access points in the area. Hopefully, you will see your router in the list
Try to connect to the router
You'll be asked for a security key. This will normally be what's known as a WPA Wireless key, and is to ensure a secure connection. Your router is in charge of this WPA key - check the router or router manual for information on where to find the WPA key.
Looking to convert Ethernet to Wi-fi?
You might want to take a look at the Universal Wi-Fi Adapter.
This little device has an Ethernet socket and allows you to plug an Ethernet lead into a piece of quipment and get Internet connectivity over standard Wi-fi. You can get these from Amazon, Maplin.co.uk and PC World - for more details see our Netgear Wi-fi adapater page.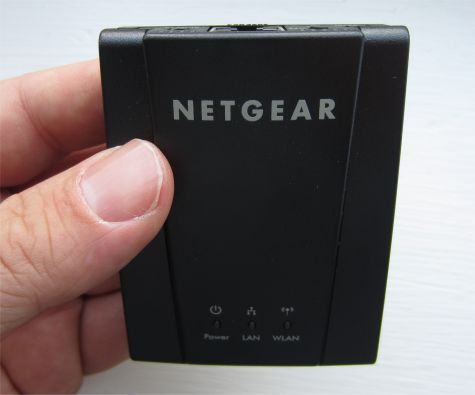 Netgear WiFi Adapter
HELP! Something we can explain better or add to this page? Please get in touch
Links: