Eye-Fi for Digital Cameras Reviewed
Got a digital camera with an SD slot? Here's a new SD card that's a must have. The Eye-fi has built in wi-fi and geotagging. We'll show you more.
What is an Eye-Fi?
It's an intelligent SD card. Slot it into a digital camera and use it as normal to take photos. When you get back home, your camera will sync your photos to your PC or Mac using wi-fi. Pictures are also geo-tagged with the photo's location.
The card can used be used for wireless upload to services such as Facebook and Flikr. If you're a Mac user, Eye-Fi can also be used with iPhoto.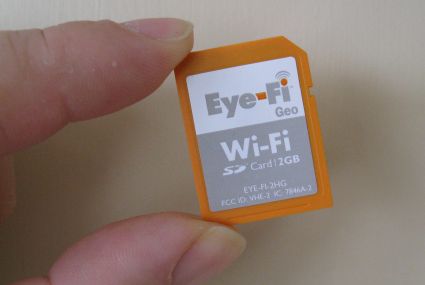 How does it work?
The makers have cunningly packed a wi-fi receiver into an SD card. It takes power from the camera, and does require any special interface on the camera - so the card can be used on just about any digital camera that can accept an SD card.
Before you can use the card, you need to connect it to your computer (there's a supplied USB adapter if you don't have one), and configure the card for your wi-fi network. Multiple wi-fi profiles can be added.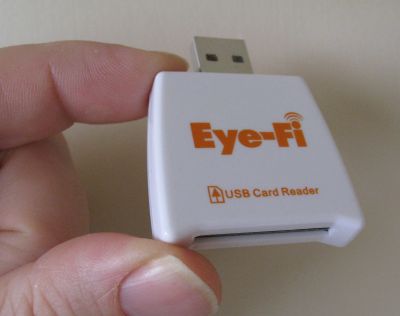 Eye-Fi USB Reader
Once your card is set up - plug it into your camera, and snap away.
When you're back at base, photos transfer over your local wi-fi to a folder of your choice on the computer - automatically and wirelessly.
Also, you can optionally upload photos to services like Facebook or Flikr.
Eye-Fi Card Availability:
The Eye-fi card is available in 2GB and 4GB versions. We recommend the following suppliers:
Software
On a Windows PC, the Eye-Fi card is managed via a small app that sits on your taskbar. When it sees your Eye-Fi card over the wireless network, it will leap into action and download the photos.
The Eye-Fi application uses a web browser for most of its work, and allows you to change settings, view thumbnails of your photos and set-up your card.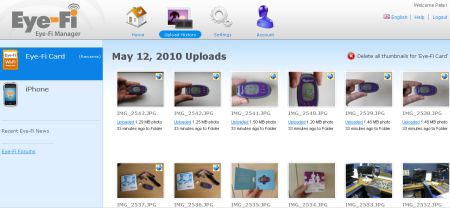 The Eye-Fi interface in a web browser
Geo-tagging
Now this is clever. Geo-tagging is all about adding a location to something. With photos, it's handy to record a location of where the photo was actually taken. This can be achieved with expensive GPS-enabled cameras, or by using something like the i-GotU to tag where you were when you were spanning, but this card can take the hassle away by adding location co-ordinates to your photos as you take them.
It doesn't use GPS for this - it actually uses wi-fi. The card uses the SkyHook database of wireless access points to obtain your location and store that information to your photo. There's one key down-side to this use of tagging - you have to be in range of a wi-fi access point. If you're in the middle of nowhere - no wifi routers near you - no location information - which is where GPS is better. The flip of that is, if you're in a building or built-up area, you're probably near a wireless point, whereas GPS may not be able to see a satellite to get a fix.
The tagging works within the Eye-Fi app, also with iPhoto, Adobe Photoshop Elements and Google Picasa.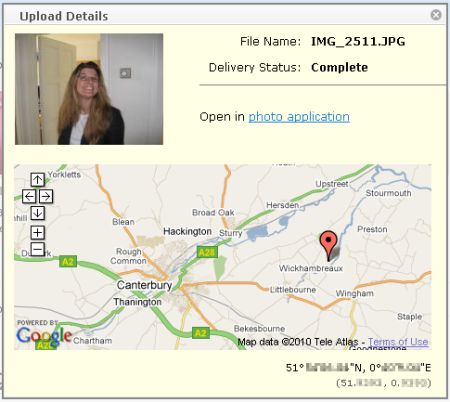 An image geo-tagged with Eye-fi
Eye-Fi Requirements
wi-fi network
SD or SDHC compatible camera
Windows XP / Vista , Mac with OS 10.4 or later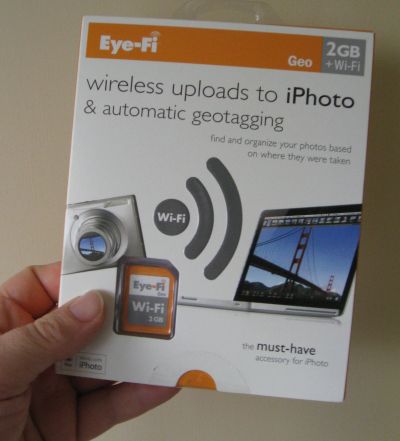 The Eye-Fi, in its box
iPhone app
There's a free Eye-Fi iPhone app available. This allows you to upload photos on your iPhone to "Web Share", where your photos are uploaded to online storage space, and synced back to your computer over the Internet. At the time of reviewing, the Web Share service is $9.99 a month. The app is free from iTunes App Store.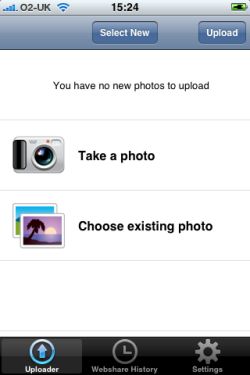 Your questions
Got a question on the Eye-Fi card, or need some help? Ask us