BT Home Hub - Information and Advice
Information, help and advice on the BT's Wireless Broadband router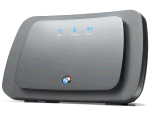 BT has a plan - and that's to get one of their Home Hubs into everyone's house. On this page, we give you the basics on this product, and links to sections of this site that should answer all of your questions
Essentially, the BT Home Hub is intended to be the main connection point between BT's network and your home. The Hub is intended to be the central point for communication - home phone, mobile phone, wireless networking, broadband Internet and television services.
What is the BT Home Hub?
In a nutshell, here's what the BT Home Hub is:
A Broadband router: Allowing high-speed Broadband Advice connection to the Internet from home computers, laptops, mobile phones and games consoles (such as the Nintendo Wii, Microsoft Xbox or Sony's PS2 / PS3). Intended for use only with BT Broadband
A Wi-fi access point: Supporting the connection of equipment that has wireless capability. This includes mobile phones, laptops, tablet devices, games consoles and Wi-fi webcams.
Digital TV: The Hub is designed for use with BT's digital TV service, BT Vision
Need help with your BT Home Hub? Go to hubhelp.co.uk
Versions of BT Home Hub:
So far, three main versions of the Home Hub have been released:
There's a full comparison on our Home Hub Versions page
BT Home Hub Review
To read our review of Hub 3, see our BT Home Hub 3 Review. The Home Hub 3 was also reviewed in Show 61 of FrequencyCast, our technology podcast
In summary, whilst the BT Home Hub is not the world's most advanced home broadband router, it's usable, functional and free.
It's pre-configured for use with BT's BT Broadband and TV services, making it easy to use out-of-the-box for the less technically-savvy.
BT Home Hub 3 is supplied with:
Broadband cable
Ethernet cable (RJ45)
Power adapter
2 x ADSL microfilters
User Guide and CD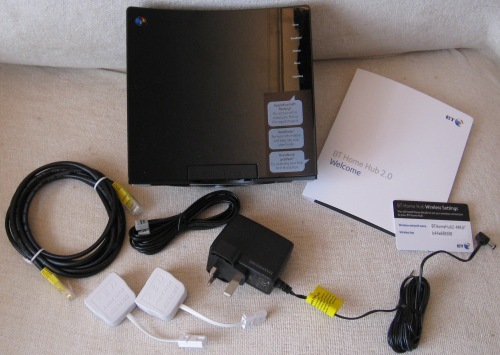 BT Home Hub 2- Box contents
BT Home Hub 2.0 Specifications:
Modem: ADSL (Broadband).
Wifi: 802.11b / 802.11g / 802.11n (Supports WEP, WPA-PSK/WPA2-PSK)
Dimensions: Width: 175mm , depth: 88mm , height: 182mm
Main features: Pre-configured to work on BT Broadband lines
Connectors: 4 x 10/100 Mbps Ethernet sockets (RJ45), 1 x USB, Broadband Advice In (RJ11), telephone socket


BT Home Hub 3 rear connectors


Home Hub 2.0 rear connectors
Connecting the BT Home Hub:
Here's a quick summary of how to get connected to BT Broadband using a BT Home Hub:
First off, each telephone in the house will have to be connected to the phone socket via a special filter once Broadband Advice is enabled. Other devices that have to connect to your phone line, such as answerphones and set-top boxes (including the Sky digibox), will also need to be connected via a microfilter.
Plug the broadband lead into the ADSL socket on the filter into the Broadband line socket on the Home Hub
Plug the Home Hub into the mains, using the supplied power adapter
After a few minutes, the 'Wireless' , 'Broadband' and 'Internet' lights should be on (The BT guide advises you to wait an hour while the line optimises and gains the fastest speed).
Next off, you're meant to install the BT Broadband software, supplied on CD. HOWEVER, you don't need to. If your PC is running XP or Vista, you won't need to use the supplied BT software CD, as when you connect your Home Hub to the PC, Windows has all of the software you need. By not using the CD, you won't get lots of unneeded software installed, including: BT Broadband Desktop Help, BT Yahoo Internet Software, Hub Manager and BT Broadband Talk Setup. You can manage your Home Hub via a standard web browser, so don't need BT's software to clutter your PC.
Then, plug in an Ethernet lead from your PC's network port to the Home Hub Ethernet port.
As if by magic, it should all work. The Home Hub is set for DHCP, and BT Broadband doesn't require a username or password to log on (as they use your phone number to authenticate)
Configuring the BT Home Hub v2:
You can connect to your Home Hub to check status and alter settings via your PC's web browser - Go to http://bthomehub.home/
Once you've logged in to the BT Home Hub, you can manage all of the router's settings from within your web browser. We offer help on this in our Home Hub Login FAQ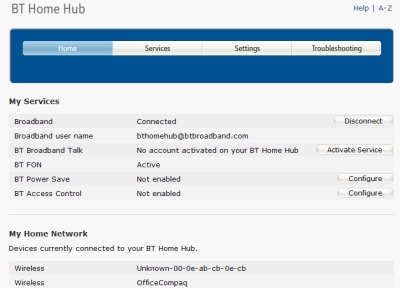 Screenshot of the BT Home Hub Main Screen
If you're looking for general help with your Home Hub, check out Home Hub Help. You might also like to take a listen to our Unofficial Audio Guide to the BT Home Hub.

If you need technical help with the Home Hub, we recommend you ask in the FileSaveAs Home Hub forum
BT Home Hub FAQ

Need help with your BT Home Hub? We've got loads of pages dedicated to providing Home Hub Help, where you'll find pages of help and advice on how to set-up. configure and use the Hub.

Below, you'll find a small sample of what's covered on our Home Hub Help Site
Security
Hub Phone Help
Troubleshooting
BT Vision

If you're a BT Broadband. customer and have a BT Home Hub, you may be able to find that you can get yourself a high-spec digital TV recorder - the BT Vision+ Box.

This connects to your Home Hub using an Ethernet cable, and can let you watch live TV as well as downloaded movies and TV shows over Broadband.

For more, see our BT Vision page, or go to get.btvision.bt.com.
Need some BT Home Hub Help?
Other BT Home Hub resources: