BT Home Hub - Unofficial Help and Advice
Got a BT Home Hub and need some help? We have pages of advice and information on the various BT Home Hub models - We hope you'll find what you're looking for.
The BT Home Hub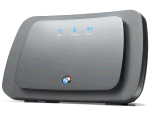 The Home Hub is BT's Broadband router. It connects to BT's Broadband service and provides wired and wireless access to the Internet.
The Home Hub is provided for free on most BT Broadband packages, and can be used with an optional BT Home Hub phone (for cheap calls over the 'net), as well as BT's digital TV service, BT Vision.
For basic information and a review of the Home Hub, go to the FrequencyCast Home Hub page, where you'll also find an audio review of the Home Hub.
General Home Hub Questions:
Using the Home Hub:
Home Hub Setup Help:
Home Hub wi-fi Help:
Home Hub Troubleshooting:
Need more Home Hub help?
Take a look at our busy BT Home Hub forum - If you can't find your question answered in the above help or on the forum, visit our forum, sign up and post a new message.
When posting - please make sure you include details of your computer's operating system (XP, Vista, Windows 7, etc), the software version your Hub's running, and how you're connecting (Ethernet, wi-fi or USB)
Other Home Hub resources: