SIM Cards Explained
What is a SIM card? What does it do? How do I get a UK SIM card? Your SIM-related questions answered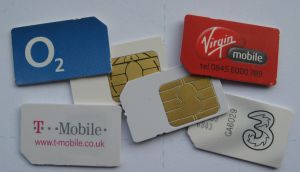 What is a SIM card?
SIM stands for Subscriber Identity Module. It's a a small memory chip that is inserted into a mobile phone handset and is required for the phone to talk to the network operator (e.g. Vodafone, o2, etc).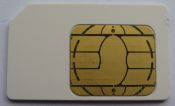 The SIM chip contains a unique ID (known as an IMSI) that your network operator uses to identify you and your handset to the network. There's also storage space for SMS text messages and address book information.
Basic SIM cards can store between 16k and 64k worth of data.
Where do I get a SIM card?
Many of the UK mobile phone networks will sell you a Pay-As-You-Go SIM card for a few pounds if you visit one of their stores.
Some mobile operators are currently offering free SIM cards, as they're keen to get their cards into as many mobiles as possible. Here are some of the current freebies on offer:
o2: o2 is offering up to two free SIM cards. Each SIM comes with unlimited text messages when you top up just £5 a month.

To get your free SIM cards, go to freesimo2.o2.co.uk


T-Mobile: You can get two free PAYG SIM cards from T-Mobile.

Free texts for life if you top up £10 a month

Details at t-mobilesimgiveaway.co.uk.

International Calls SIM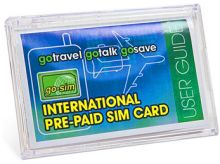 Travelling abroad? Don't get stung by huge roaming charges. Go SIM is an International SIM card that can save you up to 85% on calls from 175 countries around the world.
Go Sim are the world's leading supplier of global SIM cards. With this card, your incoming voice calls are free in over 75 countries, and you won't get charged for any texts you receive either. When you top up your Go SIM card, that credit never expires.
The Go SIM is available from I want one of those
SIM Card Backups
Want to back up data from your SIM card or transfer data to a different card? Consider a SIM card backup keyring:
What is a Micro SIM card?
Newer mobile phones, including the new iPhone 4, make use of smaller SIM cards, known as Micro SIM cards. Here's a picture of a Micro SIM card from UK provider o2 - Here, you'll see the Micro SIM card inside a standard SIM card - you press out the Micro card if your phone requires it.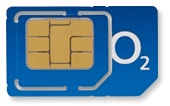 o2 Micro SIM Card
If you need a Micro SIM card, contact your network operator.
UK SIM Card F.A.Q
Your SIM card questions answered:
Q. What is my SIM card PIN?
For help on finding your SIM card's PIN, see the following links:
Q. My SIM Card is locked! -
See our PUK Lock Advice page - Help with PUK codes and PUK unlocking
Q. If I change my Sim card, will my contact phone number change?
If you have two SIM cards, and each SIM card has its own phone number assigned, then your phone will use the number that's assigned to the SIM card that's inserted into the phone.

That having been said, note that SIM cards don't actually hold the phone number. The SIM has a special code number (called an IMSI) - the phone number itself is held by the mobile phone network operator, and they match the phone number to the SIM's IMSI. The Network Operator can arrange to swap phone numbers to different SIM cards. This is how it's possible to change or transfer your number without having to get a new SIM card
Q. I need a Data-only SIM for my iPad -
There are some good deals from 3, who offer a decent mobile broadband network, and micro-SIM cards for both iPad and iPhone. You can get a contract SIM, or a Pay-as-you-go SIM - Get a iPad Data SIM from 3
Got a question about SIM Cards? Get in touch
Other Links