iPhone Sat Nav applications and mapping tools
On this page we talk about satellite navigation and mapping tools for the Apple iPhone.
Sat Nav for the iPhone Compared
For considerably less than the price of a stand-alone Sat Nav device, you can convert your iPhone into a fully-featured Satellite Navigation device. These use the iPhone's GPS receiver for navigation with on-screen moving maps and voice prompts.
We compare the three leading satellite navigation applications available for the iPhone:
| | | | |
| --- | --- | --- | --- |
| | Co-Pilot Live UK | TomTom UK | MobileNavigator UK |
| Voice Commands | 4 x UK voices | 2 x UK voices | 1 x UK voice |
| Postcode entry | | | |
| Points of interest | Over 30 categories | Over 50 categories | Over 20 categories |
| Navigate to a Contact | | | |
| Locate a friend | | | |
| Speed cameras | | | |
| Traffic Alerts | Subscription | Subscription | |
| Lane Guidance | | | |
| Text-to-speech (Roads) | Extra cost | | |
| Weather | | | |
| Walking / Cycling mode | | | |
| Size (UK) | 276 MB | 322 MB | 393 MB |
| Price for UK version | £20 (UK) | £50 (UK) | £35 (UK) |
Versions of TomTom, Co-Pilot Live and MobileNavigator are available for other regions - see iTunes App Store for other versions
Audio Review: Check out our Audio Review of the iPhone Sat Nav applications - FrequencyCast Show 43
TomTom for iPhone

TomTom is probably the most established name in the world of in-car navigation, with the impressive TomTom One and TomTom Go being the leading sat nav devices in the UK.
Now, you can get the power of TomTom's sat nav on your iPhone. Released in August 2009, TomTom UK & Ireland isn't overly cheap at £60 (launch price), but the implementation for the iPhone is pretty good.
The app runs in portrait and landscape, and the moving map and voice navigation works as well as expected on the iPhone.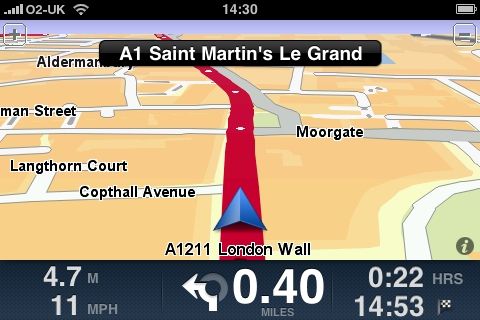 Weighing in at a huge 241 Meg download, don't try to download this over 3G - instead either use a wi-fi connection or a PC/Mac to get the app from Apple's App Store.
Once installed, you'll find that you've got a full-featured Sat Nav app, that supports searching for addresses by postcode, street address or from the iPhone's Contacts address book. Speed cameras are supported too.
An update released in November 2009 added text-to-speech to announce road names, and added TomTom's Lane Guidance, and a later update added live travel information, which is a premium service.
TomTom iPhone Text-to-speech not working? You need to make sure you are using a "computer voice". Go to the TomTom menu, select "Change Settings" > "Voice" and pick 'Serena (Computer)' - your TomTom iPhone app will now announce road names.

| | |
| --- | --- |
| TomTom Navigation screen | TomTom 2D Map |
TomTom United Kingdom version is available for £59.99 from iTunes:

CoPilot Live for iPhone
CoPilot from ALK Technologies is a fully-featured Sat Nav app for the iPhone. At over half the price of TomTom's Sat Nav application, it's a bargain. Just £26 will get you a fully-featured satellite navigation solution.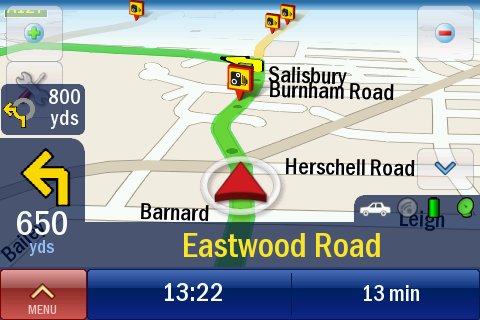 The CoPilot is easy to use, and works well. Like the TomTom, CoPilot supports searching of destinations by address, postcode, or from the Contacts database. CoPilot also has nice touches such as real signpost display, route optimise for multi-stop trips, landscape/portrait switching and a lane indicator display.
The CoPilot has a feature called LiveLink, to plot the position of any of your friends that are also using a connected version of CoPilot. As well as the safety camera database, there's also a speed limit warning - display the road's speed limit, and get the app to sound a warning when you exceed that speed limit. Road traffic updates, are expected in the future, we're told.
CoPilot downsides? When we first reviewed this in August, our two bugbears were the lack of safety camera support and that, when tasking out of the application (say, to answer a phone call), the route was lost. In September, a free update fixed both of these. We're how hard pushed to find a reason not to get this!
One other difference between TomTom and CoPilot is that the TomTom pauses any audio that's playing when directions are being spoken, but CoPilot overlays speech prompts over whatever music is playing. Nice for music, but not great if listening to podcasts or audio books whilst driving.
Still, it's half the price of TomTom's solution, and it gets our vote. Got a question on CoPilot? Ask us.
| | |
| --- | --- |
| Ways of selecting a destination | 2D Map Screen |
CoPilot Live United Kingdom version is available for £26.99 from iTunes:

MobileNavigator for iPhone
There's also a third Sat Nav application for the iPhone, from Navigon AG.
Our least favourite of the three we reviewed, Mobile Navigator doesn't support postcode address entry. In our tests, it was also the worst at holding a GPS signal and behaving as a navigator.
The major (only) edge this has over the CoPilot and TomTom, is that it offers text-to-speech, so will reads out road names and junctions. It also shows the name of Points of Interest, not just a logo, which makes looking out for landmarks that little bit easier.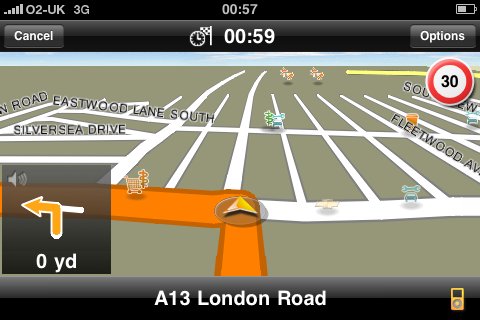 The largest of the three applications we reviewed, slowest to load, and not the cheapest, but it is still a competent navigator. It has a couple of nice touches, such as an iPod control icon to save you quitting the app to change tracks, and will fade out music to relay directions in a more slick way than the others reviewed.
| | |
| --- | --- |
| Settings screen | 2D Map Screen |
MobileNavigator British Isles, from Navigon AG, is available for £52.99 from iTunes:

Summary
Co-Pilot Live wins for us! See the CoPilot page on iTunes for all the details.
Audio Review: Check out our Audio Review of the iPhone Sat Nav applications:
FrequencyCast Show 43 | Transcript
Your iPhone Sat Nav Questions
Q. When abroad does Co-pilot use data or will it still operate pefectly when my data connection is turned off? I am looking for an app which if i take the SIM out of my phone, it will still operste like a standalone sat nav (Earl).
A. Once you have downloaded and installed Co-Pilot on an iPhone, you should be able to use it to navigate without a data connection. I have tested this by setting Airplane mode and plotting a route - it was able to navigate without a data connection, as the map is downloaded during installation.
Other mapping applications
Waze: Want to try your hand at some social navigation? Think Wikipedia but with maps. Our podcast team has reviewed Waze Social Mapping.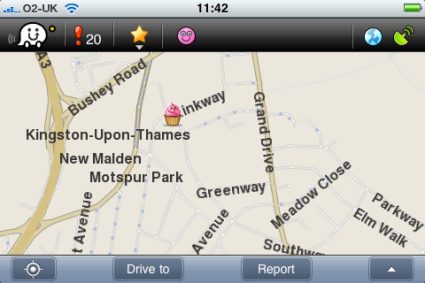 Download Waze for iPhone from App Store
Weather: Want to check the weather forecast? Check out "Weather Maps" on iPhone for a clever app that lets you see high-quality rain, cloud, wind and temperature maps, with a nifty forward and back flip.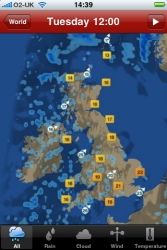 WeatherMaps for iPhone
Highly recommended, WeatherMaps is written by Daniel Tull, and is available for free:

Other Links
Want to talk about the Apple iPhone? Please use our mobile phone forum, or leave a message on our Podcast Podline, 0208 133 4567