Social Networking on the Move
Get Facebook, Twitter and MySpace on your mobile
Just how did we cope before the Internet entered our lives? Now, we all have to be a member of at least half a dozen social networking sites.
Probably the first big UK social networking site was Friends Reunited, offering a way to find out see what your childhood sweetheart's up to these days, and whether the school bully out on parole...
Social networking on mobiles is big business. According to research firm Nielsen Company, more than four million mobile phone users in the US now access social networking services from their mobile devices. In Europe, it seems that the UK lead mobile social networking usage with 1.7% of phone subscribers getting social from their handsets. The report goes on to highlight that by the end of 2007, MySpace saw 2.8 million US users accessing the service in December 2007, with rival Facebook seeing 1.8 million unique visitors.
As of 2008, in the UK, Facebook leads all mobile social networking sites, over twice as many unique users as MySpace. Source: Nielson.
On this page, we look at some of the major social networking sites, and how to access them on the move.
Twitter
Twitter lets you tell the world what you're doing with the cunning use of short status messages of 140 characters or less. You can 'follow' status updates from your friends, or create your own merry band of 'followers'. When you send out an update, known as a "tweet", your followers can see what you're up to. You can view Tweets online, get updates via RSS feeds, or have status updates pushed to your mobile phone as a text message.
Twitter is a handy way for mobile users to let friends and colleagues know where they are and what they're up to - think of it as a minimalistic blog. Posting a "tweet" is quick and easy.
Do you Twitter? For those not in the know, Twitter is a web service that allows you to keep in touch with friends or colleagues. If this is a service you use, note that there's a mobile version allowing you Twitter from your handheld at m.twitter.com.

Twitter users, oddly enough, not called "twits", can view status of those that they're following, or push out a "tweet" from Twitter's mobile site at m.twitter.com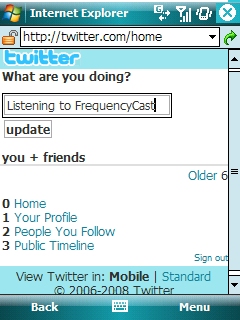 Facebook
This hugely popular social networking site has a pretty impressive mobile site - Go to m.facebook.com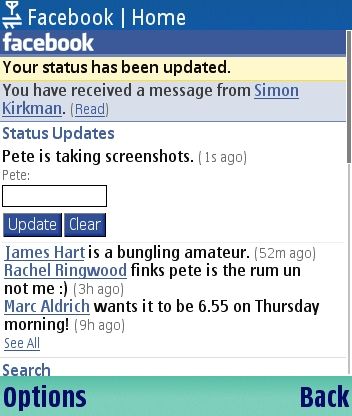 Also, check out the INQ1 Facebook phone
MySpace
MySpace saw a huge opportunity to kick-start mainstream social networking with their online community service, and by 2006, over 100 million MySpace accounts had been created worldwide. As the name suggests, the service allows you to create your own corner of the Internet. You can upload photos, add mood and status updates, hold discussions, and keep up-to-date with your friends. MySpace allows for a high level of page customisation, which does tend to result in some hideously coloured and cluttered pages.
MySpace has managed to extend outside of the friend-to-friend arena, and a large number of bands and musicians, some famous and many seeking fame, use MySpace to share their work, and communicate with their online fan base.
With whippersnappers such as Facebook snapping at their heels, MySpace seems to be slipping down in the popularity stakes, but still has a huge userbase. Mobile users can get take control of their space at m.myspace.com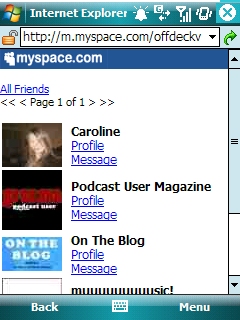 Flickr
A picture paints a thousand words, and with most phones now coming with a megapixel camera as standard, many are choosing to express themselves with images. Flickr is essentially an online photo storage service, but with an added social networking twist. You can upload photos from a desktop computer or from a smartphone, and choose to share out your images.
By adding text, and more importantly, tags, your friends can see where you've been, and effectively see an image-based online diary. Flickr also supports groups - where you can share images and videos with likeminded snappers, and chat through the group's forum. You can also "geotag" images, so that you can see on a map where your photos were taken, and browse for snaps taken at a certain location.
The mobile Flickr site at m.flickr.com allows you to browse through your own photos, or those that have been shared for you to see. Smartphone-toting Flickr addicts should check out Shozu, which supports uploading images seamlessly.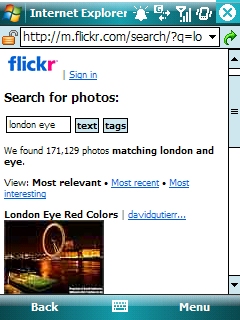 Shozu
If you're into your mobile networking, then the Shozu application is a must. This free application runs on a wide range of mobile devices, including Windows Mobile and Symbian, and aggregates a number of the leading social sites.
It provides easy access services such as Facebook and Twitter, but the clever bit is that it allows you to upload photos and videos to services like flickr, Picasa, Photobucket and YouTube. You can also update Google Blogger, moblog:uk, Typepad, Windows Live Space, Wordpress, and a number of other blogging services.
If you fancy yourself as something of a Citizen Journalist, there are also options for submitting news stories and images to the likes of BBC, CNN, ITV and NowPublic.
Shozu's a slick little application, and ideal for use with cameraphones for sharing text and images with the world. Available free from www.shozu.com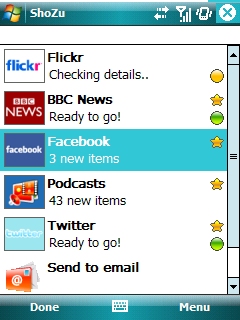 Other links