Sony Ericsson P900 information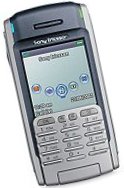 This handset was officially launched on the 21st October 2003, and as of early November, the phone has been available from selected retailers. The P900 is an evolution of the P800 smartphone. It's slightly smaller and lighter, and is powered by Symbian OS v7 (UIQ 2.1). It's a combined mobile phone, camera and PDA.
The P900 is a tri-band GPRS phone with Bluetooth, a colour touchscreen, digital camera and MP3 player. Memory expansion is via a Memory Stick Duo slot.
Differences from P800: Changes to Flip (less removable), proper stylus (not the toothpick), support for themes and skins, improvements to multimedia software, support for video recording and a 32MB Memory Stick Duo
Physical dimensions: 117 x 57 x 27 mm, weight 130g.


Screen: 208 x 320 pixel colour touchscreen


Battery life: talk time up to 13 hours. Standby up to 400 hours

FAQs
How can I connect the P900?
It's possible to use your P900 to connect to the Internet to browse the web via the built-in browser, check your POP or IMAP email, and look up WAP sites.

See our pages on P900 connectivity, and using WAP on a P900
How do I get my email?

The P900 lets you access your email via POP3 or IMAP (typically what you use with Outlook Express). You can send and receive email using a standard dial-up service, or over GPRS.
We've created a page dedicated to getting up-and-running with email on a P900. See our P900 connectivity page for more details.
For details of AOL and Hotmail, see the dedicated FAQ below.

How do I connect my P900 to my PC?

The P900 can connect to a PC via Bluetooth , infrared or by cable. Here is a summary of how to connect your P900 to your PC:

IR connection. From the P900 menu, go to 'Control panel', move to the 'Connections' tab and select 'Infrared' - from here, select "PC connect" and "On" to turn the phone's IR on. Line up the phone with the PC infrared port, and Windows should detect the handset. Then, use the Sony Ericsson connectivity package to select the file you want to send to the P900.
There are several IR adapters available, including the pictured 'USB-IRDA Adaptor' from Maplin Electronics (Cat no: RV88V).

Bluetooth connection. From the P900 menu, go to 'Control panel', move to the 'Connections' tab and select 'Bluetooth'. From here, set Bluetooth "On", then move to the 'Devices' tab. This should show you all Bluetooth devices in range. If your PC isn't shown, press 'Add' and let the P900 search for the PC connection. When the phone and PC are paired, use the Sony Ericsson connectivity package to select the file you want to send to the P900.
If your PC doesn't support Bluetooth, then you can add it cheaply and easily using a USB Bluetooth adapter. We recommend the Belkin USB Bluetooth adapter available for around £15 from amazon.co.uk.

Memory card reader. If you don't want to beam files from your PC to the phone, another option is to make use of the Memory Stick slot in the P900. Get hold of a Memory card reader for around £20 and copy files onto a Memory Stick card plugged into your PC. Find out more on our Memory card page.

Files received on the P900 can be found in the 'Beamed' folder of the Messaging application.

The SonyEricsson PC Suite for the P900 can be downloaded from the SonyEricsson Global Support site in a variety of languages

Help with Bluetooth
The P900 has built-in support for Bluetooth for wireless file transfer, copying files to and from a PC, and beaming of business cards and other files to other mobile phone/PDA users. Access to the Bluetooth settings screen is done via the menu's Control panel option, and the "Bluetooth" option under the 'Connections' tab.

For more on Bluetooth, see our dedicated Bluetooth page.
How do I install software without IR or Bluetooth?

If you don't have the ability to beam files to the P900 via Bluetooth or infrared (either from another handheld device or from a PC), then you may wish to purchase an IRDA or Bluetooth adapter for your PC (this means you'll be able to install software, backup and synchronise your P900).
The alternative, is to email the file that you're trying to install, typically a SIS (Symbian installation file) to your own email account, and then use your P900 to logon to your email and download the SIS file as an attachment into your P900 Messaging application.

Many files are distributed in a compressed form (using the ZIP file format).

ZIP files
If you're trying to install a file with a .ZIP extension, note that this means it has been compressed (to save space or reduce download time).To get to the file, you'll need to unzip it first. You can do this with a PC application such as WinZip, or on the phone itself using the ZipMan application.
How to access the Services Menu
The P900 has a 'hidden' service menu that allows you to access serial numbers, test options and a way to format the Internal drive. This can be accessed by closing the flip, then following this sequence:

Jog-Dial up
*
Jog-Dial down
Jog-Dial down
*
Jog-Dial down
*

Can I use the P900 as an MP3 player?
Yes. The P900 supports playback of MP3, WAV, AMR and AU file formats. Audio can be loaded onto Memory Stick Duo cards as required
Hotmail and AOL access?

Hotmail and AOL use proprietary email systems, as opposed to the more common POP email systems - this makes it tricky to access mail on a mobile device. For email on the move, consider using a standard POP3 provider such as BT Yahoo (see setup details) that offers free email accounts that can be configured on mobile phone email programs.

If you want to access your Hotmail or AOL email, there are few options:

For more help, see our Connected? page

Can I use the P900 in the States?
Yes. The P900 is a tri-band phone operating on EGSM900/1800 (Europe, Africa, Asia Pacific), and GSM1900 (USA, Canada, South America). There should be no problem using the P900 with network operators in these countries. Roaming restrictions from your network operator may prevent use of some services in other countries.
Receive & send faxes on your mobile
If you need to receive faxes, but don't have access to a fax machine, take a look at efax.com. They'll give you a fax number, and forward faxes direct to your email account as an attachment. You can then use the messaging application to retrieve your faxes on the move. You can also use this service to send faxes.

Version number
This is how to get at a P900's version number:

Go to main application screen
Select 'Edit' from the menu
Select 'System information' (there are three pages of info)

Alternative connectivity software

Rather than the software that came as standard with the phone, there's a rather useful third-party application called Oxygen II- This application supports Contacts, Calendar, Messaging and file management.
For details of how this works, take a look at our Oxygen page

Accessories?
There's a wide range of accessories, including spare batteries, cases, chargers, in-car kits, hands-free, cables and fascias, at Carphone Warehouse
How do share my pictures with others?

Once you have taken a picture on your phone, there are three ways to get the files from your phone to other people or computers:

You can copy it to your PC with the Sony Ericsson software supplied on the CD . Depending on what you have connected to your computer, you can use cable, Infrared or Bluetooth. Set your PC to receive files (using the IR or Bluetooth software supplied with your adapter), select the photo to send, then select "Send as" from the menu.
You can use the Messaging application and email the picture to yourself (or a friend)

What's my phone's serial number?
Enter '*#06#' as if it were a phone number, to get your handset's serial number (known as the IMEI) - useful to keep a note of in case your phone is stolen. You may also need this number when registering certain types of software.
Who's calling?
A great feature of UIQ is the ability to add a thumbnail to a contact. Take a picture of a friend with the camera, then open the person's contact, edit it, and add the image as a thumbnail. The photos are in JPG format, so you can use images from digital cameras or scanned images. Build up a mini-library of pictures, and get a name and face to appear when a call comes in. Mobile phones identify callers using a service called CLI. For more details, see our CLI page

If you're finding that only the person's number is being displayed even though you have the name entered in Contacts, this is probably because you have the number in the phone twice (perhaps once on the phone memory and once on the SIM card - in this case, the phone doesn't know which entry to use.
Data conversion
For help with information on converting your Contacts, Calendar and documents for viewing on your phone, see our Conversion page for some general guidance.
Can I use MSN messaging?
The P900 doesn't come with an instant messaging MSN client built-in, but third-party MSN clients are available. Take a look at handango.com for the range, or take a look at the jMSN for UIQ application.
Questions? Ask them in our P900 forum, and we'll add them here