SonyEricsson P900 and P910 Email and Web access
The Sony Ericsson P900 and P910i allow you to access your POP and IMAP email accounts, and to surf web and WAP sites with the built-in software. The web browser supplied with the P900/P910i is a fairly basic browser. If you need a more fully-featured browser, the Opera browser can be downloaded for free use from here. The Opera Browser for UIQ supports HTML 4.01, WAP and XHTML, and JavaScript.
The advantages of the large touchscreen one-box solution are obvious. Here are a couple of examples of the P900 / P910 in use with Internet applications, as an example of what it can do...
Web and email on a Sony Ericsson P900
Getting an Internet account
To connect, you'll need to have an account with an Internet provider. You may wish to use your existing Internet account, or apply for a free account that can be used with your device.
For the purposes of this walkthrough, we're going to assume that you are in the UK and that you want to create a new dial-up account with an Internet Service Provider. Here, we're using a free dial-up BT Yahoo dial-up account. If you don't have an existing dialup account, then sign up for one from BT Yahoo free-of-charge and get a pay-as-you go account. There's no subscription fee, and you only pay standard call rates for the time you're online. We're rather keen on BT Yahoo for on-the-move access to email and web.
To get an account, first, go to register.btinternet.com from a PC, select "Pay as you Go" and create an account. You'll then get some details that you'll need to set up your account on your phone. Then, looking at phone, follow these instructions:
Setting up the dialup connection
These settings assume a dial-up connection over GSM. If you use GPRS, then you can find the GPRS setup information on our GPRS page.
1. Go to Control panel, select the 'Connections' tab, and choose "Internet accounts".
2. Press the 'New' button, enter the following:
Account name: BT Yahoo
Connection type: Dial-up
Username: (This is your email address, e.g. yourname@btinternet.com)
Password: (as advised by BT Yahoo)
Phone number: 08457 560000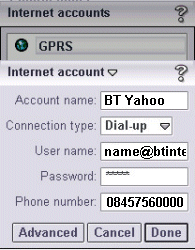 3. Then press 'Done' to save your settings
4. Make sure the 'Preferred' selection box is set to 'BT Yahoo', then press 'Done' to close the Internet accounts screen
Set up your email settings
1. Go to Control panel, select the 'Connections' tab, and choose "Messaging accounts"
2. Select the 'Email' tab and press the 'New' button
3. In the 'Basic' tab, enter the following:
Account name: Tiscali
Your name: The name you'd like to be sent with your emails
Email address: (your email address, e.g yourname@btinternet.com)
Connection type: POP3
Internet account: Select the 'BT Yahoo' account from the pulldown list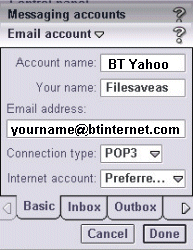 4. In the 'Inbox' tab, enter the following:
User name: (This is your email address, e.g yourname@btinternet.com)
Password: (as advised by BT Yahoo)
Incoming server address: mail.btinternet.com
Download: Just headers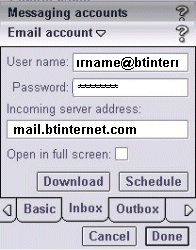 5. In the 'Outbox' tab, enter the following:
Outgoing server address: mail.btinternet.com
Use SMTP authentication: Leave unticked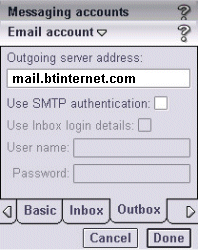 6. Press the 'Done' button to exit and save settings.
7. Now go to the Message application, select the BT Yahoo account, and connect to your mailbox to get at your email messages.
---
Problem finding
Problems connecting?
Ensure that your Network operator (e.g. Orange, o2, Vodafone) has 'data-enabled' your SIM card. If not, call their Customer Service people.
Problems sending emails
If you get an error such as "Problem sending message", you may be trying to send a message to one ISP's mailbox while connected to a different ISP. To prevent spamming, most ISPs require you to connect to their service (not someone else's) in order to send an email via their SMTP server. For instance, don't be surprised if you find that can't send mail from your BT Yahoo account (using the server address mail.btinternet.com) if you've logged on to Virgin Media.
Problems connecting with GPRS
Some mobile phone operators (notably o2 and Orange) have different APNs (access point) for WAP over GPRS and email over GPRS. You can't connect to your email server over a GPRS WAP connection. Additionally, you may need to have your network operator enable this service. As an example o2 has two gateways, one for WAP and one for Mobile Web - to get email over GPRS, you must use o2's Mobile Web access point, and ask o2's Customer Service to enable "Mobile web". See our GPRS and o2 links for more information.


For more help, see our Connected? page
Broadband / ADSL / Cable email
Q. I have a Broadband Advice/cable account (e.g Virgin Media), and so I can't use my phone to collect my POP mail on the move. Is there a workaround?
A. Many broadband and cable Internet suppliers offer dialup access too. Check with your supplier. Failing that, provided the supplier uses POP3 email (as opposed to webmail), then you should be able to access your email on a phone even if you connect through another provider. Set up your phone for Internet connectivity as outlined on this page (using a BT Yahoo account), then setup your email inbox to access your cable/Broadband provider's POP server. Note that sending mail from via your supplier's SMTP server probably won't work, so you may need to use BT Yahoo's SMTP address.
Other links:
For help with Bluetooth, go to our Bluetooth page.
Help with UK GPRS settings
MSN Messenger? If you'd like to use MSN Messenger, consider the jMSN for UIQ application