Virgin Mobile Lobster 700TV - Mobile Phone Information
This page contains information and a review of the Lobster 700TV phone from UK operator Virgin Mobile. This phone is capable of viewing a number of TV services, as well as DAB digital radio.
Manufactured by HTC, this phone is powered by Windows Mobile 5 Smartphone edition, and is also known as the HTC Monet.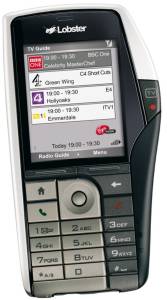 Key points:
TV services including BBC 1, ITV 1, Channel 4, ITN News and E4
DAB Digital Radio (up to 50 stations)
Electronic Programme Guide
1.3 Megapixel camera with video
Smartphone powered by Windows Mobile v5.0 software
Tri-band
Lobster 700 Spec
OS: Windows Mobile Version 5
Expansion: Micro SD storage card slot
Display: 2.2 inch, 240 x 320 pixel colour screen (65,536 colours)
Memory: 64MB RAM / 128Meg Flash ROM
Navigation: four-way navigator
Battery: Removable, rechargeable Lithium-ion (5 hours talk, 140 hours standby).
Processor: 201MHz Texas Instruments OMAP 750
Connectivity: GSM/GPRS, USB, Bluetooth
Dimensions: 112 x 58 x 24 mm
First released on the Virgin Mobile network in October 2006, the Lobster is now no longer available, and the TV service was discontinued in January 2008.
Pricing: Virgin Mobile customers with contracts of £20 or over per month got the Lobster 700TV handset, plus TV service free. As of July 2007, the price was £49.99 for Pay-as-you-go customers, with subscription to the TV service £5 a month.
This phone is the first phone in the UK to offer digital TV and DAB (Digital Audio Broadcasting) radio services in such a small package, and is likely to be a hit with those looking to keep in touch on the move. As well as being a TV and radio phone, it's also a fully-featured smartphone, running the latest version of Windows Mobile v5.0 software.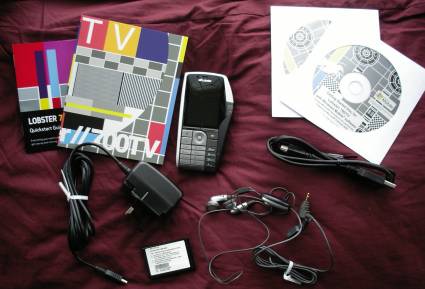 Lobster 700TV Box contents


Virgin Mobile Lobster 700 TV review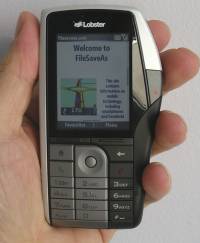 It's September 2006, and we finally have a Lobster 700TV in our hands. After a mere three hours of play-time, we're very impressed with this device. As a Windows Smartphone, it's powerful, responsive, and has a great screen. As a TV and radio device, we've been surprisingly impressed too.
In this section, we'll run through some of the key areas of functionality, and provide our take on what the phone has to offer.
Out of the box, the Lobster comes with a set of headphones (with an inline volume control), a power adapter, USB cable, battery, two CDs (ActiveSync/Outlook, and a PC drivers CD for the phone's modem), and a well-written 170 page manual.
Getting the phone up-and-running was pretty straightforward - insert the SIM and battery, charge it up (the book recommends 'overnight', but we couldn't wait that long), then switch on via the little button at the top.
TV and Radio
This is obviously the 'killer app' and major selling point for this phone, and the Lobster 700 does, indeed, do what it says on the tin. TV content is provided over-the-air using BT Movio (and not streamed over the Internet like some TV services). Here are a few screenshots:
| | |
| --- | --- |
| Lobster 700 TV Guide | Live TV on a Lobster 700 |
At the moment, the BT Movio TV service includes live TV from BBC1, ITV1, Channel 4, E4 and ITN News
As far as radio goes, depending on signal and where you are in the UK, you could receive up to 50 DAB digital radio stations. National services include the BBC radio stations, plus 1xtra, BBC 6, BBC Radio 7, BBC Five Live, BBC Asian Network and BBC World Service. A number of national commercial services are available including talkSPORT, Virgin Radio, Planet Rock, Capital Life, Classic FM, and theJazz. There's also a number of local radio services on offer, which vary depending on where you are in the UK.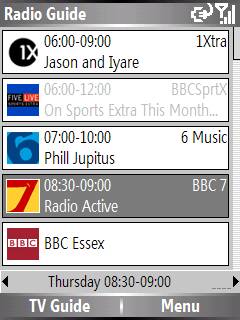 DAB channel listings on a Lobster
Connectivity:
The Lobster 700TV phone supports Bluetooth for connection to PC, Bluetooth headsets, etc, and also supports PC connection via USB (mini-USB connector at the base). The phone doesn't support Wi-fi or infrared.
The phone is bundled with Microsoft's Outlook 2002 and ActiveSync on the supplied CD. ActiveSync is used for PC connectivity - this supports file transfer, and sync of Contacts, Calendar, Tasks and Email with Microsoft Outlook. Windows Media Player can be used to sync music and video between PC and Lobster if required.
As far as data is concerned, the Lobster supports GPRS, so is great for sending and receiving emails, for web browsing, and for services like MSN Messenger and Hotmail - all of the required software is pre-loaded as part of Windows Mobile.
The Lobster 700 can also be used as a Data modem, to allow a laptop to connect via dialup or GPRS
Camera:
The Lobster 700 TV has a 1.3 Megapixel camera (no flash), up to 1280 x 1024 resolution, and the photos are pretty much what you'd expect from a mobile's camera. The camera app has a self-timer, 3x digital zoom, white balance and some effects (sepia, grayscale).
There's also a video recorder application (2 x digital zoom, white balance and effects). It can record video in M-JPEG, MPEG-4 or H.263 formats. (FAQ)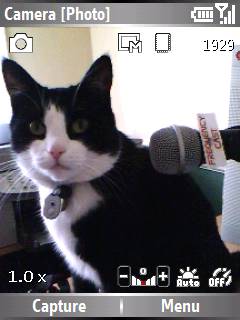 The Lobster 700TV Camera app
Applications:
As well as the TV and Radio application, the 700TV comes with the standard Microsoft applications, which include: Internet Explorer, Windows Media, Messaging, Calendar, Contacts, Voice notes, Picture/Video viewer, Tasks, Calculator, File Explorer, Pocket MSN Messenger / MSN Hotmail, SIM manager, and the camera / video application. There are two games: Bubble Breaker and Solitaire.
| | |
| --- | --- |
| Windows Smartphone Menu | Web Browsing |
The CD contains the ClearVue software application, which allows viewing of office documents, such as Word, Excel and Powerpoint files, as well as PDF documents
Telephony:
This is a tri-band phone that supports GSM 900 / 1800 and 1900. The phone is powered by Windows Mobile v5 Smartphone Edition, so supports all that's needed to work as a powerful mobile phone, including speed dial, loudspeaker, call history, etc.
Online data connectivity is via GPRS. This is not a 3G handset.
Lobster 700TV Summary
In summary, we really like this phone - it's well-built, hi-spec, and the radio and TV is a crowd pleaser. The phone has a distinctive look about it - the bulge on the right is a little bit of a culture shock, but it's a comfy fit in the hand, and the phone is by no means a brick. Fast, good functionality, and reasonably priced. Hard to find a reason not to recommend it!
Pros: Good features, TV and DAB radio
Cons: Nothing yet. Some more TV content (over the four channels we have now) would be good
Extract from Press Release 07 Sept 2006:
Virgin Mobile has announced the launch of its new mobile TV service, Virgin Mobile TV, and confirmed that it will be offering a selection of much-loved premium channels and programming to Virgin Mobile TV viewers, starting on October 1st 2006.
Virgin Mobile TV will broadcast BBC One, ITV1, Channel 4 and E4, offering consumers a wide range of high-profile channels and TV programmes. Customers who have a Virgin Mobile 'Tellyphone' will be able to watch their favourite TV programmes and listen to DAB digital radio wherever they are. Wherever you need to watch TV, whether it's Eastenders on the bus, or Coronation Street in a cab, Virgin Mobile TV will make sure you never have to miss an episode of your favourite programme again.
The service, which is provided by BT's wholesale mobile broadcast entertainment service, BT Movio, will also broadcast DAB digital radio, offer 'red-button' interactivity and features an exclusive seven-day electronic programme guide (EPG).
Virgin Mobile's TV service broadcasts TV live 'as it happens' over the DAB digital frequency spectrum, which currently covers more than 85% of the UK population. The Lobster 700 Mobile TV phone is the world's first DAB-IP-enabled handset, and was created by HTC. As well as offering TV and up to 50 DAB digital radio stations, the handset is also Virgin Mobile's first Windows-operated smartphone, offering Windows Mobile functionality and Windows Media Player. The device is the first in a series of mobile phones being developed to support the BT Movio service.
Sell your old phone for cash!
Got an old mobile phone handset that you're no longer using? Don't leave it gathering dust - recycle it. You may even be able to make some money for getting rid of your old phone safely.
For a summary of the best deals on making cash from your old handset, try the comparison search tool at www.sellyouroldmobile.co.uk
Frequently-asked questions:
This section contains the FAQ for the Lobster 700 TV. If you've got a question for this section, please let us know.
Latest software version?

Software / firmware version (as of 29 Sept 06)

Windows Mobile: 5.1.195 (Build 14989.2.6.0)
ROM: Operator 5.1.195.14989
Radio version: 140.299.32_01.03.01

Know of a newer version? let us know

BT Movio?

The TV services on the Lobster 700 are to be provided by BT Movio. Cleverly, Movio-enabled handset get their TV channels via the DAB radio network. TV over radio... Confused?
If you're come across TV-on-a-mobile before, chances are, it's been TV content streamed over the mobile Internet (using 3G). There's also the new upcoming DVB-H technology, but Movio uses neither of those. Instead, the BT Movio service offers compressed TV pictures that are sent out as data over the existing DAB digital radio network. The Lobster handset contains a DAB receiver and aerial, to receive the TV and radio signals. The upside here is that the DAB network is already established in the UK, and it's not as costly to the end-user as downloading streaming content over a mobile Internet connection.

So what's on offer with BT Movio? As of September 2006, BT Movio started offering programming from BBC1 (on trial for a year), ITV1, Channel 4, E4 and ITV News.

The Movio service is free on the Lobster for those taking out a contract, otherwise it's £5 a month to PAYG customers (90 days free)

TV channels

Over on our sister site, Radio and Telly, we answer a number of questions relating to TV channels, including:

What is DAB?
DAB stands for Digital Audio Broadcasting, and offers a number of digital radio stations that can't be heard on FM, such as BBC 6, BBC Radio 7, Five Live, talkSPORT, Virgin, Planet Rock, Capital Life and theJazz, plus a number of local stations.
For more, see our sister site's DAB Radio page
How much does TV/Radio cost?

The DAB Digital Radio service is free to use regardless of tariff, and doesn't require any special subscription
The TV service is free to Virgin Mobile customers that are signed up to a pay-monthly contract.
For those that have bought the Lobster handset on pay-as-you-go, the TV service costs £5 a month - you get the first 90 days free. When the TV app starts, it checks for a licence file, and we're assuming that after our free 90 days, we can use the phone's browser to pay the ongoing £5 a month charge.

Can the Lobster be used on other networks?

The Lobster 700TV phone was only available with Virgin Mobile, and the phone is SIM locked so that SIM cards from other networks can't be used. If you try to insert a SIM Card from another network, the message "Network is locked. Please input unlock code" appears.

If you want to get the Lobster 700TV unlocked for use on another network, you should contact Virgin Mobile Customer Services and ask them to provide you with an unlock code.


Sat Nav on Lobster

We've had a couple of mails from people asking about Satellite Navigation on the Lobster 700.

The Lobster 700TV phone does not have a GPS receiver built-in, so you'll need to get a Bluetooth GPS receiver to be able to get a satellite lock. You'll also need a Micro SD card with enough storage for your navigation software (1 gig card will be fine)

We generally favour TomTom's mapping and satnav solution, and in our forum, we've had confirmation that it's possible to use TomTom Mobile v5.2 with the Lobster 700TV - it's a case of installing the TomTom Mobile software (for Windows Smartphone) whilst the Lobster is connected to your PC via USB. For help with software installation, see our ActiveSync section. No news on whether TomTom Mobile 6 is compatible. Please use our Sat Nav forum if you wish to discuss this subject in more detail.

You may also find some useful information about access to maps on your Smartphone on our Mobile Maps page

Bluetooth
The Lobster 700 supports Bluetooth v1.2, Class 2 transmit power
Looking for software and games?
The Lobster 700TV is a standard Windows Mobile Smartphone device, and there's a fair amount of third party software (applications, games, etc) available that will run on this device.

Check out www.handango.com for one of the widest ranges of Windows Mobile Smartphone software out there. If they don't have what you need, try www.pocketgear.com, or ask for recommendations in our forum.
Memory Card

The Lobster 700TV has an expansion slot for a Micro-SD card. This can be found below the battery compartment just underneath the SIM card slot. We've successfully been using a SanDisk 1Gig micro SD card with our Lobster.
f you're looking to get hold of a Micro SD card to allow extra memory to be added to your Lobster 700, we recommend Amazon. For more, see our Memory Card page

Note that adding an SD card doesn't expand the internal memory, it's available as a separate drive. To access the storage space on an installed Micro SD card, go 'Start'> 'More' > 'File Explorer'. Then, from File Explorer, press 'Menu', and choose option 8 'Storage card'.
Alternatively, you can access the SD card via Windows Media. From the Start screen, press 'Start', go to Windows Media, then press 'Menu', choose option 4 ('Library'), then choose option 2 for the storage card


Looking for accessories?

We've been trying to find accessories for the Lobster 700, but we're struggling. Here's what we're looking for:

Leather or silicone case
Spare battery (Samsung ST26A , 3.7VDC, 1150mAh Li-ion)
Mobile Phone Mains Charger
Mobile Phone Car Charger
Headset

Best luck we've had so far is eBay.co.uk. Here are some other useful snippets from our site visitors:

Mains / Car chargers: The Lobster 700 charges via the USB-B connector, so a number of mains and car chargers designed for other phones will work. We've been told that the Motorola RAZR or Sliver charger will work, as will the PSP car charger. Try Carphone Warehouse and MobileShop
Thanks to Matthew M for the following link to a couple of leather cases: www.mobilefun.co.uk/cat/575-Cases.htm
Thanks to site visitor Kevin M for suggesting FlatBatt for Lobster accessories. Note though that they seems to have a low satisfaction rating at ReviewCentre, so be wary.

If you've got any info on accessories for the Lobster 700, please let us know, so we can share this with our visitors.

Data modem
the Lobster 700TV can be used as a data modem, to allow a laptop to get an Internet connection. To use this, you'll need to install the required drivers onto the PC (A CD is supplied with the Lobster). The modem then needs to be enabled via Start > Accessories > Wireless Modem.
See our GPRS connectivity page for general help
Mobile Internet

The Lobster 700TV support Internet browsing via the built-in Windows Internet Explorer. The phone supports dial-up or GPRS data connection. At the time of writing, the cost of GPRS data download over the Virgin Mobile network is £0.005 (0.5 pence) per kilobyte.

For help getting online, see our Windows Smartphone Connect page

PC connectivity

The Lobster 700 connects to the PC using Microsoft's ActiveSync application, which can be downloaded from Microsoft's Windows Mobile site. The Activesync software includes the synchronisation solution, file conversion and the required device drivers.

For problems with ActiveSync, see our page dedicated to Microsoft's PC synchronisation solution, Activesync

Discuss the Lobster 700
If you've got questions about the Lobster 700, why not ask in our Pocket PC forum? Hopefully other users will find this forum and start adding some discussion. Go to the forum
How do I reset?

To restart the phone (after a lock-up), you need to remove and replace the battery (open files will be lost/trashed). It's also a good idea to remove the memory card if you're having a problem restarting the phone.

To format the phone back to factory default, go to Start > Accessories > Clear Storage. All data on the internal drive will be lost

Headphones

The Lobster 700TV phone is supplied with a set of headphones with a built-in volume control and mic. The headphone cable is also used as the DAB aerial.

We've been asked if it's possible to use other headphones with the Lobster 700TV. As far as we know, the answer here is - no. The headphone connector is smaller than a standard 3.5mm headphone plug, as pictured to the right.

Notes from site visitors:

Thanks to Ken Storey for pointing us to the 2.5mm Stereo Plug to 3.5mm Stereo Socket Adaptor, which reportedly can be used to adapt standard headphones - we've not had it confirmed that this works, but if you've tried this, please let us know.
Thanks to Ian for the following: "I have bought some Sony headphones and soldered the earpieces from the Sony headphones onto the original lead, much better sound and deeper bass"
See also our Lobster Accessories FAQ for places to get a replacement Lobster 700 headset

Call volume

We've been asked how to turn up the volume for calls. On the left of the phone, there are two volume adjusters that increase or decrease the earpiece volume. Use these during a call to increase or decrease the volume. Also note that if you're using the supplied headphones, there's a volume control in the headphones cable. Make sure this is set correctly.

Missing Novideo.wmv

We've had a couple of emails from users reporting that they're seeing a 'Missing NoVideo.wmv' error message when they try to watch TV.

The NoVideo.wmv file lives in the "Program Files\TV and Radio" folder and is a short video clip that displays the words "Reception Lost, waiting for signal". It should only be seen when there's not a good enough signal to view TV. The WMV file doesn't appear to be vital to using the TV service. See our Problems FAQ for TV reception help.

If you want to get back the missing NoVideo.wmv file, you can download by right-clicking on this link: NoVideo.wmv , then transferring it to your phone, and putting it into the correct folder, which is the "Program Files > TV and Radio" folder on the phone's internal memory. See our Smartphone FAQ if you need help copying files to the Lobster

PDF
Want to read PDFs on your Lobster 700? See our Windows Mobile FAQ
MP3 player
The Lobster 700TV comes with Windows Media Player, and is perfectly capable of playing MP3 files either through the headset, or from the phone's loudspeaker
MSN
Need help with MSN Messenger from your Lobster? See our Smartphone FAQ
Font size

Does the Lobster support large fonts? Yes - more

Ringtones

Here's what we know about ringtones on the Lobster 700TV:

The phone supports ringtones in Midi format. To set a MID as a ring tone for your Lobster 700, do the following:

Copy the MID file to the phone - it needs to be placed in the \Windows folder
From the main menu, go to Start > Settings > Sounds
Select the 'Ring tone' line and press in the round button to select 'Ring tone'. Scroll to the MID file you want to use, and select it. Then, press 'Done'

You can also record a voice tone and set that as a ring tone. To do this, from the Main Menu, select Start > Voice Notes, record a voice note, then from the Voice Note list, choose Menu > Set As Ringtone

Thanks to site visitor Ian for adding the following: "You can use mp3 if you place the MP3 file in the my documents folder, the phone cannot read into sub directories so should be just in the my documents folder"

If you have any more questions about ringtones - please ask in our forum

Vibrate alerts

We've been asked if there's a way to get vibrate/beep alerts if you miss a call or an incoming text. Try:

Menu > Settings > Profiles. Select a profile, then press Menu > Edit. Scroll down to "Notification type" and select 'Vibrate then sound'.

Manual

Need a copy of the Lobster 700TV Manual? A copy of this is available from Virgin's site -see their Handset Manual page.

I need help connecting

For help connecting to the Internet, see our Connectivity Page

For help connecting to a PC, see our ActiveSync page

Video capture

The camera on the Lobster 700TV can be used to capture video files in three formats: JPEG AVI, MPEG-4 or H.263 formats.

We've been asked how much video can be recorded on the Lobster. We checked the settings and found the following recording options: "No Limit, 250KB, Mb, 2Mb, 10 seconds, 30 seconds, 1 minute 3 minutes". Exact recording time available depends on the video format and resolution you use, and how much free space is available on the phone / memory card. As an example, a 1Meg video in MPEG4 format captured 46 seconds of video at 176x144 resolution

Car charger
We've been asked for details of a car charger for the Lobster 700TV and have some answers - See the Accessories FAQ.
Power adapter

The mini-USB socket at the bottom of the phone accepts the connector from the supplied mains transformer. The transformer operates in the range 100-240 VAC. Rated output of transformer: 5VDC at 1A

Bluetooth headset
We've been asked for help on how to get a Lobster 700TV working with a Bluetooth headset, so we've added the answer to our Windows Smartphone FAQ.
Problems

In this section, we log any common messages and known causes:

Message: "This channel is not currently broadcasting" - We've not seen this before, and our guess is that this appears when one or more of the channels is not being transmitted over Movio (for technical reasons). If we're wrong, or you have any insight, please let us know
Message: "Reception Lost" / "Waiting for signal" - The Lobster is not getting enough signal - try repositioning the aerial and moving away from electrical equipment that could be causing interference
Message: "Not available" in Programme Listings. Changes are, this programme can't be shown due to the licensing arrangements with between the TV company and the content distributor, commonly where the programme or film isn't licensed for broadcast over the Movio system, only terrestrial/satellite/cable.
Message: "Programme follows shortly" - Seems to appear on E4 when an adbreak is on - presumably restricting the display of ads
Got a question? Try our Windows Smartphone FAQ.