Virgin Mobile Lobster 700
This page contains a recent press release regarding the Lobster 700TV Phone from Virgin Mobile. For more details on this phone, see our main Lobster 700 page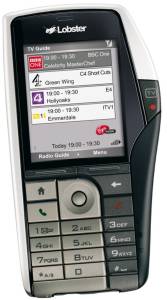 Press Release from Virgin Mobile 6th November 2006:


Arguments about what to watch on the television will be a thing of the past this Christmas, as Virgin Mobile offers the 'must-have' mobile phone of the year: the Lobster 700TV phone. Available now, the Lobster 700TV is the UK's first TV and DAB digital radio phone - watch the most popular high-profile channels including BBC One*, ITV1, E4, Channel 4** Short Cuts and ITN News.
Whether you want to watch festive episodes of Only Fools & Horses on the way back from a Christmas party, or catch the end of 'Corrie' after shopping in the sales, with Virgin Mobile's TV phone you need never miss your favourite TV programme again.
The Lobster 700TV offers a seven day electronic programme guide (EPG) making it a snap to see what's on now and next, an exclusive for mobile.
The 'red-button' interactivity means you can find out more and interact with the programme you are watching. DAB digital radio is another huge first for mobile customers.
Now you can enjoy the unique features of DAB such as quick and easy tuning, a choice of up to 50 digital radio stations straight to your handset, and crystal clear sound.
All these phones are available through Virgin Mobile Stores within Virgin Megastores and WHSmiths, its standalone stores and directly from www.virginmobile.co.uk. Virgin Mobile offers the mobile TV phone and service for free for customers on a contract of £25 a month or more, for the life of their contract. The Lobster 700 phone is available on pre-pay for £199, offering the TV service free for an initial three-month period, followed by a charge of £5 a month.
Virgin Mobile's TV service broadcasts TV 'as it happens' over the DAB digital frequency spectrum, which currently covers more than 85% of the UK population. The Lobster 700TV mobile phone is the world's first DAB-IP TV enabled handset. As well as offering TV and up to 50 DAB Digital Radio stations, the handset is also Virgin Mobile's first Windows Mobile® powered Smartphone, offering Windows Mobile functionality and Windows Media Player.
Alongside the Lobster 700TV, Virgin Mobile is offering a dazzling Christmas line up, all complete with the latest mobile technology and crammed packed with features to keep you entertained over the Christmas break. The Virgin Mobile Christmas range includes the Sony Ericsson W850i & SE K800i - which has seen Virgin Mobile work with music labels to offer content from Franz Ferdinand, Basement Jaxx, Bloc Party and Armand Van Helden on the handset, while the K800i provides a Cyber-shot® 3.2 megapixel camera. Also available is the Motorola KRZR K1, it has the latest luxurious design with a metallic gloss front and it's sleek, slim and stylish. The range can be found at www.virginmobile.com/mobile
*BBC One will be available on a trial basis for 12 months and will be provided free to consumers.
**Channel 4 will initially broadcast Channel 4 Short Cuts, its made-for-mobile TV channel, and expects Channel 4 simulcast will follow

First released on the Virgin Mobile network in October 2006, the Lobster is now no longer available, and reports are that the TV service will be discontinued in January 2008.
The Lobster 700TV is also available on contract, or prepay at Carphone Warehouse - Limited Stocks as of 25 July 2007


Now discontinued by Virgin Media (27 July 07)
Pricing: Virgin Mobile customers with contracts of £20 or over per month got the Lobster 700TV handset, plus TV service free. As of July 2007, the price was £49.99 for Pay-as-you-go customers, with subscription to the TV service £5 a month.
More on the Lobster 700