Virgin Mobile Lobster 700
This page contains a recent press release regarding the Lobster 700TV Phone from Virgin Mobile. For more details on this phone, see our main Lobster 700 page
Press Release from Virgin Mobile 12th December 2006:

From today, the exciting mobile TV service from Virgin Mobile also includes a full, live version of Channel 4. Now featuring all the most popular live TV channels from the UK's biggest terrestrial broadcasters, the five channel line up available exclusively on the Virgin Mobile Lobster 700TV phone includes BBC One*, ITV1, Channel 4, E4 and the 24 hour news channel ITN News.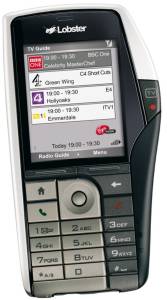 Launched in October 2006, Virgin Mobile's Lobster 700TV is the first mobile phone to offer a broadcast TV service in the UK and also provides up to 50 DAB digital radio stations straight to your handset.
The TV service previously included Channel 4 Short Cuts, a made for mobile channel of programme highlights, but now consumers can enjoy all their favourite shows in full on Channel 4, including Hollyoaks, Channel 4 News and Deal or No Deal**.
The Virgin Mobile Lobster 700TV, as advertised by Pamela Anderson, is available now through Virgin Mobile Stores within Virgin Megastores and WHSmiths, its standalone stores, directly from www.virginmobile.co.uk and from The Carphone Warehouse.
A perfect gift for Christmas, Virgin Mobile is offering the mobile TV phone and service for free to customers on a contract of £20 a month or more, for the life of their contract, along with £50 free store vouchers***. The phone is also available on pre-pay for only £99.99 plus £25 free airtime and £25 free store vouchers***.
On pre-pay the TV service is free for an initial three-month period, followed by a charge of £5 a month. BBC One will be available on a trial basis for 12 months and will always be provided free to customers, as will the DAB digital radio stations.
Customers who buy a contract in Virgin Mobile Stores also benefit from double the amount of airtime compared to standard tariffs available in other retailers.
Virgin Mobile's TV service broadcasts TV 'as it happens' over the DAB digital frequency spectrum, which currently covers more than 85% of the UK population. The Lobster 700 Mobile TV phone is the world's first DAB-IP-enabled handset. As well as offering digital TV and radio, the handset is also Virgin Mobile's first Windows-operated smartphone, offering Windows Mobile functionality and Windows Media Player.
*BBC One will be available on a trial basis for 12 months and will be provided free to consumers.
**Channel 4 will provide a full service with the exception of non rights-cleared programmes.
***Store vouchers will be valid in either Virgin Megastores or WHSmiths, depending on where the phone is purchased.
First released on the Virgin Mobile network in October 2006, the Lobster is now no longer available, and reports are that the TV service will be discontinued in January 2008.
The Lobster 700TV is also available on contract, or prepay at Carphone Warehouse - Limited Stocks as of 25 July 2007


Now discontinued by Virgin Media (27 July 07)
Pricing: Virgin Mobile customers with contracts of £20 or over per month got the Lobster 700TV handset, plus TV service free. As of July 2007, the price was £49.99 for Pay-as-you-go customers, with subscription to the TV service £5 a month.
More on the Lobster 700