Virgin Mobile Lobster 700
This page contains a recent press release regarding the Lobster 700TV Phone from Virgin Mobile. For more details on this phone, see our main Lobster 700 page
Press Release- 7th September 2006: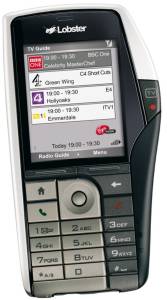 Virgin Mobile launches Mobile TV
Virgin Mobile today announced the launch of its new mobile TV service, Virgin Mobile TV, and confirmed the that it will be offering a selection of much-loved premium channels and programming to Virgin Mobile TV viewers, starting on October 1st 2006.
Virgin Mobile TV will broadcast BBC One*, ITV1, Channel 4** and E4, offering consumers a wide range of high-profile channels and TV programmes. Customers who have a Virgin Mobile 'Tellyphone' will be able to watch their favourite TV programmes and listen to DAB digital radio wherever they are. Wherever you need to watch TV, whether it's Eastenders on the bus, or Coronation Street in a cab, Virgin Mobile TV will make sure you never have to miss an episode of your favourite programme again.
The service, which is provided by BT's wholesale mobile broadcast entertainment service, BT Movio, will also broadcast DAB digital radio, offer 'red-button' interactivity and features an exclusive seven-day electronic programme guide (EPG).
Virgin Mobile TV can be viewed on the Virgin Mobile Lobster 700 Mobile TV phone, which will be available from October 1st through Virgin Mobile Stores within Virgin Megastores and WHSmiths, its standalone stores, and directly from virginmobile.com/mobile. Virgin Mobile offers the mobile TV phone and service for free for customers on a contract of £25 a month or more, for the life of their contract. The phone is available on pre-pay for £199, when the service will be free for an initial three-month period, followed by a charge of £5 a month. BBC One will be available on a trial basis for 12 months and will be provided free to consumers. Customers who buy a contract in Virgin Mobile Stores also benefit from double the amount of airtime compared to standard tariffs available in other retailers.
The new Virgin Mobile TV device will be supported with a multi-million pound advertising campaign, starring the world-famous actress Pamela Anderson. The ads will be seen on British TV for the first time on the 9th October 2006.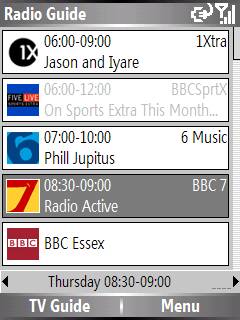 Virgin Mobile's TV service broadcasts TV live** 'as it happens' over the DAB digital frequency spectrum, which currently covers more than 85% of the UK population. The Lobster 700 Mobile TV phone is the world's first DAB-IP-enabled handset, and was created by HTC. As well as offering TV and up to 50 DAB digital radio stations, the handset is also Virgin Mobile's first Windows-operated smartphone, offering Windows Mobile functionality and Windows Media Player. The device is the first in a series of mobile phones being developed to support the BT Movio service.
Alan Gow, managing director of Virgin Mobile, said: "The launch of Virgin Mobile's 'Tellyphone' is a real watershed, both in terms of mobile devices and the evolution of broadcasting. Virgin Mobile finally delivers what others have been promising for so long - real TV broadcast to your mobile, delivering the programmes you want to watch, when you want to watch them, in a simple and easy-to-use experience. We are hugely proud of the Virgin Mobile TV service and I think it could revolutionise how, when and where people choose to watch TV."
Emma Lloyd, Managing Director, BT Movio, said: "BT Movio looks forward to working with Virgin Mobile as our first customer. We fully anticipate that their well-known marketing flare will attract many UK consumers to the service, which will offer the strongest TV and digital radio content for mobile phones yet to be seen in the UK."
*BBC One will be available on a trial basis for 12 months and will be provided free to consumers.
First released on the Virgin Mobile network in October 2006, the Lobster is now no longer available, and reports are that the TV service will be discontinued in January 2008.
The Lobster 700TV is also available on contract, or prepay at Carphone Warehouse - Limited Stocks as of 25 July 2007


Now discontinued by Virgin Media (27 July 07)
Pricing: Virgin Mobile customers with contracts of £20 or over per month got the Lobster 700TV handset, plus TV service free. As of July 2007, the price was £49.99 for Pay-as-you-go customers, with subscription to the TV service £5 a month.
More on the Lobster 700