Mobile Mapping Solutions
This page contains information on various mobile mapping solutions available in the UK
Maybe it's me, but there's nothing worse that watching an action thriller, or a TV series where the hero saves the world armed simply with a PDA. Most guilty of stretching credibility at the moment is the hit US series, 24, where super agent Jack Bauer uses his PDA to interface with any strange piece of technology he discovers, or to download real-time satellite information on the location of his current target. I don't know about you, but I still have problems getting my email to sync reliably, let alone uploading the contents of some encrypted datachip that an enemy of the free world dropped when pounced on by the good guys.
Keen to test just what was actually possible with a data-enabled PDA, it seemed only fair to take one high-tech area and see what actually could be done - for this, mobile mapping was selected. Satellite Navigation from a PDA has been around for a while, but just what can be achieved with a PDA and the Internet. Here's a quick look at some of the current solutions on offer:
Google Maps

If you've stumbled across Google Earth on a PC, Mac or Linux desktop, you can't help but to have been impressed with the power of being able to search a 3D model of the planet and pinpoint a location anywhere on the globe. Now, the power of Google's mapping technology is available on your PDA or mobile. To access Google Maps for Mobile, you need to install a small piece of software on your device. Unlike many navigation products, Google's software doesn't include any actual map data. When you start using the application, it makes use of Internet connection on your mobile device, and requests that map data for where you are, is downloaded to your device.
Selecting the 'Search' option provides a single text entry box where you can enter anything - such as a street address, postcode, town or landmark, and a map of your selected search result will be downloaded over the Internet.
Google Maps for Mobile offers some great functionality - You can enter two locations and have Google plan a route for you - it doesn't support spoken turn-by-turn navigation that you'll find on a Sat Nav device, but it's still pretty useful. If your phone has GPS built-in, or you have a Bluetooth GPS device connected, this can be used to pinpoint your position on a map. You can also search businesses close to where you are, and best off, you can get close to a Jack Bauer moment, by switching from a plain map view to a more impressive satellite view.
The Google Maps for Mobile application is free to download and use - but note that your map data and satellite images will be downloaded over-the-air, meaning that your mobile phone network operator will charge you for data downloads according to your standard data tariff.
Google Maps for Mobile is available for Windows Mobile, Palm OS and Blackberry from www.google.co.uk/gmm in the UK, or worldwide from www.google.com/gmm
Mobile GMaps
This is a superb application. At first glance, you'd be forgiven for mistaking this for Google's solution, as there are some clear similarities. Mobile GMaps can be used on whole range of mobile devices as it's a Java applet that runs on your phone or PDA's Java engine. The application itself is quite small, and can make use of a GPS receiver (either built-in, or external) for optional positioning information. Mobile GMaps also uses an Internet connection to get its data, and as well as using Google Maps, it can also use maps and satellite data from other providers, such as Yahoo Maps, Windows Live Local and Ask.
Mobile GMaps also supports a number of extra data services that are tied to maps. Your whereabouts on the globe governs the quality of the information available to you, but you may find you're able to get services such as "where's my nearest?", navigation directions, traffic information and WikiMapia data.
What's WikiMapia? You may be familiar with Wikipedia, the online encyclopedia created and updated by web users worldwide - well, WikiMapia offers information about key places and landmarks written in the same collaborative way. With Mobile GMaps, you can superimpose WikiMapia over your current map to see what landmarks are close to you, and then read the corresponding Wiki entry.
We've tried this out on a few different Nokia mobile phones, such as the Nokia N95, and some Windows Mobile devices, including the o2 XDA Orbit, and have been very impressed. The cost? Free! Mobile GMaps can be downloaded from www.mgmaps.com
Map 24 Mobile
A name you may not be familiar with - we certainly weren't, until one of our team bumped into Map 24 at the Internet World trade expo in London recently. This is another data-over-Internet solution. This offers worldwide coverage like Google and GMaps, and has a few nifty features. For one, the POI (Points of Interest) database is pretty good, providing graphical representations of nearby restaurants, hotels, cash machines, petrol stations, etc. It displays a handy GPRS data counter, so you can see how much data you've downloaded (if you're cost conscious). Bookmarks are supported, and there's a handy one-touch overview that zooms out the map briefly for a couple of seconds, to help you with orientation without affecting your current zoom level. Map 24 offers a 2D and 3D map, and powerful search. It also offers a decent UK travel news service (with road traffic data from ITIS). Sadly, no GPS interface or satellite maps though.
Map 24 Mobile is available for free, and runs on Windows Mobile, Windows Smartphone and Symbian Series 60 devices. You need to sign up for a free Map 24 account to get access to the download area. www.uk.map24.com
Smart2go
Smart2go offers a mapping and navigation solution for Symbian Series 60 and Windows Mobile devices, and is the mapping solution that's integrated into Nokia's new GPS phone, the Nokia N95. At the time of writing, Smart2go is in beta, but is pretty impressive. Again, this is a maps-over-the-air service, but there's an application available called Maploader, which allow you to download map data to your phone via a PC's Internet connection, to keep the costs down.
Route planning and voice navigation is available with Smart2go, but this requires a subscription, as does access to their optional City Guides.
Smart2go is available for free, and is compatible with a Windows Mobile 5.0 devices, as well as a number of Symbian OS Series 60 devices in the Nokia E and N range. smart2go.com
Multimap Mobile
Also worthy of a mention is the service offered by Multimap. As with many web-based streetmap sites, you can enter an address, street name or postcode, and see an onscreen map. Multimap offers a "Send map to mobile" service. From your desktop, go to www.multimap.com/maps and find a point on the map - then select "Mobile". By entering your mobile number, you'll get a text message with a link to a zoomable map of your selected location - you'll be charged 25p per map to use this service, which is catchily named MyMultimap2Mobile.
If you sign up to Multimap, you can also get access to a mobile version of their site, mobile.mymultimap.com, where you can access saved locations recent searches and use "Find me" to display your location, based on which mobile phone cellbase you're connected to. Again, a small charge applies.
Dedicated Navigation solutions
If you're looking for a dedicated mapping and navigation solution, without the hassle of having to download all of your maps over-the-air, consider a solution that includes maps of your region on CD or memory card. Top solution is TomTom Navigator, which is very well respected. See our TomTom Navigator page for more.
| | |
| --- | --- |
| Navigating with TomTom | Map Browsing with TomTom |
TomTom Navigator 6 is available from Dabs.com and Maplin.
Sat Nav for the iPhone
Got an iPhone? There are three Sat Nav applications now available. See our iPhone SatNav Compared section for the options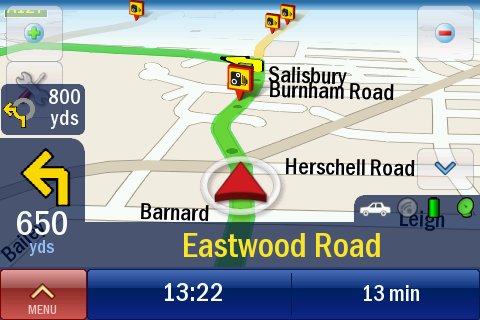 Other online map services
Mobile events. Another handy address to bookmark if you're in the UK, is www.ents24.com - a handy, mobile-friendly site that can use your current location to let you know event listings in your area, including cinema, comedy, theatre and music events.

Nav 4 all - Free navigation software for mobile phones - available from www.nav4all.com
Hopefully you've found this run-down of mobile mapping products useful. If you know of any we've missed, or have anything you'd like to ask, please contact us
Useful links