Palm: Tungsten E information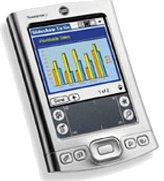 The Palm T|E is an excellent entry-level device with a sturdy metallic finish, SD card, and a good software bundle.
It's powered by the Palm OS 5.2.1 Operating System, with a 126MHz ARM processor, has 32Meg of onboard RAM, has a high-resolution colour touchscreen and is expandable via an SD/MMC memory card expansion slot.

It's capable of playing audio and video (built-in stereo headphone socket.

Rated 4½ out of 5 by Palmtop User (Issue 6 states "... a serious business handheld at a budget price).
Rated 9 out of 10 by PDA Buyer (Issue 4 states: "A great upgrade to an already successful device")
Details of the Tungsten E
OS: Palm OS 5.2.1
Memory: 32 Meg
Dimensions: 114 x 79 x 12 mm
Screen: Colour touchscreen (hi-res 320x320 pixels)
Power: Internal rechargeable
Extras: SD card,
Processor: 126MHz Texas Instruments
Connectivity: IR port, USB lead
Supplied with: flip cover, stylus, HotSync cable, power adapter and CD software
Availability:
Software bundle includes:
Adobe PDF reader

Palm Reader (e-book reader)

SMS management (text message manager)

Documents to Go (Word, Excel and Powerpoint)

Handmark Magic Dogs (Card games)

Handmark Mobile DB (database app)

Java 2 Micro Edition

Kinoma Video Player

Palm Photos

Handmark PDA Money (Personal finance application)

Phonelink Updater (Mobile phone manager)

powerOne Personal (advanced calculator

RealOne Player (MP3 and Real Audio player)
If you're looking for spares and accessories, such as spare styli, cases, Memory cards, leads and batteries, try the Palm Store. Failing that, we also recommend Partmaster. You'll also find a good selection of connectivity accessories at computer specialists Dabs.com.
Other pages: