Palm: Tungsten T5 information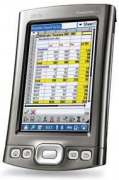 The Palm T5 is an excellent high-featured Palm OS device, supporting the new larger screen format. It has a sturdy metallic finish, SD card, and a good software bundle.
It's powered by the Palm OS 5.4 Operating System, with a fast 416MHz Intel ARM processor, has up to 215Meg of memory available to the user and has a crisp, high-resolution colour touchscreen.

It's capable of playing audio and video (built-in stereo headphone socket.

With great amount of storage, the Tungsten T5 handheld from palmOne lets you carry more and do more. Word documents. Spreadsheets. PowerPoint presentations. Photos. MP3s. The works. And because it's flash memory, all that information is saved even if the power runs down when you're on the go and don't have time to recharge or synchronize. Better yet, the stunning 320 x 480 color screen lets you see more in both landscape and portrait modes.
The real beauty of the Tungsten T5? You can transfer files and even whole folders from your desktop to your handheld, so you have what you need on the road, in a meeting, or when working from home. Even use it like a USB removable drive to work on those files on another computer. Just when you're thinking there couldn't be room for anything more, with built-in Bluetooth wireless technology you can check email and connect to the Internet on the go. All this and the Tungsten T5 still fit right in your pocket.
Details of the Tungsten T5
OS: Palm OS 5.4
Memory: 215 Meg
Dimensions: 120 x 78 x 15 mm
Power: Internal rechargeable
Processor: 416MHZ Intel X-scale
Connectivity: Bluetooth, IR port, USB cradle.
Screen: Colour touchscreen (hi-res 320x480 pixels)
Power: Internal rechargeable
Extras: SD card,

Supplied software: Note Pad, Calculator, Expense, Calendar, Contacts, Solitaire, Tasks, World clock, HotSync, Web, Memos, DataViz Documents To Go, Card Info, RealOne Player, Adobe Acrobat Reader for Palm OS, Palm Desktop Software 4.1, SMS, Quick Tour, Bluetooth Manager, File transfer, Dialer, Media, RealPlayer for Palm, Drive Mode, PowerByHand eReader, Favorites, Files, Palm VersaMail 2.7.1, Quick Install, Send to Handheld
Availability:
If you're looking for spares and accessories, such as spare styli, cases, Memory cards, leads and batteries, try the Palm Store. Failing that, we also recommend Partmaster. You'll also find a good selection of connectivity accessories at computer specialists Dabs.com.
Other pages: