Location-based Services in the UK
This page contains some information on location based services in the UK, and details of how mobile and handheld technology can be used to locate where you are, where your friends are, and how to get to where you need to go.
Locating a mobile phone
An incredibly useful service is slowly becoming available. From 2003, it's possible to locate a friend's mobile phone over the Internet - useful to work out where someone is, if they're lost, need directions, or you're worried about them. You have to be authorised by that person before you can do a location search, and in some cases, it's not cheap. Here are details of the services we know of: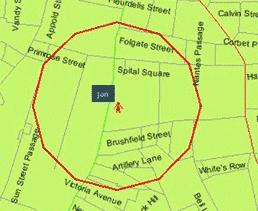 TraceAMobile - Works with the four main UK networks and is available on a monthly or annual subscription. Service powered by Verilocation. Subscription of £5 a month allows searches on up to five handsets, with 20 searches. Extra searches cost around 20p


mapAmobile - The most powerful of all the solutions, you can track down a mobile via the web, by text message, or by dialling a phone number and having their system read the location over to you. You can also set up periodic location searches. Search for "mapAmobile" at the Carphone Warehouse site.


Locate Mobiles - More of a corporate tool for tracing mobile members of a workforce, 10 phones can be tracked for £50, and Internet or telephone tracking information is available
Where am I?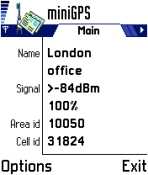 MiniGPS - For Symbian OS phones such as the Nokia 7650, 6600 and 6680, as well as the Siemens SX1, and Sony Ericsson P910, this impressive little application lets you work out where you are from the nearest cellbase. OK, so it's not true GPS satellite technology, but clever enough to use local GSM base stations to work out roughly where you are. In a city like London, it's surprisingly accurate, able to pinpoint you to a street corner!
For each cell, You can add a description of each cellbase (i.e. "Work", "Home", etc). So, what's the point of your 7650 knowing where you are? Well, the application lets you do things with this information, such as send a text message to someone when you enter or leave an area, sound an alarm when you reach a cell, change your profile or background image when you get to work, or switch off the phone when you leave an area. I've used this excellent app to wake me up when my train's nearing home, send an "I'm home safely" text to my other half, and send progress reports when I'm completing a journey. Very clever, and with a host of uses! O2 customers can enter cell IDs at the following site, to view the location of the cellbase on a map: www.webmap.o2.co.uk. See MiniGPS.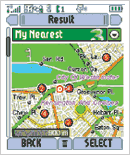 Find my nearest...Most of the UK operators offer some kind of service to make use of your cell information to point you in the direction of local shops and services. It's normally a case of connecting via your mobile phone's WAP service, and selecting
On o2, you can use o2 Active's Info Services, and select 'Thompson'
On Vodafone, you can use Vodafone live's Travel | Directories
New kid on the block, 3, the first UK network operator to be pushing the third generation of mobile phones in the UK, make a big deal of their location-based services over their 3G network. If you're in coverage of their service, you can pinpoint your position on a map. Some 3G handsets, such as the Motorola A920 also have assisted GPS to allow accurate location via satellite.

Searching for phones and computers near you
Wireless technology allows computers, mobile phones and PDAs to connect to each other without the need for cables. The technologies include infrared (for line-of-sight), Bluetooth (short-rand connectivity) and Wi-Fi (office connectivity). If you have a phone/PDA with Bluetooth or wi-fi, wait until you're in a busy area, then try a scan to see what's nearby.
Bluetooth is typically used over a short distance to connect a mobile phone to a PDA for surfing, or a PDA to a PC for backup and file transfer. The current craze, BlueJacking, is a way of sending messages to other Bluetooth users. For more on Bluetooth, see our Bluetooth page.
More powerful than Bluetooth, is "wi-fi", also known as wireless networking or 802.11b. With a range of about 500 feet, if you have a computer, PDA or laptop with the appropriate wifi hardware, you can scan for computers in your area, and if there's an access point in range, maybe connect and make use of its services. Wifi access points are to become more popular as time goes on, and many airports, business centres, hotels and even coffee shops are now providing access to the Internet via a wireless access point. For more details, see our dedicated Wi-fi page.
Satellite Navigation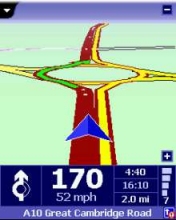 Route Planning software for your PDA or mobile helps you get from town-to-town, and our favourite is the TomTom Navigator range. These let you navigate to street level, allowing you to plan routes with great accuracy.

TomTom is a respected name in handheld navigation, and their implementation of UK and Europe-wide mapping solutions are simply superb.

You can use this software to replace your in-car map books, and as a searchable street directory, but it comes into its own when coupled with a GPS receiver. You can plan a route to your chosen destination, and when your journey starts, see a moving representation of your car as you travel - best of all, you'll get spoken turn-by-turn directions, so you can't make a wrong turn. TomTom's navigation software is available for Windows Mobile, Palm OS, Psion EPOC and Symbian OS, and a stand-alone product, TomTom Go! is also available for low-price in-car navigation.

For more, see our TomTom Navigator page, or check out TomTom's other products.

Directory services
Yell.com mobile (Java) - This service offers full colour mobile access to Yellow Pages listings. You can search for businesses by name or company type, and view free listing. Maps and directions are also available, for a small fee billed to your mobile. To access this, you need to text a magic number to Yell, then download a Java applet to your device.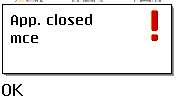 We tried to install this on our office Nokia 6600, but found that, despite Yell's site stating that the service would run on a 6600, requesting the service showed us a the following message: "Yell.com mobile is not available for your phone. Please try our other mobile service at mobile.yell.com". After a few emails with Yell's Head of Mobile Services, it seems that there were problems with Yell's device identification. The promised fix was delayed due to 'technical issues', and when this appeared, we could finally download the application, only to be greeted with an "App Closed mce" error message (pictured). Yell's advice points to this as being a Symbian bug, and fixes including formatting the MMC card (which we weren't using), using a new SIM (why?), or formatting the phone and taking it to a Nokia Service Centre. We provided Mr Wilson at Yell with a technical explanation of the problem (our techie knows a fair bit about installers)... the reply? It's not our problem - go talk to Symbian or Nokia, with a footnote that he's 'puzzled' that we were "trying to reverse engineer the installation process using our application". So much for trying to help.
At this point, out-of-pocket and rather unimpressed, we gave up. Maybe you'll have better luck.
http://www.yell.com/mobile
Other links