BT Home Hub Help - How To Log In
Need help logging on to your BT Home Hub to change your hub settings? Here's a page of help on how to log in to your Hub control panel.
Accessing the BT Home Hub Control Panel:
To make changes to your BT Home Hub setup, you need to 'log on' to the Home Hub, from where you'll be able to access settings and diagnostic screens. You can do this from a desktop or laptop that has a working connection to the Home Hub. From a connected machine, use the web browser (Internet Explorer, Firefox, etc) and from the web browser address bar, enter the address: http://bthomehub.home and press Enter.
If for any reason this doesn't work, you can also enter the IP address for the Home Hub (sometimes known as the gateway IP address) into a web browser. The default IP address for the BT Home Hub is 192.168.1.254.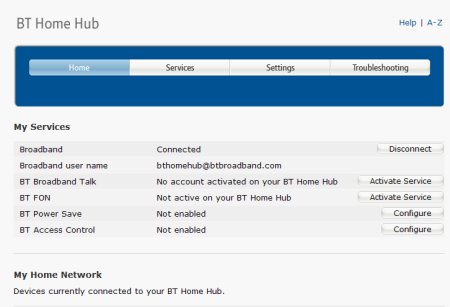 BT Home Hub Control Panel - ON a v2.0 Hub
To make changes to your Home Hub settings, you'll need to enter an admin password, and for older Home Hubs, a username as well (the default username is 'admin' - lowercase)
BT Home Hub Default Password
Home Hub v2: The default password for Home Hub V2 units is printed on a sticker on the back of the Home Hub, labeled "Admin password"
Home Hub V1 (old): On older Home Hub v1.0 Home Hubs (for software before v6.2.6E), the default username is 'admin' and the default password is 'admin' (lowercase)
Home Hub v1 (new) and 1.5: On later versions of the Home Hub v1.x, the default username is admin (powercase), and the default password is the unique Home Hub serial number (either on the sticker on the back or underneath the hub after the 'S/N:' bit).
Notes: The password is case-sensitive. The first three letters are normally "CP0" (number zero). Ignore the bit in brackets after the serial number. You are normally prompted to change this password.
Can't connect to the Hub Control Panel?
If you can't connect or the browser can't find your Home Hub - make sure that there's a connection to the Hub, and that there's no firewall issue preventing you from connecting. You can try a directly connection from PC to Hub using an Ethernet lead (which removes any wireless connectivity issues).
Try to 'Ping' the Home Hub to verify connectivity. Here's how to 'ping' the Home Hub from a Windows PC... Go to Start > Run > enter CMD and press Enter, then enter PING xxxx.xxx.xxx.xxx (the Home Hub IP address) and press Enter. If you get a timeout, you don't have a direct connection to the Hub.
Problems with Admin access?
To get to some of the Hub's more advanced features, you need to log on as an Administrator. When you connect from your web browser, you see a prompt or a pop-up popup asking you to enter your user name and password, as we discussed above.
If you've lost your password, you'll have to reset your Home Hub to get in again (using the default password).
If you're finding that you can't log on as Admin, and you're running Internet Explorer 7, note that there appears to be an incompatibility issue between some older versions of the Home Hub and Ie7. When we used Home Hub software version 6.1.1M, we couldn't log in as Admin, but a new firmware version, 6.1.1R was released in November 2006 to fix this. Your Home Hub should automatically pick up and download this version while connected to Broadband, although roll-out of new software updates apparently may take a few weeks to get to everyone.
Need more Hub help?
We have a number of other pages offering help and advice on the Home Hub:
If you've got any questions we've not covered, or need help and advice, please ask in our Home Hub forum - Sign up and post a new message.
When posting - please make sure you include details of your computer's operating system (XP, Vista, etc), which Service Packs have been applied, the software version your Hub's running, and how you're connecting (Ethernet, wi-fi or USB)
Other Home Hub resources: