BT Home Hub 3 Reviewed
On this page, we take a closer look at the BT Home Hub 3, the latest incarnation of BT's home wireless broadband router.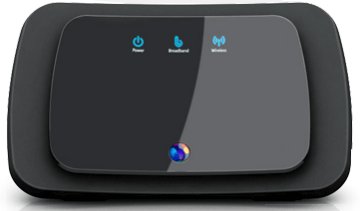 The BT Home Hub 3
What is The Home Hub 3?
BT launched their original Home Hub in 2006, the Home Hub 2.0 in 2008, and the latest version, the BT Home Hub 3 in February 2011.
The BT Home Hub 3 offers the following:
Slimline High-Speed Broadband Modem
802.11n Wireless: Support for the faster 'n' wi-fi connectivity protocol - increased range (with suitable wi-fi hardware)
Support for BT Infinity, BT's new high speed network
Smart Wireless - For more stable wi-fi connections
Four Ethernet connectors - For wired connection
Power-save mode: Better green credentials - the Hub can go into a power-saving mode.
BT Home Hub - pricing and availability
Getting the BT Home Hub 3:
The BT Home Hub is available directly from BT:
What's new with the Home Hub 3
Improved Wi-fi - Smart Wireless auto-switches to the best wi-fi channel
Smaller size
Better green credentials
1GB Ethernet port
Supports BT Infinity, BT's High-speed Broadband network
No longer supplied with a phone handset
No longer supports BT Broadband Talk

REVIEW: Listen to a review of the Home Hub 3 in our March 2011 Podcast:
BT Home Hub 3 Review
Our team was able to get hands-on with the BT Home Hub when it launched. We also let our podcast team put together a first-look review - You can hear our review in our March 2011 podcast: FrequencyCast Show 61
The Home Hub 3 is much shorter and more compact than its predecessor, the Home Hub 2.0, as shown here: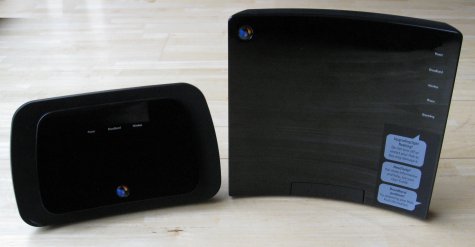 BT Home Hub 3 next to the BT Home Hub v2.0
At the rear of the Hub 3, you'll find 4 Ethernet connectors, the fourth of which is a 1GB Ethernet port.
The Hub 3 supports ADSL Broadband, as well as BT's new high-speed service, BT Infinity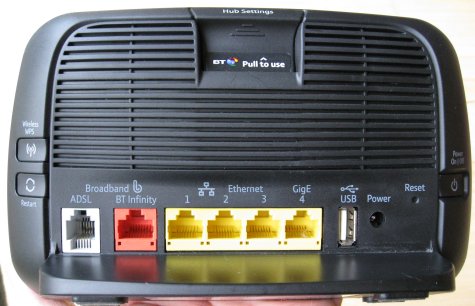 BT Home Hub 3, showing rear connectors
The Home Hub 3 has a handy pull-out piece of plastic that has the admin password and wireless WPS PIN - so you no longer need to scribble the codes onto a scrap of paper to get wi-fi set up on your computer.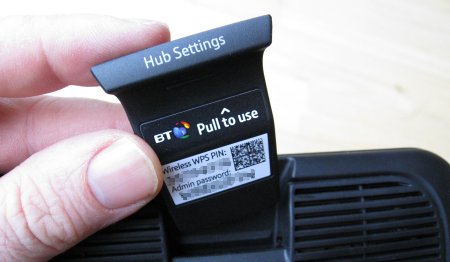 BT Home Hub 3 - Removable Hub Settings Tab
The software interface is broadly similar to that found on the BT Home Hub 2. As before, it's accessed through the web browser. Here's a screenshot of the wi-fi setup screen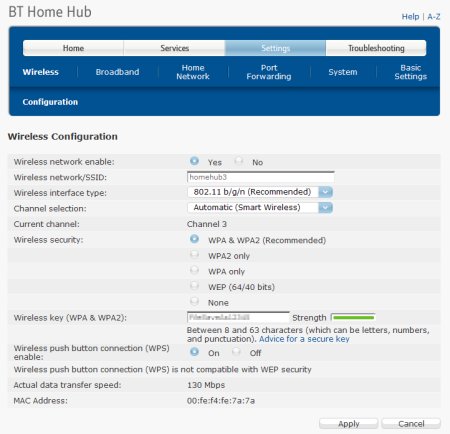 BT Home Hub 3 Specifications:
Modem: ADSL (Broadband) and BT Infinity
Wi-fi: 802.11b / 802.11g / 802.11n (Supports WEP, WPA-PSK/WPA2-PSK)
Dimensions: Width: 175mm , Depth: 88mm , Height: 182mm
Connectors: 3 x 10/100 Mbps Ethernet sockets (RJ45), 1 x 10/100/1000 Mbps Ethernet sockets (RJ45), 1 x USB, ADSL In (RJ11), BT Infinity In, telephone socket
What's supplied with Hub 3
Power adapter
2 x ADSL filters (Not supplied with Infinity, as not required)
Broadband (RJ11 cable)
Ethernet cable (RJ45)
Cable cover
User Guide and CD
Need help with your BT Home Hub? Go to hubhelp.co.uk
BT Home Hub 3 Questions:
Most common questions about the Home Hub can be found in our Home Hub FAQ. Below, you'll find questions specific to the home Hub v3, or our review.
Need some BT Home Hub Help?
Other BT Home Hub resources: