Traffic-i: Live road traffic news
This page provides a summary of the software product, Traffic-i, that provides real-time UK road information to smartphone users.
This software runs on handsets powered by the Symbian operating system as used in the Nokia 3650, Nokia 7650, Nokia 6600, Sony Ericsson P800 and the Sony Ericsson P800.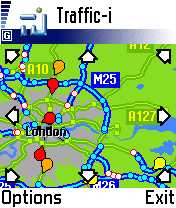 Traffic-i on a Nokia 7650
What is Traffic-i?
This is a great example of the 'killer app' for smartphones, software that makes use of mobile phone technology to 'push' useful information to the hands of people who need it. Simply, this application connects to the Internet using the GPRS data service, and downloads information on the state of the UK's motorways and main trunk roads.
Traffic-i is made up of the software that's installed onto the phone, and a subscription service that makes use of the information from the Trafficmaster sensors around the country (those blue poles that started to appear a few years ago...)
What do you get?

The Trafficmaster network provides information on the average speed of traffic between road junctions, helping to give an idea of how long a delay could be. This information is available to Trafficmaster customers in many ways, as we explain on our Travel page. The Traffic-i solution makes this information available over the mobile phone network using custom software for Symbian OS smartphones, and gives you an on-screen colour-coded marker to indicate the average speed to traffic, or optionally, the estimated delay that you can expect between junctions. You can use this information to plan a journey before setting out, or to consider a detour if you look like you're about to be snarled up in a tailback for some time.

Traffic-i availability
Traffic-i can be downloaded from the software house Handango. It's available for the following handsets:

For information on these handsets, and help with connecting to GPRS, see our Symbian Smartphone page, or our forum
Setting up Traffic-i
The application is downloaded in the form of a standard Symbian installation file(.sis). This can be installed via your PC, or beamed into your Messaging application Inbox. From there, it can be installed, when you'll be asked to register, or view a demo. Sadly, the demo doesn't give you access to any live data, even on a trial basis, but the demo does give you a feel for what the application can do once you've paid the money to sign up to the live data service.

The service works by connecting to Traffic-i's service over the mobile phone data service, GPRS. Unlike dial-up WAP, you're not billed by the minute, but you're billed by the amount of data that transferred over the network to your handset. This means that you don't have to keep dropping the connection and re-dialling. For details of GPRS, see our GPRS page. If you're not already set up with GPRS on your handset, you might find our dedicated connectivity pages of use. See our 7650, 3650, 6600, P800 and P900 setup pages.

The demo doesn't require any GPRS connection, but when running with live data, you'll need to configure the application to make use of the GPRS network. Traffic-i has three modes for connection:
'Permanent'.In this mode, you get updates to the traffic data as soon as it's made available. The application holds open the chosen PDP context over GPRS all the time that you're in coverage. As mentioned above, you're charged for the amount of data you transfer, so staying online all the time is the more expensive option, as you're charged each time new information gets pushed to your phone.
'Polling'. You can set your handset up to connect at regular intervals (in minutes), and specify how long to stay online for.
'One-off'. A dial-on-demand service that keeps you in control of when you connect (cunningly using the button on the side of the phone or the jog dial to kick off the connection). The connection times out after one minute, and can be re-established if required.
When you connect to Traffic-i's service, you wait a couple of seconds for the information to be retrieved, then it's displayed onscreen. From there, you can scroll around the entire UK at various zoom levels, to see all of the UK in one go, specific regions, or to zoom in tightly to a particular part of a road. The application lets you set up bookmarks for your often-viewed locations, such as 'home' and 'work', and to set a default that's used when the application starts.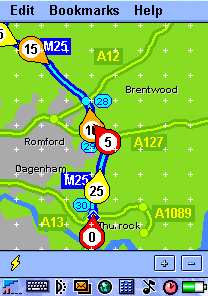 Traffic-i on a P800
More information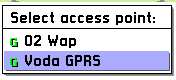 For the technically-minded, Traffic-i supports multiple GPRS APNs and runs on all the UK mobile networks. You'll need to have your mobile account 'data enabled' by calling your network operator's customer services team. Traffic-i's website estimates that a light user would typically expect to see about 75k's worth of GPRS traffic a month when using the service. Using our o2 test SIM, these numbers seem quite realistic, and as o2 online offers half a meg of free GPRS per month, this wasn't an issue.
Memory: Installation weighs in at a little over 1meg on a 7650.
Menu: Connect/Disconnect, Zoom In, Zoom Out, Bookmarks, Settings, Help and Exit
Settings: Show delay (in minutes), use side key to connect, auto-connect on/off, connection type (as above)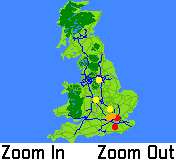 Our trials of Traffic-i were conducted using a Nokia 7650 and a SonyEricsson P800 with both Vodafone and o2 SIMs, and we had no operational problems. This is an example of a straightforward and easy-to-use application that does exactly what it says on the tin, and it's hard to fault. It's a shame that the demo version doesn't allow access to live Trafficmaster data, but it's easy to see why they've decided to restrict access to subscribers only.
We'd also like to have seen use of location by nearest cellbase, something that o2's Trafficline offer via their phone service, and as used in the Symbian OS application, MiniGPS, but according to Traffic-i, this is under consideration...

Traffic-i is run by Integrated Mobile Technologies Ltd in Oxfordshire. Subscription to the service costs £39.99 for a year's access to the Trafficmaster data. You'll also have to pay for data transfer over GPRS, as explained above.


Related links