Fujitsu-Siemens Pocket Loox 600
Sadly, the Loox 600 is no longer around to buy new. See our Pocket PC page for our current best buys.
We also have reviews of the Loox 420 and Loox 720.
This page has been left here for use by existing Loox 600 users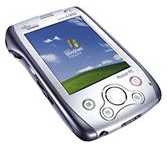 The Pocket Loox 600 is the first handheld Pocket PC from Fujitsu Siemens. It's a standard Pocket PC 2002, similar to the IPAQ range, but slightly more ergonomic, and a little cheaper than similarly-specced IPAQs.
Mini Review
On the left the Loox is an up/down jogwheel (missing from many Pocket PCs) which makes navigating around lists and webpages much easier. It also has an IR port and an SD card socket for memory expansion. On the right, is a slide switch for turning the Bluetooth module on and off, and a button for voice recording. At the top, there's the slot for the telescopic stylus, a stereo headphone socket and a CF slot for expansion. At the bottom, there's a concealed hardware reset switch, mains adapter socket, and the data connector (for use with the supplied docking station or other data leads). The Loox has a few other cunning extras, such as a light sensor that can be set to dim/brighten the screen based on ambient lighting, a mic and a fairly powerful speaker.

The machine is a comfortable hold, and generally a joy to use, but as with all handheld computing, it's the software that makes a handheld computer come into its own. As the Pocket PC 2002 operating system is standard between devices, there's not much to say here, other than the software you've come to expect is all there: Contacts, Calendar, Inbox, Notes, Internet Explorer, Tasks, AvantGo, MSN Messenger, Windows Media Player (great for MP3s via the headphone socket), and Microsoft Reader. Extras supplied with the Loox include Pocket PlugFree (the Bluetooth Manager), FSC SpeedMenu and FSC Backup. A recent release to the OS (July 2003) has provided access to something called LOOXstore, which is a protected area of flash memory - handy for if you need to hard-reset you machine, or use it for backups.

The Loox is expandable through its Compact Flash card, SD/MMC slots and plug-on modules. The wide range of possible CF Type II Card solutions such as GPS, wLAN, storage, modem and ISDN, together with the synchronous usage of SD/MMC (MultiMediaCard) storage solutions, opens the field for the use of Pocket LOX as a serious business tool. We're currently using it with navigation software and a plug-in GPS card as an in-car navigation tool (with TomTom Navigator), and it performs beautifully. Data connection to the PC or to a mobile phone's modem can be done via infrared or the integrated Bluetooth module.

All in all, the LOX is hard to fault, and the package is rounded off by a spare stylus, a case (a little flimsy, but it's free!), and a CD containing Microsoft Outlook for the PC, and SMS manager application, FileCrypto for password protection and Pocket Informant (a replacement to Microsoft's Contacts and Calendar apps for those that need more power).

For under £300, this is an exceptionally good deal. It received a favourable review in Palmtop User Issue 3, billed as a "very desirable handheld".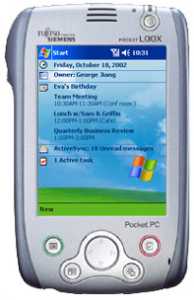 Details on the Loox
OS: Pocket PC 2002
Expansion: SD and CF card slots
Display: 240x320 pixel touchscreen
Memory: 64MB memory
Navigation: Touch screen, four-way navigator, Jog dial
Battery life: Lithium Polymer Rechargeable.
Processor: Intel PXA250 XScale 400 MHz ('ARM' family, not MIPS or SH3)
Size: 132 x 82 x 17 (mm)
Connectivity: Onboard Bluetooth and IR. Supplied with USB docking cradle

Availability:
Sadly, no longer around, but last seen for around
£300 from
PC World
and
Carphone Warehouse
Latest Loox news
April 2004 - Flash ROM update from v427 to v452 - Became available 16th April. Fixes the problem with SD card speed. Also reportedly offers: Improved connectivity and behaviour of Internet browser, and updates to shell, security, Contacts, Inbox and Instant Messenger.
Dec 2003 - Flash ROM upgrade to v427 now available - As of 16th December, Fujitsu-Siemens has released a patch to get to version P929-V427, offering some minor fixes and changes - this can only be applied by users of the Windows Mobile 2003 OS version (not Pocket PC 2002. Changes all appear to be under the hood, including a new .net framework and minor security/connectivity changes. Also applies the Windows Mobile 2003 theme to the Today view.
Nov 2003 - Windows Mobile 2003 upgrade available - It's now possible to upgrade your Loox 600 from Windows 2002 to Windows Mobile 2003. Fujitsu-Siemens has released the OS upgrade (priced at 64.99 Euro).This adds improved Bluetooth & WiFi connectivity, a new image viewing/editing application, the latest version of Windows Media Player, some improvements to Pocket Outlook, and some cosmetic changes.
July 2003 - Software upgrade available - Fujitsu-Siemens has released an upgrade from v152 to v202. This includes latest Pocket PC 2002 changes, new programs FSC Backup, Keylock, Panning and LooxStore (to store data in the flash area). Pocket Plugfree v1.2 for improved Bluetooth.
Latest version: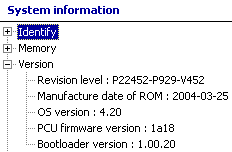 To check the version of your Loox, Go to Start | Settings | System | 'System information', and expand the "Version" tab. This applies to machines running the Windows Mobile 2003 Operating system.
Revision level: P22452-P929-V452

OS version: 4.2 (Windows 2002 was version 3.0)

PCU firmware version: 1a18

Bootloader version: 1.00.20

Connecting to the Internet via a Bluetooth mobile
Here are some basic instructions for setting up a Loox Pocket PC and a mobile phone for Internet access over Bluetooth...
Turn on the Bluetooth phone and enable Bluetooth

On the SonyEricsson P900, go to Control panel, 'Connections' tab, 'Bluetooth', 'Settings' tab. Set 'Operation mode:' to "Discoverable"
On the Nokia 6680/Nokia 6630, go to 'Connect', 'Bluetooth', On the first tab, press in the joystick button to set Bluetooth to "On"
On the SonyEricsson T68, go to 'Connect', 'Bluetooth' and set 'Operation mode' to "On"
On the Nokia 6310i, use the menu to navigate to 'Bluetooth' and select "On"


Turn on the Pocket PC, and enable Bluetooth (On the Pocket Loox, there is a Bluetooth switch on the right-hand side)
Go to the Bluetooth software. On the Loox, this is in 'Start | Programs | Pocket Plugfree'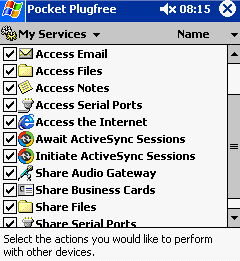 Set up your Bluetooth functionality

With Pocket Plugfree, you can use the Setup Wizard (little blue cube) to help you through this. You'll need to add a friendly name for your device (e.g. "Pete Pocket PC"). You may also be asked to enter a passcode. This is a number that other devices (such as your mobile or PC) will need to establish a relationship (often called a bonding, or pairing) - enter a number at least 4 digits long.
You may be prompted to select which services you want to make available. From the list, select what you'd like to use


Get the Pocket PC to search for all Bluetooth devices in range (may be an "add", "search" or "refresh" button.
Your phone should appear in the list. Tap and hold down the name of the phone in the list, and select 'bonded'
You'll be prompted to enter a passcode. Enter the number "1234" and press ok
On your phone, you'll be prompted to enter the same passcode, so enter "1234" and press OK. You've now bonded (also referred to as "paired")
You should now be ready to connect to the Internet. See the following instructions: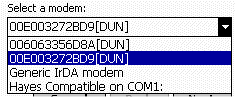 Setting up the modem on the Pocket PC
Note that instead of selecting "Infrared" as the modem, you'll need to pull down the list and select the Bluetooth modem. This will appear as a string of letters and numbers, such as 000AB123123[DUN]. This number is constructed from a unique number on your mobile phone, known as the Bluetooth MAC address
---
Searching and pairing on a Fujitsu Siemens PocketLoox 600 Pocket PC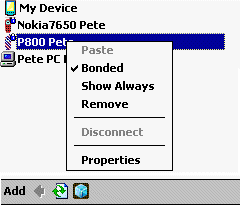 Turn on the Pocket PC, and enable Bluetooth with the switch on the righthand side
Go to 'Start | Programs | Pocket Plugfree'
Press the refresh button (icon with green arrows) to search for new devices.
From the first tab, select 'Bluetooth', and by pressing in the joystick, set Bluetooth to "on"
Select the device you want to pair to. Tap and hold down the name of the phone in the list, and select 'bonded'
You'll be prompted to enter a passcode. Enter the number "1234" and press ok
On your phone, you'll be prompted to enter the same passcode, so enter "1234" and press OK. You've now bonded (also referred to as "paired")
Further information: Pocket PC information, Pocket PC Internet, Pocket PC WAP
Useful links: