Fujitsu-Siemens Pocket Loox 420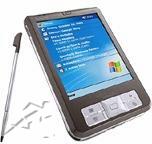 To complement Fujitsu-Siemens' hi-spec Pocket LOX 720 and forthcoming mid-range 710 model, the Pocket LOX 420 provides a slightly more compact budget alternative that's still well-specified.

All familiar Pocket PC specifications: 64MB memory, 400MHz processor and a 240x320 colour screen, this is a meat-and-potatoes PDA. Becoming something of the norm now, even for low-end Pocket PCs, the 420 comes with both Bluetooth and Wi-Fi - a sensible move in today's world of proliferating wireless access points and Bluetooth connectivity. This model was released just prior to the rol lout of Windows Mobile 2003 Second Edition, but the update is available as a free download for 420 owners.

For somewhat less money than the forthcoming camera-less LOX 710, there's surprisingly little to differentiate the two. The Pocket LOX 420 is noticeably smaller overall, at a diminutive 112x70x14mm (4.4x2.75x0.5"), 30g (1oz) lighter, and lacks a CompactFlash expansion slot, flash memory storage and jog dial navigation. The lack of a jog dial is a minor disappointment, but given the significant price saving, most users will happily forego this and the other small differences in favour of the cheaper, more compact and lightweight Pocket LOX 420.

With the new breed of VGA-resolution Pocket PCs now appearing, it's hard not to think of all 240 x 320 devices as yesterday's technology. No more than a year ago the Pocket LOX 420 would have been a truly remarkable device, with both Bluetooth and WLAN technologies built into a sub-140g device, and to find such a package at well below the £300 price point would have been unthinkable. At this price, and with a removable battery pack, smart desktop docking cradle and leather slip case thrown in, it may be tough to get wildly enthused about the technology, but the LOX 420 is nonetheless a very capable and tote able handheld at an excellent price.

An entry-level LOX 410 model based on the LOX 420 is due for imminent release, and will incorporate a slower 300MHz processor, 32MB memory and no wireless connectivity.
Review reproduced by kind permission of Palmtop User Magazine
Availability:
Available for £349 from Misco
Details on the Loox 420
OS: Windows Mobile 2003 Second Edition
Expansion: SD card slot
Display: 320 x 240 pixel touchscreen
Memory: 64MB memory
Navigation: Touch screen, five-way navigator
Battery life: Removable Rechargeable.
Processor: Intel PXA255 400MHz
Size: 112 x 70 x 14 (mm)
Connectivity: Wi-fi , Bluetooth, Infrared, USB

Useful links: