Fujitsu-Siemens Pocket Loox 720
Mini Review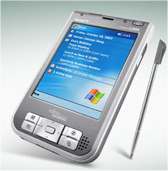 The Fujitsu Pocket LOX 610, released earlier this year, was a high-spec machine with a price tag to match. Although the new Fujitsu Pocket LOX 720 is still one of the most expensive Pocket PCs on the market, its specification includes virtually every top-end feature imaginable. It's all there: 128MB memory, 28MB of flash storage, Bluetooth, Wi-Fi, a fabulous 480x640 VGA screen, 520MHz processor and a 1.3 Megapixel camera, complete with flash. And it doesn't end there, with both SD and CompactFlash expansion slots, a jog dial for navigation, plus an extra hardware button for launching Fujitsu's own FSCSpeedMenu application launcher, a removable battery pack, desktop sync cradle, spare stylus and a leather slip case.

It's hard to think of anything else worthwhile that could have been incorporated into the package, at least in terms of hardware. The 3.6-inch screen doesn't quite match the 4-inch diagonal of a few competing devices from HP and Toshiba, and the 520MHz processor isn't quite the fastest thing around, but they're not far off, and overall this is a very hot Pocket PC in every respect.

For devices with 240x320 screens, Windows Mobile 2003 Second Edition incorporates few real improvements beyond the new landscape screen mode. For VGA-resolution models such as the Fujitsu Pocket LOX 720, however, proper hi-res support now means that the absurdly-small fonts first seen in the Toshiba e800 have now been replaced with ones identical in size to those on 240x320 machines, but with beautifully crisp, clean edges. In the past, text on Pocket PCs has looked decidedly coarse and rough-edged when compared to hi-res Palm OS devices, but that's all changed now. Although it's arguable that such a high pixel density-around 220 pixels per inch-is simply excessive, the difference in clarity between a 320 pixel wide Palm OS screen and a 480 pixel wide VGA Pocket PC is clearly noticeable, and makes for stunningly good readability. The default system font size can be adjusted on all Windows Mobile 2003 Second Edition devices, but the smallest size, a fuzzy mess on standard 240x320 screens, looks tiny but razor-sharp on the LOX 720. Taking good advantage of the new-found resolution, the latest operating system uses attractive shading on the pop-up keyboard, and for the new hi-res application icons.

With the inclusion of a flash facility in the integral 1280x960 resolution camera, we had fairly high hopes of good low-light image quality. Sadly, images taken with the flash turned out to be horribly grainy, showing up the mediocre quality common with all low-end digital cameras. Still, as often as not, PDA-based cameras are needed simply to record an image rather than to capture something suitable for framing, so, within that caveat, the camera is a usable add-on. At only 165g (5.8oz) the Fujitsu Pocket LOX 720 is admirably light and compact, and integral cameras no longer represent a huge price premium in PDAs, so the ability to take quick snaps can be seen as a handy feature to have, however infrequently it may be used.

All in all, if you're looking for a top-end Pocket PC, you won't find the LOX 720 lacking. The build quality is solid, though the styling is as conventional as we've come to expect from Pocket PCs. Built-in software includes a decent backup utility, a set of connection wizards to help with Bluetooth and wireless LAN setup, plus the usual camera utilities. To give maximum compatibility with emerging VoIP services, the LOOX's loudspeaker is optimised for voice output rather than simple bleeps.

A version without the integral camera is due for imminent release, the LOX 710, which will come with 64MB rather than 128MB of memory, a 240x320 screen, and a slower 416MHz processor.

Regardless of what PDAs you've used in the past, the VGA screens on this latest generation of Pocket PCs can't fail to impress. Beyond appearances, though, it's a major disappointment that Windows Mobile 2003 Second Edition still hasn't made any moves to enhance the core applications. In particular, Pocket Word and Pocket Excel seem to have barely changed since the very first Pocket PC models. But, as far as Pocket PCs go, the Pocket LOX 720 is the most desirable one we've used to date.
Review reproduced by kind permission of Palmtop User Magazine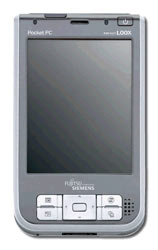 Details on the Loox 720
OS: Windows Mobile 2003 Second Edition
Expansion: SD and CF card slots
Display: 480x640 (VGA) pixel touchscreen
Memory: 128MB memory
Navigation: Touch screen, five-way navigator, Jog dial
Battery life: Removable Rechargeable.
Processor: Intel XScale PXA272 520 MHz
Size: 122 x 72 x 15 (mm)
Connectivity: Wi-fi , Bluetooth, Infrared, USB

Availability:
Useful links: