Nokia E61 Smartphone
The E61 is designed as a business device, and is part of Nokia's business E-Series range. It has a full QWERTY keyboard. The E61 supports high-speed data over a 3G networks as well as being a tri-band phone.

Highlights: 3G phone. With full keyboard, Wi-fi and Bluetooth. Supports corporate email services, including Blackberry.

Dimensions: 117mm x 70mm x 14mm
Screen: Colour, 240 x 320 pixels
Powered by Symbian Series 60 v9.1
Memory: Up to 75Meg (inc 64Meg mini-SD card)

Availability: NOW - free on o2, 3 and Vodafone from MobileShop.


Nokia E61 Review
The Nokia E61 is a powerful smartphone / PDA that's part of Nokia's E-Series, for business users. The prime use for this phone is likely to be email and web access, and the combination of 3G, wi-fi and keyboard makes this a great little communicator. It's powered by the Symbian Series 60 operating system.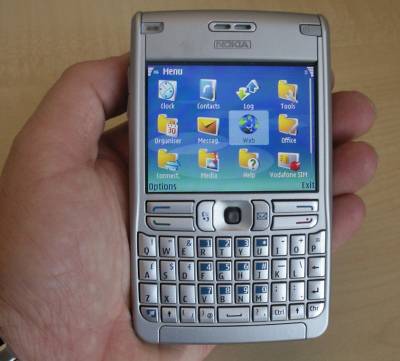 Nokia E61 in the palm of your hand
The E61 is a comfortable fit in the hand - wider than a standard mobile, of course, but quite slim. The keyboard is pretty useable, but the number pad takes a little getting used to (see the blue keys in the centre of the keypad in the picture below.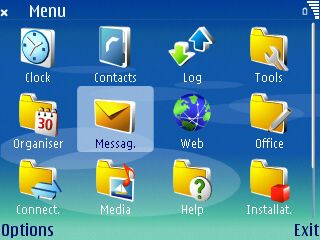 E61 Main menu
The software built-in to the Nokia E61 is the standard Series 60 suite, with Email, Calendar, Contacts, Web, etc. It also supports access to Word, PowerPoint and Excel documents. Our UK version also came installed with a London A-Z, UK roadmap, wi-fi hotspot finder, and WorldMate for travellers. It can be used with corporate push email, including Nokia Intellisync Wireless Email, Blackberry Connect, Good Mobile Messaging, Seven Always-On Mail and Visto.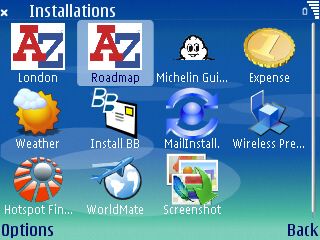 E61 Add-ons
In summary, the Nokia E61 is a powerful device, ideal for business users looking for a way to access email and web on the move, looking for a small device with a keyboard. It's clearly competing with the Blackberry-style devices, and the fact that it supports the wide range of Series 60 software out there, makes this a great alternative.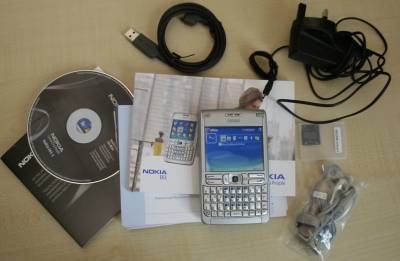 Nokia E61 box contents
Discuss the Nokia E61 in our Series 60 forum
FAQs
Accessories?
There's a wide range of accessories, including spare batteries, cases, chargers, in-car kits, hands-free units, data cables and fascias, available at Carphone Warehouse and MobileShop.
.
How do I install software?

Software for Symbian OS phones is normally supplied using a Symbian installation file (with a .sis extension). This is a single file that contains the components needed to get a piece of software installed and ready to run. A SIS file can be run on a Symbian phone (e.g. from the Inbox or via the File Manager). It can also be run via the PC connectivity solution that was supplied on the CD with the handset.

For help on this subject, see our Series 60 FAQ

How do I uninstall software?

To uninstall software that was installed onto the E61, go to Tools > App Manager from the main menu , select the application, press Options, and select Remove from the menu

How do I connect my E61 to my PC?

You can connect using Bluetooth, USB cable or infrared. When you connect via USB, you're given the option to connect via the Nokia PC Suite (on the supplied CD), a direct data connection (with the phone being accessible via 'My Computer' on the PC. There's also the mode "IP passthrough" which allows the E61 to make use of the PC's Internet connection.

As PC connectivity is one of our top topics, we've set up a dedicated page - See our Series 60 PC FAQ

Operating system
The Nokia E61 uses version 9.1 of the Symbian Operating System. To check the version number, type *#0000#

The handset can be upgraded to the latest version of the operating system at approved Nokia Service Centres..
Can I use the E61 in the States?
Yes. The E61 is a quad-band phone operating on EGSM900/1800 (Europe, Africa, Asia Pacific), and EGSM 850/GSM1900 (USA, Canada, South America). There should be no problem using the E61 with network operators in these countries. Roaming restrictions from your network operator may prevent use of some services in other countries.
My phone reports that it's running low on memory

If in the course of normal operation, you start seeing messages about low memory, you need to remove some files from the Internal drive to recover some space. Note that 'memory' and 'storage' are effectively the same on a E61.

If you're not sure what's on your phone, go to Office > File Manager > Options > 'Memory details' to see what's using your memory
If it's your MMC card that's filling up, go to Tools > Memory > Options > Memory details
To free space, use the File Manager app to either delete files, or to move them to the memory card

For more on memory, see the questions below...

Extra memory for E61
The Nokia E61 supports Mini-SD cards for memory expansion. Nokia can sell you their own miniSD cards, but the prices for Nokia-branded cards are higher than for standard cards. We've not heard of any incompatibility with non-Nokia cards, so it's worth shopping around to get a third-party card. Here are a few online options:

Amazon - Always a good choice for reliable delivery at good prices
eBay.co.uk - bid for new cards at low prices!

For more details, see our Memory Card page

How do I format my memory card?
Go to Tools > Memory > Options > Format Mem Card
How do I get to the ringtones settings?
Go to Tools > Profiles, select which profile you're in (if you're not sure, it's probably 'General'), press 'Options', 'Personalise', then press on the 'Ringing tone' option. Scroll up or down, and press 'Select' on the tone you want.
Changing the default picture

To change the default wallpaper image used in the phone application, do the following:

Go to Media > Gallery > Images
Select an image
Press Options > Set as Wallpaper

Who's calling?

Thanks to caller display, we can see who's calling. For answers to your Caller Display questions, see our Caller Display Series 60 FAQ

Alternative connectivity software

Rather than the software that came as standard with the phone, there's a rather useful third-party application called Oxygen II- This application supports Contacts, Calendar, Messaging and file management.
For details of how this works, take a look at our Oxygen page

IP Passthrough

When you connect the E61 to a PC via USB, the phone presents an option to use "IP Passthrough" - this allows you access the Internet on the E61, using the PC's Internet connection. When we tested this, we found we were being prompted to install drivers called "Nokia E61 (RNDIS)", which were not on the supplied CD.

It seems that you need to install the Nokia PC Suite on the supplied CD, then download and install the Nokia Network Bridge before this will work, and then

The Nokia documentation on this is pretty poor - nothing on the CD, and nothing useful in the manual. We found quite a good page on the subject on AllAboutSymbian.

Can I use it as a modem?
Yes, using Cable or Bluetooth.

To use your Nokia E61 as a data modem from a PC, you need to install the modem drivers that are supplied as part of the Nokia PC Suite.
Once the drives are installed, go to Windows Control Panel, select 'Phone and Modem options', click the modems tab. The Nokia E61 should have been installed for you. Make sure you set the correct port in "Selected ports".

SMS to PC?

If you're looking to copy your SMS text messages to a PC, you'll find that the Nokia PC Suite software doesn't support this. The best option is to try Oxygen II- This is an alternative PC Suite and supports copying of SMS, MMS and other message types, as well as a few other things that Nokia suite can't do. Take a look at our Oxygen page

Data conversion
For help with information on converting your Contacts, Calendar and documents for viewing on your phone, see our Conversion page for some general guidance.
Other problems
If you're having other problems with your phone, try our Series 60 FAQ, which includes more useful tips
Various E61 passcodes:
Below is a list of the various code types you'll find on the E61:

Lock code

Length: 5 digits
Detail:Used to prevent unauthorised access to certain functions on the phone
Set from: Tools > Settings > Security > Phone & SIM
Default: The default lock code for Nokia Series 60 devices is 12345.
Lost? - If you've changed this code and forgotten it - you will need to visit a Nokia authorised service center, who will be able to reset the lock code for you.

PIN code

Length: 4 digits
Detail: This is an optional 4 digit code to protect your SIM
Set from: Tools > Settings > Security > Phone & SIM
Lost? - If you keep trying, you'll eventually get locked out and need to contact your network operator for a PUK code (see below)

PUK code

Length: 8 digits
Detail: You'll be asked for this 8 digit code if you've entered the wrong SIM code more than the allowed number of times. You'll need to contact your network operator to get this lock lifted. PUK code help.

Network locking code

If your phone was fixed to work on a specific network (for example, Orange), this lock may prevent you from using another SIM in the handset. You may see "SIM card rejected" or "SIM card unaccepted". This lock can be lifted for you by contacting the network operator in question (there may be a fee for this).

Memory Card lock code

Our forum often gets messages from people that are seeing "Memory card locked". This means that the memory card has had a password set on it. If you know the password, and want to remove it, go to Tools > Memory.
Lost? - Sorry, but we don't know of a way to remove this code. The advice we've seen via our forum suggests that you may want to format your memory card either from the Tools > Memory > Options > Format mem. card, or using a PC Memory Card Reader.

We've also been advised of this solution: 'Remote lock' is a feature found on the E61 that lets you lock your phone by sending it a text message. If you have activated 'Remote lock' option on your phone, this will also change your memory card's password too. This can be activated from Tools > Settings > Security > Phone and SIM > 'Allow remote lock menu'. The password of your memory card will be the same as the Remote Lock password. If you can remember your remote lock message, then try to unlock your memory card's password using that message.
If you know of a better solution, please pass this on via our forum to help others that have managed to lock themselves out of their cards!

Anti-virus
Viruses for Series 60 handsets are fairly rare, but they are around - mostly distributed via dodgy SIS files. Common Symbian viruses include Cabir, Skulls and Lasco. If you think you may have been affected, or are worried about security - try getting an anti-virus package for your Series 60 phone. Options include F-Secure, SimWorks and SMobile VirusGuard, and these are all available for download from www.handango.com.
Receive faxes on your mobile
Looking to get faxes on your Series 60 phone? See our answer in the Series 60 FAQ
wi-fi access on the E61
To set up a wireless connection using wi-fi, go to Connectivity > 'Conn mgr' , then select Available WLAN.
For general wi-fi help, see our Wi-fi page

What's my E61's serial number?

Enter '*#06#' for your handset's serial number (known as the IMEI) - useful if your phone is stolen
Useful links