How to install a Telephone Extension
Need a telephone extension for your home? Here's a quick guide to getting a phone extension in the UK.
You may find that you don't have enough telephone points in your home - sure, you can use cordless phones and wi-fi, but what if you need an extra socket, perhaps for your Internet, a fax machine, or maybe for your Sky set-top box?
There are three ways to get a phone extension - install one yourself using a kit, ask BT to do it for you, or buy a handy wireless telephone extension kit. On this page, we outline all three of these options...
Do It Yourself
If you need to get a telephone extension socket in another room of your home, the cheapest option is to "Do It yourself". Provided you don't tamper with the internal wiring of your home's Master Socket, you're legally allowed to run your own extension sockets, and kits are widely available at cheap prices.
Installing an extension is pretty easy - making it look neat is likely to be the only tricky bit.
Pictured below is a typical extension kit. One end plugs into an existing phone socket, then you need to run the extension cable to the other room, typically along the skirting board, banging in the supplied cleats with a hammer to keep the wiring neat.
When you've run the cable to the location of choice, you fit the box. This is usually a case of trimming off the excess cable, stripping back the end of the cable, and securing the wires to the inside of the extension box, then screwing the box to the wall of the skirting board.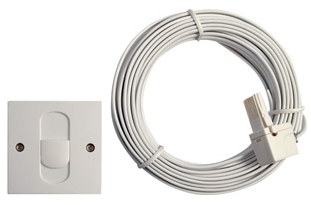 Do It Yourself telephone extension kits are available from Argos, Maplin Electronics and at the BT Shop.
Pictured here is a standard Telephone Extension Kit from Maplin which is available in 10, 15, 20 and 30 metre versions for upwards of £8.
Don't want to Do It Yourself?
Installation of a phone extension socket is a fairly straightforward job. If you really don't fancy doing it yourself, perhaps you have a friend, family member or a local handyman who could do it for you - the Yellow Pages or www.yell.co.uk can help if you're looking for a local tradesperson.
If you want to get BT to do the work for you, you can call BT and ask them to come and fit a telephone extension socket for you. Their website doesn't actually specify a price, but asks you to call 0800 800 150 to discuss your requirements. Be aware that unless BT is doing any other work at your property at the same time, their standard callout fee will apply. Last time we checked, BT will charge £116 for a site visit.
You can see why the DIY option is the preferred option for most!
A wireless alternative
If you don't fancy running cables around your house, or messing around banging cleats into your skirting board, there is another option - You can use your home mains wiring to connect to your master phone socket.
The Wireless Telephone Extender from manufacturer One For All provides an instant phone socket without any wiring, and can turn a standard electrical socket into a phone socket. You must have the devices connected via the same home wiring (i.e. via the same fusebox) for these to work.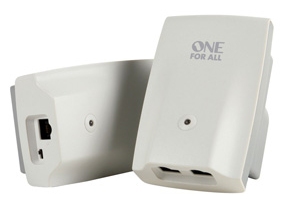 Review of the One for All DECT Phone Line Extender
We ordered a One For All telephone line extender from Maplin. We were actually sent a unit branded as a "Wireless Phone Jack" - exactly the same as the one advertised, just not branded One For All.
The wireless phonejack consists of a transmitter socket and an extension unit - both plug into standard mains socket and allow the receiver to connect to the phone line. You need a mains socket close to a phone point, and at the point where you want to connect. The kit can be used to extend a phone line for a telephone extension, or connection to fax, PC modem, Voice-over-IP adapter or a set-top box.
Out of the packaging, we found two units that plug into mains sockets, and various connectors and adapters.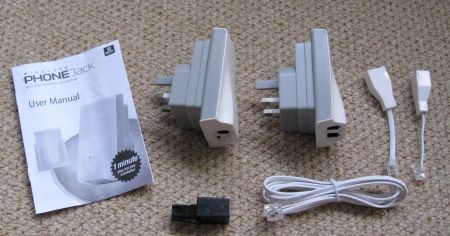 Installation was a piece of cake. The Transmitter has two RJ11 sockets, one for connection to a phone line and one for connection to a handset. Connecting was easy - using the RJ11-to-telephone socket adapters supplied. Note if you have Broadband, you need to connect a microfilter to the phone line before it hits the Phone Line Extender.
At the receiver end, there's just one RJ11 socket, for connection to the remote equipment, in our case, a fax machine. There's a switch on the receiver with two positions, "S" or "C", standing for Speech or Computer. This needs to be set correctly. When plugged in, you get a comforting green light showing you that the receiver is in range and working. The green light flashes when the extension is being used.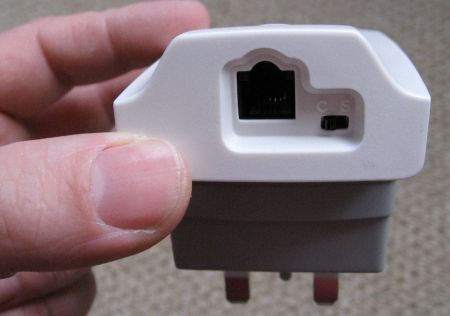 And did it work? Yes - perfectly. We also thought we'd try this out with our Sky Digital satellite box, as one of our team had read a note that there were not compatible. We tested with a Thomson Sky+HD box as well as a standard Pace Sky box on Multiroom. Both connected perfectly, allowing access to Sky Box Office and Sky Interactive.
So we're happy to recommend this product as a great solution for a wire-free telephone extension kit.
Specification
Range: Up to 50 metres
Data speed: Up to 36kbps
Transmission: Uses RF (radio) at

433.92MHz

Power consumption: We tested the receiver unit - slightly less than 1 watt in idle
Frequently-asked questions:
Got a general question about phone extension sockets? Ask on our Telecoms forum
Useful links
BT Shop - For cordless phones and phone accessories
HomePlug - Extend your computer network without wires over home mains
Wi-fi - Wireless access to the Internet
Mobile Broadband - Broadband on the move without wires
Sky and Sky+ Help - Need some help with Sky installation?